Call center
Call Center Abandonment Rate: How to Stop Your Callers From Hanging up Too Early?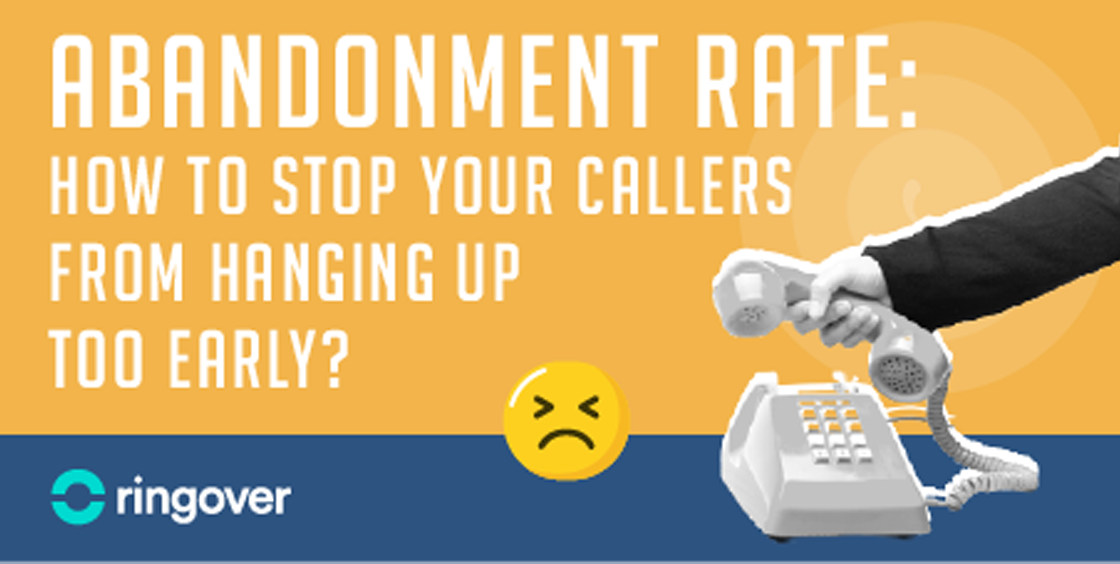 Summary
How quickly do you pick up your phone, when it rings? Or if you're calling somebody, or calling a business, then how long before you give up and end the call?It's not written down anywhere, but we have expectations ingrained in us, that might be influenced by the purpose of the call. If somebody is ringing your contact center, they have a particular purpose in mind, whether that's to make a purchase, a complaint, or a support request. They might be excited, curious, frustrated, or angry — but they've decided to reach out and speak to a human being, by dialing your number. Yet, a proportion of those calls inevitably end up abandoned by the caller — and you will never know why. Did they get cut off, or distracted by something else? Change their mind? Or did they get frustrated by how long it took to get through to one of your agents?Either way, they will not have fulfilled the purpose of their original contact, so if that was to complain or ask for help they will be left with a poorer impression of your organization. Or, if they were calling to buy, then you missed out on a sale.So, what can you do to reduce your call center abandonment rate? Obviously you can hire more sales agents, but there are lots of other things you can try too. Here are some approaches to explore:
1. Keep them from joining the line
While it's always good to talk, one way to reduce pressure and waiting times in your call center is to keep people out of that queue in the first place.
Use an IVR to divide your queues
Business cloud phone systems like Ringover offer a highly user-configurable interactive voice response (IVR), which you can design to organize calls as they come in, enabling callers to self-select a pathway through to fulfilling their objective. In this way you can ensure new sales leads are prioritized for attention for example, or that support queries are filtered out from delivery inquiries, and immediately routed to the agent best suited to deal with their call. This will help your first call resolution and other metrics critical for customer satisfaction as well as your call abandonment rate, but before they even connect with an agent it lets you organize your incoming calls appropriately.
Provide self-service information and alternatives
Increasingly customers enjoy being able to do things for themselves, and may not realize how many options are available to them, especially for an action they perform infrequently — such as renewing an annual insurance. If they've always done it by phone, they'll always expect that in the future, even if it's much more efficient for you to do it online.So, if you contact them ahead of the renewal with clear instructions, and explain the benefits to them of using the online portal, you can head off a certain percentage from clogging up your lines in the first place.And if things get busy, you can provide that information through the IVR — if they select 1 for renewals, they can hear a recorded message saying "it's easy and straightforward to confirm and renew your coverage at website.com, all you will need is your policy number and date of birth — alternatively please hold to speak to an agent." In this event be sure to separate out the data from those who hang up at this point, to complete their interaction online, from your analysis of call abandonment rate.
2. Keep your customers informed
Even if you can't actually talk to them immediately, you can use your IVR to communicate with callers while they wait.
Anticipate information needs
Some of your callers will be ringing in to receive information that can easily be provided by a recorded message, and really don't require the attention of a human agent. You want to get those people routed out of your waitlist as quickly as possible, by providing them with an option straight away: "If you're calling to check on temporary store opening times in the light of the extreme weather event, press one now".You can also divert them to other sources of information and omnichannel response options — "please follow @ourbusinessupdates on Twitter to keep up-to-date on how deliveries are impacted in your area.", or "press 3 to enrol for our free emergency SMS alert service, to receive real-time updates on your delivery".
Manage expectations
Of course nobody likes to be kept waiting, but frustration mounts far more when they don't know why, or for how long, they can expect to be left hanging on. A simple update to your IVR can be played to all customers left unattended after 25 seconds, for example, like "due to a network outage in the London area, we are experiencing high volumes of support queries at this time. Please be assured your call is very important to us, and one of our trained agents will be with you as soon as possible."You can also use the wait time to help them prepare for the call once it is connected, such as, "to process your renewal you'll need to have your last statement to hand", or "the underwriting agent will require your current policy number, which is found on page one of your certificate." This tactic needs to be deployed thoughtfully, because you don't want to make them jump through circus hoops, and most callers will expect your CRM to 'know' them fairly well when they connect. However, giving them a tiny bit of 'homework' in this way can occupy them during a wait and thus reduce frustration — and the risk of call abandonment — while also speeding up the time spent on the connected conversation when it happens through the provision of valuable information.
Virtual queuing
You can also implement your IVR to offer more information to customers, because people do respond differently when they feel empowered and informed. If you are waiting in line at a physical store, you might find the snake of people in front of you daunting and off-putting, however you can quickly see that it is actually moving, and your position in the line is heading steadily toward the checkout — this helps you plan your time, stay calm, and know what to expect.There are two ways to do this on the phone: you can either tell them how many people are in front of them, or you can tell them the average waiting time to be attended.The main problem with the first of these options is that they don't know how many agents you have taking calls. Again going back to the store analogy, if I can see that 20 tills are open, even if there's a sea of people ahead of me, that line should go down pretty fast. But if a voice on the phone tells me I am 47th in line to be attended to, I might well abandon the call in frustration, because I don't know you have 40 agents working, and I am seconds away from getting through.Average waiting time is more honest and transparent, and enables me to make an informed choice. Am I prepared to wait another 8 minutes to talk to somebody? Hopefully I am, and I can put the call on hands free and do something else during that time.
Offer to call them back
You can also offer a callback option in the event of excessive waiting time (EWT) — this shows respect for your customers' time and attention, but, be careful how you deploy this tactic — it needs to be about providing appropriate choice rather than failing to respond to an immediate need. You might decide to set your callback offer message to kick in once the EWT reaches a preset threshold, for example it exceeds 10% of your estimated call duration. Or you can set it according to the rate of abandoned calls.Remember, a call back may be a less ideal outcome for the caller, but for your business it's a lot better than an abandoned call — at least you have captured their data and have the opportunity to reopen the communication.
3. Be smart with your data
You want every caller to feel like a person, not like a data point. But the best way to do that is to be really efficient with your setup and your analytics either side of the conversation, to respond to them human-to-human in the moment.
Know your customer
For example, ensure your CRM integration is correctly set up with your call center phone system.If a regular VIP customer calls, they can be routed straight to their favorite agent, and/or prioritized for a rapid response. It costs more in every industry to acquire a new customer, than to retain an existing one, so you should always commit to taking care of your best customers and making them feel special. Don't let them get routed to an IVR offering a callback, they deserve to jump the queue.Also, you might have red flags for serial complainers, time-wasters, or those who have been rude or abusive in the past… Sadly every business serving the public has a percentage of these, but you certainly don't have to take their calls a second time. Straight to voicemail they go…
Manage your human resources
While there will always be unexpected circumstances you have to react to, using your call center analytics can help you anticipate demand levels and interaction activity, simply by reviewing call detail reports.Correlating metrics like your average speed of answer, or agent waiting times, can help you adjust around peaks and troughs, and ensure you allocate staffing to your busiest times. And be sure to zoom right out when looking for the patterns here, consider different scales when looking at the data: Sure, Monday morning will always be busy, and you staff up around that expectation. But you might find your call abandonment rate or average waiting time actually has a monthly or quarterly peak, which could be related to something like a software update that typically triggers a wave of support calls as it gets pushed out to users. Again, you can use that insight to ensure you're ready to respond next time.You should keep call abandonment rate under review alongside all your call center management metrics, and use the data to inform your decisions around agent career progression, future staffing needs, training requirements, and product documentation.
4. Stay flexible
By engaging with data in this way you'll come to see call abandonment rate as a powerful indicator of how your customers are engaging with you, and you can respond in flexible ways which are both data-driven but engaging on the human level.Test scenarios, see what works, see what happens to your metrics.
Call overflow, or call back?
For example, you may know that trained second tier support techs are the only people who can really deal with specific types of inquiries, and occasionally that team gets very overloaded, because you only have a few of them and the calls can be lengthy.So if someone is waiting, you could overflow them to a general support agent, to reduce abandonment — at least they get to talk to a human, offload some of their frustration. Your first call resolution rate might go down, but the data captured can help the next call fix their problem more quickly.Or you could route them promptly to a mailbox, asking them to leave their data and description of the problem instead. Which will customers respond best to? Only your data will tell you, so pay attention to it.
Flexible messaging
You can also use your hold messaging to show your responsiveness, and your human side — reminding callers of a reduced staffing complement due to a local holiday, for example. Even demonstrating a touch of humor… My roadside recovery service used to play 'Rescue Me!' as its hold music, which was cute and funny, at least the first time I heard it (not so much after I had to ring them 3 times from the side of the motorway — so always scenario-plan from your customers' perspective).
Abandoned calls are abandoned customers….
Above all, remember that every abandoned call is a lost opportunity. You don't know if you'll ever get that caller back, and you don't know whether they're frustrated or disappointed or angry or confused, or just went to your competitor instead because you were too slow to pick up.So use the tools available within your Ringover business phone system to build a contact center experience which responds appropriately and effectively to every incoming call, and builds satisfaction and delight among customers old and new.
Need help with abandoned calls?
Contact our experts to receive our technical recommendations at +44 20 3808 5555 or email sales@ringover.com. Start your free trial today.