VoIP
VoIP Softphone: Why Use It for Your Business Calls?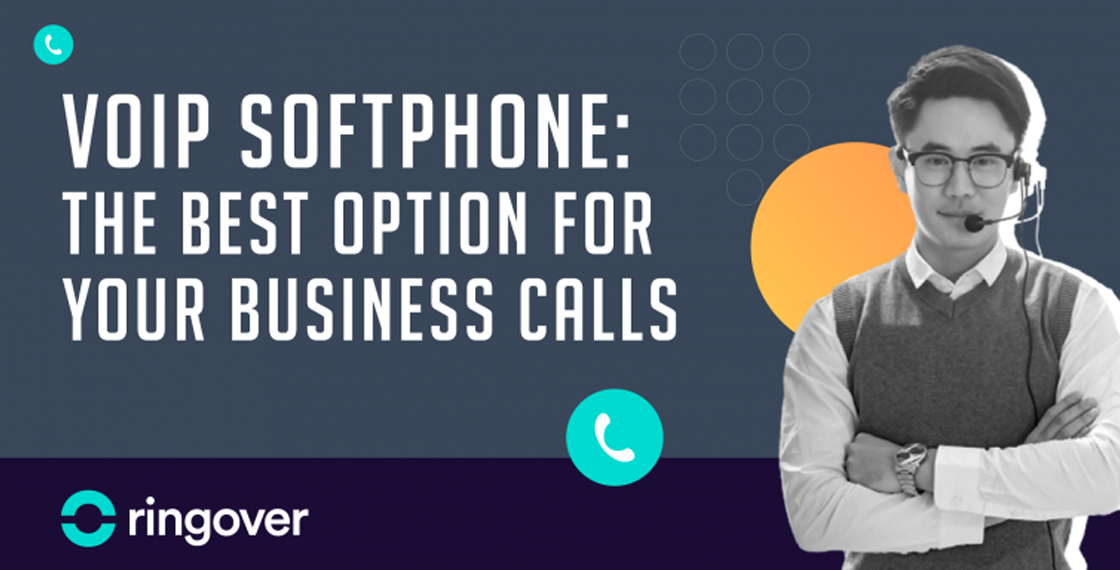 If your business has recently switched to a VoIP communications system, you may have heard the term "softphone" being thrown around as one of the system's main features. The idea of a softphone may seem strange. You may even be wondering what the difference between a "soft" and "hard" phone really is.Softphones are a simple solution that many businesses are leveraging to improve the way they communicate, especially while working remotely. Read on to discover everything you've ever wanted to know about softphones, including what they are, what they do, and why every business should be using them to improve productivity and reduce expenses.
What Is a VoIP Softphone?
In VoIP, or "voice over IP," systems, calls are made over the Internet rather than using a traditional landline. A softphone is a crucial part of such a system. A VoIP softphone is a software application that uses a pre-existing device to make phone calls over the Internet. Softphone device usually include computers, smartphones, or tablets. The software itself is usually provided by a dedicated VoIP or communication service provider.Modern softphone applications almost always have an accessible, user-friendly interface that all employees can navigate with ease. This means that your entire workforce will be able to make calls using their own devices while still enjoying a simple, familiar dialing and calling experience.Softphone systems have become hugely popular in the last decade as a solution to the modern workforce's need for flexibility and accessibility. Without a "hard" landline work phone, employees are no longer chained to their desks. Instead, they can work remotely without needing to change numbers or haul additional hardware around with them. Some VoIP providers can also issue "hard phones" for their users. These phones look and act much like a regular phone, but they are technically hardware as opposed to software. If your company needs to have physical phones on each desk, this type of phone may suit you best.
How Do You Set Up a Softphone?
In order to decide whether using a softphone application is right for your business, you may want to understand exactly how they work.Even if you aren't a "tech" person, understanding the processes involved in softphones is actually quite easy. Because it's a software application, set up can usually be completed in just a few minutes.Here is a guide to what your business need if it wants to switch to softphones.
Essential Hardware
First of all, your business will need access to devices that are capable of using the software. In most cases, these will be desktop computers or business laptops, depending on the current setup of your office. If these devices do not have microphone and speaker capabilities, each employee will also need a headset. In most cases, businesses opt to purchase headsets for their employees to ensure calls are private and high quality. (It would be hard to get anything done in the office if every call was being broadcast from your colleagues' computers!)While desktop computers are almost always the first device to have the softphone software installed, employees can also install the software on their personal or business phones, so that they can make calls from these devices too.
Software
Your VoIP provider will provide you with the necessary softphone software. Installation is usually as simple as downloading an application and registering as a new user. Every application is slightly different depending on your VoIP provider.
Internet Connection
The final necessity for a softphone system is a strong and reliable internet connection. Because softphones use the Internet to make calls, it's essential that the office's internet connection is stable. Ensure that your internet connection has enough bandwidth to accommodate all of the calls that your employees need to make. In most cases, businesses opt for connections with unlimited bandwidth to avoid additional costs or internet outages.
How Does a VoIP Softphone Work?
Once you're all set up with the software downloaded and your devices connected to the Internet, you can start making calls! You'll find that the software you've installed mimics the way a desk phone would work. It will use VoIP technology to make calls in a regular way. You'll see the usual buttons for voicemail, call recording, call transfers, and so on.Not only will you have the same functionality as a regular phone, but you'll also have access to a wide range of additional features, which we'll discuss in more detail.Overall, you can expect a user-friendly interface and a simple, intuitive experience with most software applications.
What Are the Benefits of Using a Softphone for your Business?
Now that you know what a softphone is and what you need to get up and running. Let's discuss why a softphone system is preferable for just about every modern business.
Business on the Go
One of the main advantages of using a softphone is the incredible portability you get from the system. Thanks to modern technology, you'll only need a laptop or phone and an internet connection (even photo data works), and you'll be able to make high-quality business calls from anywhere. In 2020, 1.7 million employees claimed to work from home, while 8.7 million said they had worked from home at some point in the past. With so many people doing their work outside of the office, it makes sense to streamline the way we work. By providing employees with a highly portable work phone that uses softphone technology, you will be able to simplify remote working. The new push for remote work has made it possible for some companies to completely transition, and softphones make it easy for employees to take work calls on the go.
Separate Business and Personal Calls
More and more employees are using their personal mobile devices for work calls when they're out of the office. But using a personal device can lead to employees receiving work-related calls when they are off.With a softphone, you can use your personal smartphone device for both personal calls and work calls using a dedicated business number. This lets your employees separate their personal and business calls with ease.
Efficiency
With modern technology, softphone interfaces tend to be highly advanced and user-friendly. This makes calling incredibly efficient. In fact, they tend to be more efficient than old school landline phones. Some examples of efficient softphone processes include:
Drag-and-Drop Call Transfers. Say goodbye to typing extension numbers—transfer calls with a simple drag and drop feature.

Visual Voicemail. Opt to receive voicemail messages via email or SMS.

Call Notifications. Get pop-up notifications on your screen when you receive a call.
Video Capabilities
With a softphone, voice calls are only one of the ways you can communicate. Many softphone applications also include video conference capabilities. This is an excellent feature for businesses that hold frequent meetings with external clients or with overseas teams. Advanced softphone systems will come with a range of video conferencing features to make collaboration much more efficient. For instance, some apps will allow users to share screens, share files, and record video to mimic the efficiency and feel of a collaborative in-person meeting.
Declutter the Office
Because softphones require little to no new hardware, the system is a wonderful way to streamline and declutter the office space. Landline phones require a physical phone and, often, a series of wires that can become cluttered, tangled, and, quite frankly, unpleasant to be around. A recent study suggested that a decluttered office might increase productivity levels, as it helps employees feel less distracted and more relaxed.
Cost Efficiency
Softphones tend to be noticeably cheaper than traditional phone lines. You will likely pay your provider a low set fee per month. It also eliminates the need to procure and service individual devices, since your employees can use their personal smartphones.
Get Rid of Your Dedicated Line
With a softphone, you won't need to keep paying for a dedicated landline for your communication needs—all you will need is the Internet!
Scalability
Is your company still growing and expanding? A softphone service can easily accommodate growth within a business. Add new lines to your dashboard without the hassle of reconfiguring the office and hardwire lines.
Security
Softphones often come packaged with end-to-end encryption and have systems to detect and stop fraudulent callers, keeping your business, employees, and its data safe. They can also stop fraudsters from hacking into your system and making fraudulent calls on your behalf.
What Are the Disadvantages of Using a VoIP Softphone?
As you can see, there are plenty of excellent reasons why a business would want to adopt a softphone system. However, before you take the plunge, you may be wondering whether there are any downsides.
An Internet Connection Is Necessary
Many businesses find that their existing internet connection just isn't capable of supporting a VoIP system and its softphone software. If you don't have a strong enough connection, you may find yourself switching internet providers or packages. While this can be frustrating, it's a fairly simple issue to resolve.
Audio Quality Can Suffer
If your internet connection isn't bulletproof, the quality of your calls can suffer. You may notice lags, delays, jitters, and other sound quality problems. Again, this issue can usually be resolved by fixing your internet issues.
You May Need to Retrain Staff
If you use phones a lot in the office (for instance, if you run a call center), you may need to retrain your workforce to use the new technology. While this can be frustrating, softphone interfaces are typically user-friendly and easy to navigate, so any training will be straightforward and quick.
What Features Are Typically Included?
Most modern softphone applications come with a whole host of useful features. Here are a few of the features you may wish to enquire about when looking for a provider.
UCaaS Integration. Most softphones will integrate with leading UCaaS solutions like Microsoft Teams, Ring Central, and other custom platforms.

Interactive Voice Response. A guided menu option will allow callers to find the right department when they call your business without speaking to a receptionist.

Call Log. View your call history in the user-friendly interface to quickly retrieve the number of a previous call. Use filters to sort your call history.

Call Recording. Record important meetings and calls so you don't have to take notes while you're on the phone.

Video Conference. Use the softphone app to run a multiple person video call.

Conference Call. If video isn't needed, schedule a conference call with multiple users.

Automated Calls. Import a number list and run automated call campaigns.

Call Routing. Route calls to the right person using advanced data techniques.

Mobile Apps. Use the softphone interface on a smartphone.

Greeting Messages. Record a message for callers to listen to while waiting to be connected.
What are the Top Softphone Models on the Market?
Softphone technology is used in a wide range of popular applications, many of which work well for business.Some of the most popular apps that include softphone functionality include:
Microsoft Teams

Skype

Zoom
Ringover's business softphone technology is designed to replace your existing landline phone system seamlessly and efficiently and integrate with other leading UCaaS solutions.
Do More With Your Business Phones With Ringover
Switching to a softphone model for your business can transform how you and your teams get work done. It can improve your ability to collaborate, plus it can improve your productivity levels by decluttering the office and simplifying your communications. A huge benefit of the softphone system is that it can be used anywhere in the world. If your office is trying to become a more flexible working environment that offers remote working for its employees—a softphone service can make the new remote work model work for you.The workplace is rapidly changing, and flexible and remote working has plenty of tangible benefits. Remote work offers significant cost savings for both companies and employees. If you haven't yet thought about modernizing your office and becoming a flexible working environment that allows employees to work from home, it's definitely something to consider.

Interested in learning how a softphone can streamline your business communication?
Contact our experts to help guide you step-by-step at +44 20 3808 5555 or send an email to sales@ringover.com. Start your free trial today.