VoIP
VoIP: The secret weapon for remote selling success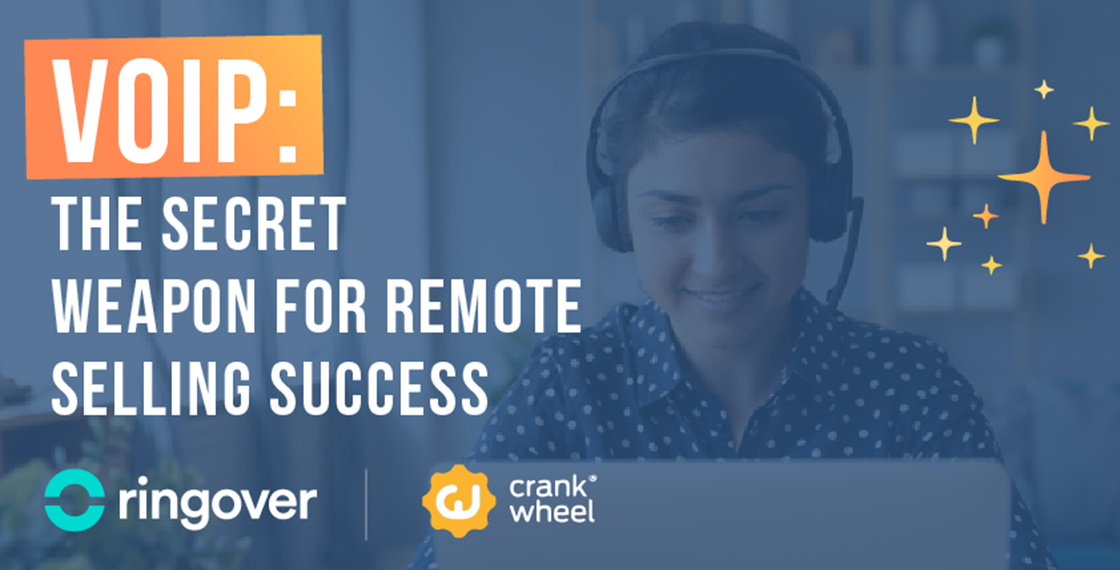 Combining sales skills with a powerful VoIP business phone system makes all the difference.
Every successful sales executive will tell you, their work is all about connecting and developing relationship: building trust and shared purpose, so that prospects warm to you and your words. We buy with our emotions, even in as business context, and then we rationalize that decision with factual justifications afterwards.In 2021, successful sales people have largely had to transition their activities to 100% online, as not only are they unable to visit their sales targets, those people themselves are all largely working from home too, and reluctant or unable to receive reps face-to-face. When all our interaction is taking place online, the parameters for success are changed. A new generation of sales superstars is making the most of cloud-based tools to leverage the potential of closing deals this way, and opening up new markets that might previously have been out of their reach.Combining sales skills with a powerful VoIP business phone system makes all the difference.
How remote sales agents build rapport
Virtual or remote sales agents have to get to grips with new skills and communication styles first, however, to achieve success in selling at a distance. To help the remote sales agent overcome this challenge, there are video calling tools within the Ringover business phone system, and these convey a certain amount of body language. It is important to acknowledge and work with the deficit, however, and recognize and compensate for what may be lost, when we're only seeing each other's heads in a tiny box on-screen instead of actually sharing space with one another. Here are some tips for building that sense of connection, however physically remote you may be from your prospect:
Always use video if you can, at least at the outset — if your prospect doesn't have great bandwidth or connectivity you may need to turn it off later in the call, but at least start with it on as default, as this encourages your prospect to reciprocate.

Use video asynchronously too, to follow up and respond outside the call — a quick video message, a screen share with picture-in-picture, even an audio clip, can maintain a lot more warmth and personality than an email.

Screen sharing tools allow estate agents to send a link to the prospect and within ten seconds they are both viewing the property specification together via an instant screen share. The great thing about tools such as

CrankWheel

it's instantaneous and you don't lose a prospect's engagement because there's no need to hang up!

Be a little bit more informal, when you're meeting a prospect online, than in their office. This does not mean being over-familiar or unprofessional, just making time for a little small talk and sharing of experiences and points you have in common, to break the ice slightly more deliberately than you may need to in a business setting. We often think about how to come across with great professionalism on a video call, particularly if we're uncomfortable about the reality of working from home — but when you're building a relationship for remote sales it's important to let a little of your individuality and personality penetrate the call.

Bring up meaningful things from your previous call — this is easy when your business phone system is integrated with your CRM (see below), though it needs to be done in a spontaneous and non-creepy way!

Listen actively, whether you're on a video or audio call. Reflect key points back to your prospect, check your understanding by summarizing what they have asked you, their objections or blocks to proceeding. When they are talking, particularly if you are not using video for any reason, little noises of agreement and connection can deepen your connection without breaking their flow (or use your facial expression and nodding gestures on video: SMILE! And in fact even if you're only using audio, they'll 'hear' that smile anyway...)

Build connection outside the call, again without getting creepy. If they are a business prospect, you could follow and amplify their thoughts on social media for example (as well as learning more about their motivations and thoughts). Send them interesting links or ideas that you know might appeal to them, without any attempt to trigger a sale — just to support the relationship, from time to time.
VoIP calling means data-driven sales success
A VoIP business phone system like Ringover underpins the success of remote selling in many ways, with advantages for both the sales rep and the agency alike. The secret to success is in the way that VoIP communications leverages the power of data to augment and enhance the qualities of the human connection.
VoIP business phone system advantages for employers and managers
Managing top sales people have always been as much an art as a science, ensuring they are empowered to do their best work in the way which suits them best, while being an expensive asset to the business when not appropriately deployed.Offering them a robust VoIP phone system as part of a quality technical toolset will motivate the best people to commit to working with you when they are now free to work for anyone in the world. The Ringover VoIP system offers the sales manager a great many advantages, including:
Robust lead management and tracking, through

CRM integration

. Share inbound inquiries fairly (or according to your internal priorities), and monitor exactly what the outcomes and follow-ups look like for the team as a whole.

Flexible IVR and

hunt group

functionality, to get every inbound call to the best possible responder in the shortest possible time.

A user-friendly app your sales people can run on their computer or phone wherever they are based — so you don't have to provide endpoints and hardware, and they can work in the way which feels the most natural and familiar to them.

Detailed metrics for you to monitor productivity and outcomes across your sales team — wherever they are based. Understanding the correlations between these metrics will help you distinguish and appropriately motivate and reward your rockstars and your workhorses appropriately and ensure that everyone is doing what it takes to earn their basic.

Reduced expense claims — no more reimbursement of personal mobile phone charges, not to mention those huge travel bills from the days of driving or flying to meet every prospect.

Instantly scalable solutions as you respond to surges in demand, or manage resources flexibly in a changeable economic climate. Adding new numbers and extensions for team members is as quick and easy as assigning a new email account, and transparent per-user per-month billing makes it easy to manage costs.

Powerful auto-dialing systems like

Ringover Power Dialer

ensure that wherever they are working from, your top sales people are maximizing the time they spend

actually speaking to prospects

— not finding, prioritizing, or tapping in numbers, when the software can take care of all that for them.

Centralized record-keeping right in your CRM — ensuring all your prospects' personal information, objections, anecdotes, quirks, and queries are recorded accessibly and perpetually. The truth is, great sales people are highly sought-after and can have a high turnover, particularly in competitive verticals. Ensuring your prospects don't go with them may be a contractual matter, but it's also important to ensure the information which powers that relationship stays within your business too.
VoIP business phone system advantages for remote sales executives
While all the functionality which supports the productive sales team also makes it easier for the rep themselves to do their best work, a solid cloud-based business phone system empowers the virtual sales agent themselves in unique ways too.In the 'building rapport' section above you'll note that there are many ways to deepen the connection and developing a deep understanding of your target customer is key to success here. Many great sales reps pride themselves on their memories for individual prospects, remembering their coffee order or the names of their kids. This is great, but the truth is most of this amazing recall is backed up by record keeping and disciplined write-ups, which can be referred to before the next interaction. And this is particularly important when you are having remote meetings, which are not going to provide the same recall triggers that you get when you go back to a location.When you use a cloud-based business phone system integrated with your CRM (customer relationship management) database, you have this information at your fingertips, even on inbound calls: When the VIP prospect is on the line, not only will they go to the top of your queue to be answered, your phone app will instantly display all the relevant information to help you respond to them as though you're their best friend. All your notes from the previous calls (including any handled by your colleagues), their purchase and support history, yes even their pet's name if you felt it relevant to record. Obviously as with anything in the data and analytics world, it won't work well with 'garbage in', and as such depends on disciplined and forward-thinking use of the tools you have in your hand — but a phone system integrated with a CRM is such a powerful asset to have, you'll want to make the very best of it.Those details are also available to other people on the team, because a colleague may need to take a call from your lead while you are on leave, and it's no good if all the information is in your head and the prospect feels they've lost that personal connection due to mistiming their call.A further advantage to using a business cloud phone system like Ringover as a sales rep is the sheer flexibility it offers you.You can make calls, and calls can find you, wherever you are, and on any device (mobile or desktop) you choose. The power of your IVR and hunt groups works seamlessly with the Ringover app, even on your own phone, to ensure that incoming callers reach you fast.When you're working remotely, you can take that call anywhere. You can pick it up on your mobile while you're out and about, then dash discreetly to your desk to retrieve the product information you want — while frictionlessly transferring the call to your headphones there, so you can continue it hands-free. Or perhaps you prefer to make and receive your sales calls in a location that inspires you (whether that's your kitchen terrace or a beach on Bali — depending on the size of your last commission check…)And of course, your prospects have no need to know you're on the other side of the country, or indeed the other side of the world on that beach, when you call them back. Ringover's local presence functionality lets you swap to an outbound number in their own backyard, at the touch of a button. This creates reassurance and significantly improves the response rate for cold-callers, as well as subtly deepening connection and rapport before a word is spoken.This is vitally important when you're remote selling, because you're no longer stuck in that endless routine of business travel, from meeting to meeting. A massive upside of the remote revolution, for every sales rep!
The world is your target market
Because this is the true superpower of the remote seller: You no longer have to confine your prospecting to a specific city, patch, or location. When you are remote and your prospect is as well, everything changes. While you may have different ways of segmenting your reach internally, VoIP calling unlocks a world of potential untapped custom for remote sales. Targets you'd never be able to reach by traditional sales visits, because they are too far from your office, or simply not open to making appointments with sales reps, can far more easily commit to a quick video call to better understand your offer. They don't feel as though they'd be under pressure through having a rep actually visit their premises, so they're more open to listening and engaging with your product information, instead of thinking up objections. And because you're not travelling all over the place, you have more time to give them that individual attention and understanding — conserving the planet's resources, working flexibly from the place you want to live and spend your time, while your prospects are doing the same.The future for sales, indeed for all business communications, in the 'new normality', is location-independent flexibility. Disconnecting the art of closing a great deal from a physical presence or encounter, is a powerful signifier of success. Organizations who embrace the new technology and skill set required to leverage this will have a demonstrable competitive edge in the business world of the future.
Would you like to boost your sales?
Contact our experts to help guide you step-by-step at +44 20 3808 5555 or send an email to sales@ringover.com. Start your free trial today.