Sales prospecting
What Is Conversational Commerce? Definition and Guide
With the arrival of conversational commerce, which allows for the simpler combination of technology and a human-centric approach, a new era of customer relations is upon us.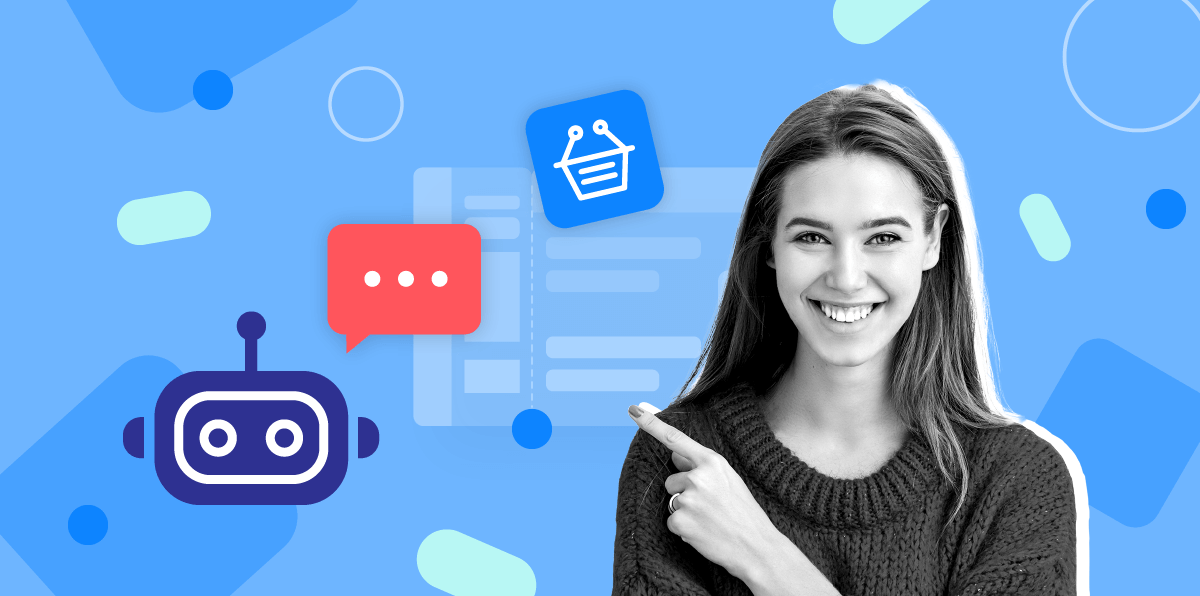 Summary
Businesses are aware of this shift, and an increasing number of them are looking to adopt the best practices to make the most of it. The competition is heating up: According to Future Market Insights, the global conversational sales market, valued at 5 billion dollars in 2021, could represent more than 26 billion dollars by 2023.

What about you? So, are you ready to step into the world of virtual assistants, automation, and conversational analysis? In this article, we'll go through the advantages of conversational sales, and we'll look at a few tools that will enable you to make the most of this new approach.


Try the best conversational sales tool
What is conversational commerce?
Conversational commerce allows you to literally extract hidden treasures from each of your interactions with your customers and prospects. In concrete terms, conversational sales is a sales approach that focuses on real-time communications and increased personalization of your communications with targets.

New technologies enable businesses to implement automation in certain points of the sales funnel. This is manifested through suggestions by email or in the form of notifications throughout the customer/prospect's visit on the brand's website, and also through chatbots and other virtual assistants. The content of the interactions is then automatically analyzed to then extract the most important information for conversions.


How does conversational commerce work?
There are several working parts involved in conversational sales. Its functioning is based on tools that you most likely use on a daily basis (applications, messaging system, livechat, virtual assistants, AI, telephony, etc.). However, this is just the technological aspect of conversational sales. Of course, it also depends on the customers' engagement level and the human aspect, which most certainly shouldn't be neglected. This is an experience that can be played out in the following manner:

Let's imagine that one of your blog articles has caught the attention of one of your targets. On this article's web page, a chat bot is activated and starts interacting with the visitor. Next, there's a conversation between the visitor and the chatbot, which will provide the prospect with information and answer their questions, while surveying your database.

It will even be able to offer the visitor products and services. The prospect may decide (or not) to make a purchase or talk to an expert. They may be invited to continue with their order, book an appointment, or get a demo version or a white paper, depending on the scenario that you've decided on.

Each interaction should enable you to increase the degree of personalization of your conversations, in turn improving the prospect's experience and responding to customers' requirements more precisely.


What are the benefits of conversational sales?
Conversational sales offers numerous advantages to businesses, as well as to prospects and customers. What are its benefits?


More personalized communications
Through conversational sales, businesses can communicate in a more personalized manner with their customers. Technologies such as artificial intelligence make the data processing phases much easier, so that you can gain a better understanding of customer needs, and to send them recommendations and suggestions that really correspond to their requirements and expectations.


Availability
Thanks to chatbots and virtual assistants constantly available, customers get instant support, even outside of office hours.


Task automation
Conversational sales allows you to automate a good number of tasks, such as:


Suggestions

Follow-ups

Making an appointment

Taking orders
Reducing costs
This frees up sales and customer service agents from redundant tasks, meaning that they have more time for high-added value tasks. Automating tasks also helps to reduce operating costs for businesses.


Collecting relevant data
It's all well and good collecting data, but what can you do with this data? Is it relevant? With conversational sales, all information collected doesn't just enrich your databases. Thanks to this data, you can also more precisely respond to customer requirements, personalize offers, refine your sales strategy, and improve your products and services.


A better customer experience
This is the main advantage of conversational sales. When implemented properly, through an omnichannel approach, it offers a seamless experience with considerably reduced friction points. In addition, customers get quicker answers to their questions, more relevant recommendations, and a better quality of customer service.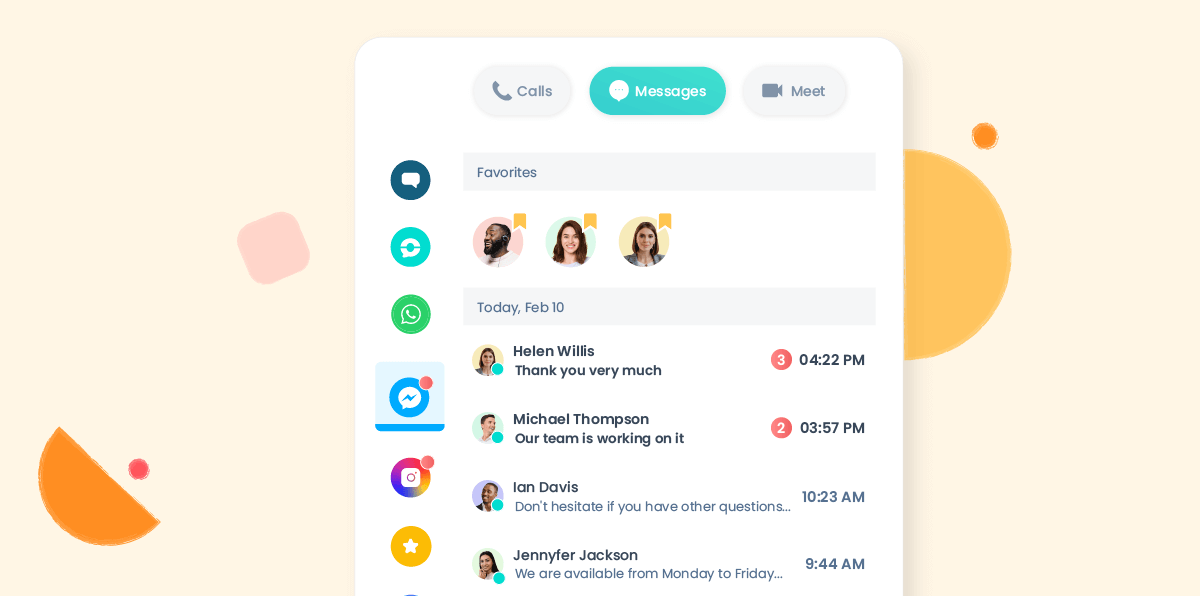 Tools for conversational sales
Conversational sales is based on the use of various tools and technologies, as we mentioned earlier. So, let's take a closer look at all that.


Chatbots
Chatbots, or conversational agents, are I.T. programs that can simulate conversations with humans through a chat communication interface. They use natural language processing technologies and artificial intelligence to "understand" customers' requests and to respond appropriately.


Omnichannel platforms
Without an omnichannel strategy, there would be no conversational sales. Businesses use omnichannel communication platforms. These platforms enable the centralization of communication channels through which clients interact with businesses. Amongst these platforms, you'll find Ringover and its module for omnichannel contact centers, through which you can communicate with your customers on their preferred platforms (livechat, instant messaging, SMS, telephone, etc.).


Marketing automation tools
Connected to omnichannel platforms, you'll find marketing automation tools, through which you can implement scenarios, including contact points and personalized message templates to send to customers, based on their progress through their sales pathway.

Amongst the most popular marketing automation software, we can name HubSpot, which offers a great ecosystem dedicated to improving the customer experience, and which has the advantage of integrating into business software, such as Ringover.


Conversational analysis software
Conversational analysis software are sales intelligence tools which allow you to extract information from conversation data. In this software, you'll typically find the following features:


Automatic transcription, which converts spoken words into text.


Sentiment analysis

, which detects and determines the emotions in the language used by an individual thanks to algorithms.

These reports allow you to consult conversation data, KPIs, and analysis results in the form of graphs and visuals.
Your sales agents can use these tools to perfect their sales pitch, and to save time on post-call or pre-call tasks. Some tools, such as Empower by Ringover, are even able to summarize calls that went on for several minutes into a text covering the most relevant elements. A keyword search feature is also integrated into the tool.


Wrapping things up
Conversational sales is increasingly becoming part of the daily work of customer relations and sales teams. It provides multiple advantages for professionals, enabling them to save time, personalize their conversations with customers, collect data, and reduce costs.

For this, they use tools such as chatbots, omnichannel platforms, and marketing automation solutions.

Ringover has the advantage of offering an intuitive omnichannel service which enables you to centralize your communications with your contacts. Sign up for free to test out the solution or to see a full demo and discover how it can help you implement and revolutionize your new conversational sales strategy.