Customer service and VoIP
How Speech Analytics Can Leverage Your Call Center
To have a high-performing call center, optimizing the customer experience is critical. That's why speech analytics call center have become an indispensable tool for those wanting to improve performance.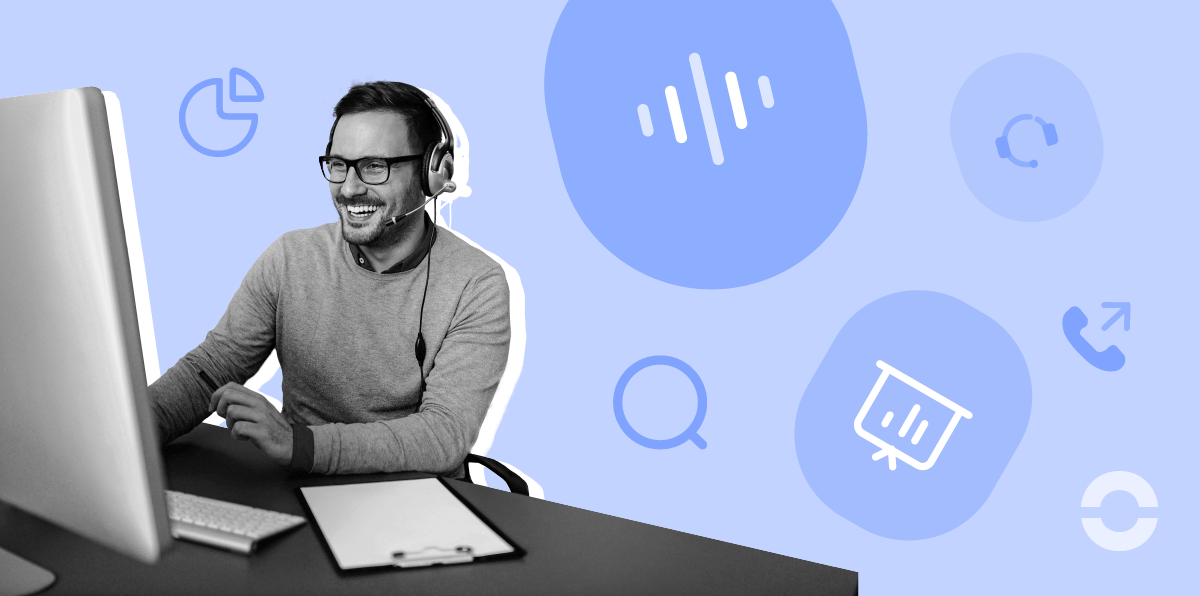 Whether you are just starting out to build your , or you're well-established, there's always room for improvement–especially with speech analytics. In recent years, clients (whether they are private consumers or businesses) have ever-increasing expectations for the service they receive. The best way to improve the personalization provided to your clients is by leveraging the data they provide–on their opinions, preferences, desires, and more.


Improve Your Call Center With Speech Analytics Today! (Free Trial)


An obvious but challenging way for call centers to do that is by leveraging voice data. Just recently, the analysis of voice technology was only available to companies with extensive technical and personnel resources at hand. But with the arrival of lightweight and affordable speech analytics tools like , you can finally mine that data to optimize the customer experience and eventually, create greater value for them. In this article, we'll define what speech analytics is, what speech analytics tools are best, and the best practices for implementing it.
What is speech analytics for call centers?
Speech analytics is a software which analyzes audio recordings to identify and classify the emotions and content expressed. This analysis is possible thanks to artificial intelligence and natural language processing (NLP). NLP is a technology that can interpret and comprehend human speech. When used in call centers, speech analytics compiles analytics like call quality, monologues, and turns to speak. Thanks to these metrics, both agents and managers will benefit from performance insights that benefit them in the short and long term.

Another important use for speech analytics in call centers is . Sentiment analysis is the identification and classification of emotions expressed and topics discussed, a technology which is usually applied to audio files. This is used in conjunction with NLP in speech analytics software to automate the analysis of large quantities of voice data. Once you implement a speech analytics tool in your call center, you'll no longer have to spend valuable time listening to endless . A tool like Empower can actually flag key moments during phone calls so you can pinpoint the right moments to listen to. What was once a subjective and time-consuming process is now automated and easy.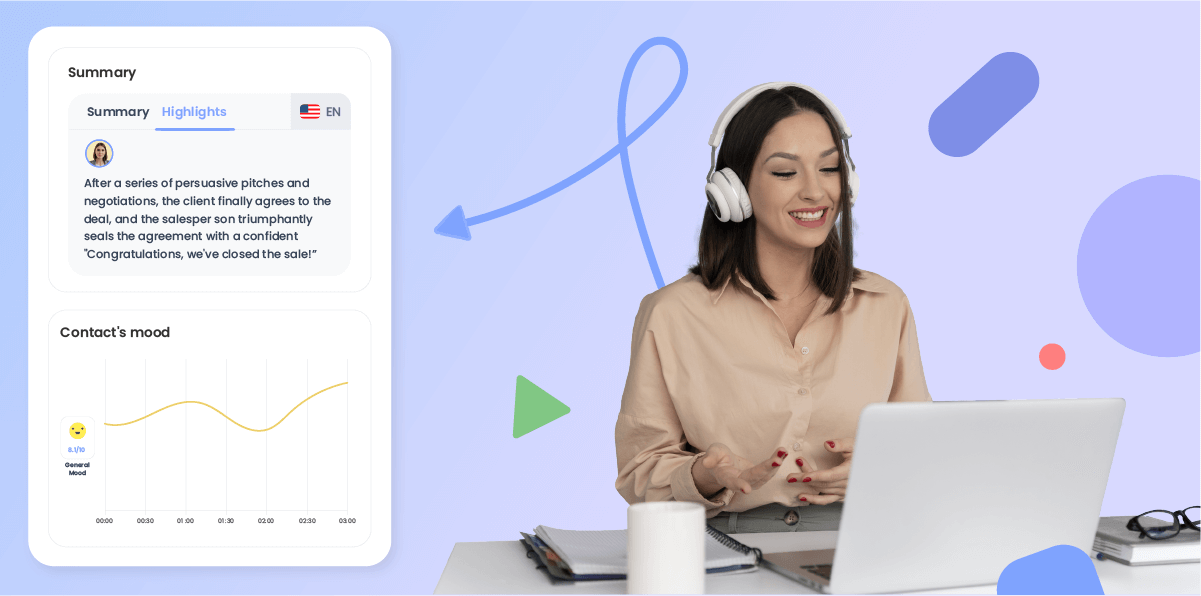 Post-call vs. real-time speech analytics
There are two types of speech analytics: real-time and post-call–and their names are pretty self-explanatory. In post-call speech analysis, the audio file from a phone call is analyzed after the call has ended. In real-time speech analysis, the audio file is analyzed as it's being produced–in other words, in real time.

Both have their own advantages. Real-time speech analysis allows the agent to react during the call itself, while a post-call analysis can find trends, key moments, expressions of strong sentiment, and more. Before settling on one over the other, the best thing to do would be to do research into speech analytics software–in fact, we've covered the best practices for shopping for a speech analytics tool in the next section.
Best practices for speech analytics
1. Choose the right speech analytics software
To access the benefits of a speech analytics software for yourself and your team, you'll need to choose wisely from the speech analytics software on the market. Here are a few of the factors to consider as you shop:
Technical requirements. You'll need to integrate your speech analytics software with your

, a process which can vary immensely in complexity. There are two main types of

, native integrations and non-native integrations, which are also sometimes referred to as API. Native integrations are offered by the tools in question, and you can usually find which are available by searching the brand's integrations library. They don't require any specialized technical knowledge to set up, and can usually be set up in just a few minutes. But linking your API with other software is more complex, requiring coding knowledge. So be sure you check what technical processes will be required before committing to a speech analytics tool, so you can choose an option aligned with your technical capabilities.
2. Monitor and score each call
Once a Herculean task, , and scoring every call (yes, every single one!) is possible with an automated speech analytics software. This opens the door to a truly data-driven approach, ensuring that management and trainers never miss a learning opportunity or successful tactic. Empower will automatically identify moments of strong sentiment or other key moments, so you can easily navigate through the many conversations your agents have each day, listening only to what's worth your time. Thanks to this information, you can then use recording for training or for positive reinforcement, then make more strategic decisions like the tracking of certain KPIs.
3. Personalize your software by choosing keywords
Most speech analytics software will allow you to input keywords and phrases that you consider strong indicators of positive or negative sentiment or product names, or even words associated with a certain service problem. This allows you to pinpoint what customers like and dislike about your product and service efficiently. In the short term, you'll be able to develop optimized responses to these concerns and comments. In the long term, the product team will be better able to prioritize their work based on the customers' needs and desires. Not only will you improve the performance of your call center, you'll eventually better serve your customers overall.
4. Organize call recordings into data points
As we've already mentioned, one of the biggest challenges facing call centers is how to take a more objective approach to the large quantities of qualitative data generated through customer calls. But with software deployed and analyzing that data, call recordings will be transformed from an inaccessible dataset with a high risk of subjective interpretation, to organized and easily digestible data points.
5. Train employees better
Like we mentioned previously, having a speech analytics tool in place will be a game-changer in the amount of insight you'll have in the calls. While a manager can only listen to a few calls per day, a software can score and transcribe every single one. All of a sudden, managers will be able to quickly develop a thorough understanding of how their team works on individual and collective levels. Deciding what topics to address with the group and what improvements can be made by specific agents has never been easier. Your call center's performance will not only improve, but consistently be of a higher quality.
6. Engage agents
The best way to engage employees is by giving them chances to grow and feel empowered by their accomplishments. That's where the analytics provided by a speech analytics software come in. Agents will be able to improve on their own thanks to the immediate feedback they have on each call. They also will have confidence in that feedback because it's provided by impartial and consistent software. Empower, for example, provides personalized advice to agents, so they can work on improving their approach, one thing at a time.
7. Benefit from real-time performance feedback
While agents can take a look at their performance themselves, managers will have a global view. With access to automated call summaries of each call, not to mention and for easy searching, it will be easy to understand what exactly is being said. Not to mention, there are also quantitative metrics like average agent speaking time, contact speaking time, and more. This wealth of information not only helps develop training plans for agents, but managers can make knowledgeable decisions regarding strategy.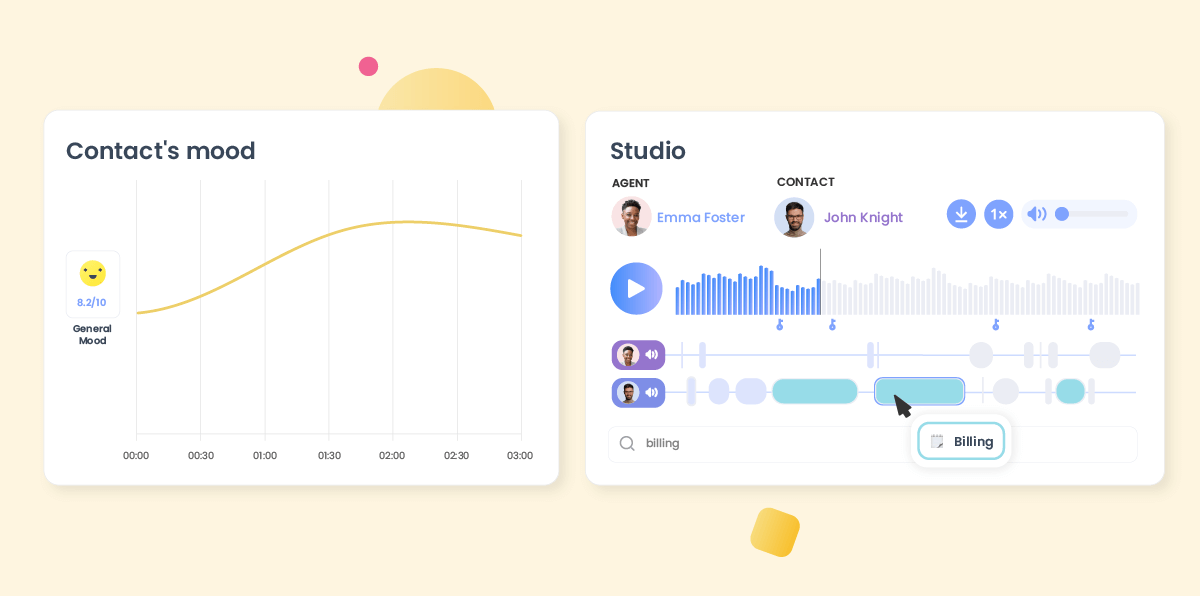 8. Recognize sales leads
One of the biggest advantages of this type of tool is that you can easily recognize patterns in customer conversations. If there is a certain exchange that often leads to upselling or cross-selling, you can more easily recognize those signals by examining . You can then define a call script agents can refer to, potentially leading to important increases in revenue.
9. Empower agents to work more efficiently
For call center agents, the administrative work is a significant investment of their time, despite its tedious nature. But technology like Empower notably reduces the amount of small but time-consuming tasks agents are responsible for. The call transcriptions are done automatically, including translations in English, French, and Spanish if necessary. Plus, the is lightened as well thanks to call notes and tags.
10. Simplify compliance
When you define the key moments you'd like the software to take note of, you can include terms that may indicate compliance violations. Not to mention, most software, including Ringover, allows you to easily record calls. With these two tools at hand, it will be easy to configure Empower and Ringover to serve your compliance needs.
Top 5 customer service speech analytics software
| Software Name | Software Benefits | Price |
| --- | --- | --- |
| Empower by Ringover | Automatic transcription and translation, sentiment analysis personalized advice for agents, ability to classify key moments | $69 per usermonth |
| Qualtrics | Listen to interactions at scale, evaluate performance with benchmarks database | Price upon request |
| CallMiner Eureka | Analyze multichannel communications, train agents using a training program | Price on request only |
| Invoca | Automate call scoring based on your criteria, evaluate caller and agent sentiment | Price upon request |
| Verint | Identify trends and topics in discussion | Price upon request |
1. Empower by Ringover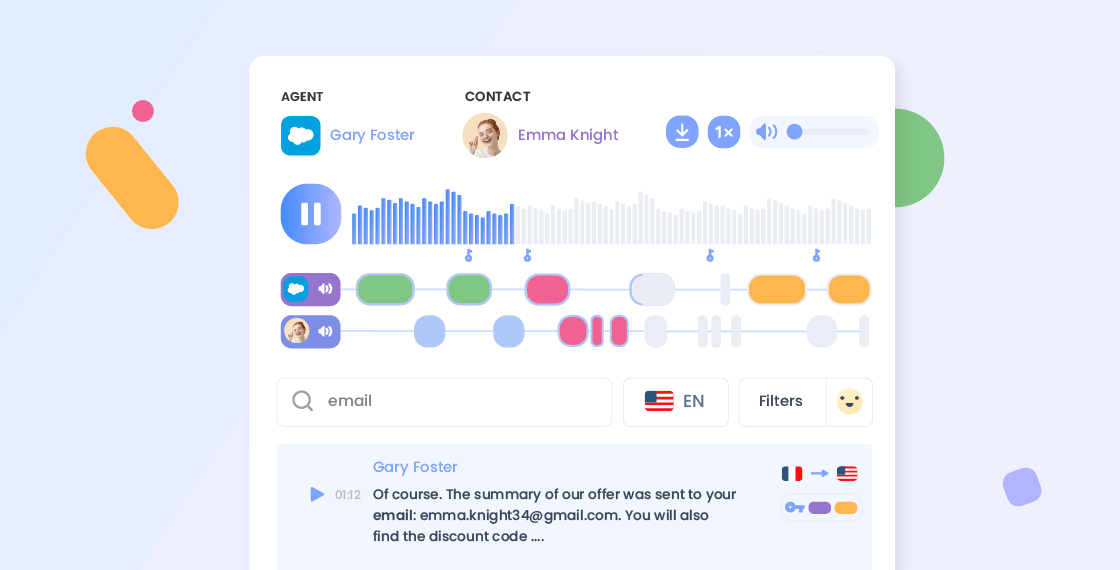 Empower offers a comprehensive selection of features, ensuring you get all the benefits possible from a speech analytics software. Each call will be automatically transcribed, and it can be translated between English, French, and Spanish if necessary. One key feature is sentiment analysis, which identifies and classifies the emotions expressed by the client. This information then helps inform strategy, both for individual agents and managers.

With the greater insight into customer experience provided by Empower, you'll identify patterns in customer concerns and desires. This information helps you improve agent responses and call scripts. You can even increase your revenue because you'll be able to find the best opportunities for and ways to present cross-selling and upselling. With the price at just $69 per user/month, Empower is light and affordable enough for smaller businesses, but powerful enough for large teams.


Try Empower
2. Qualtrics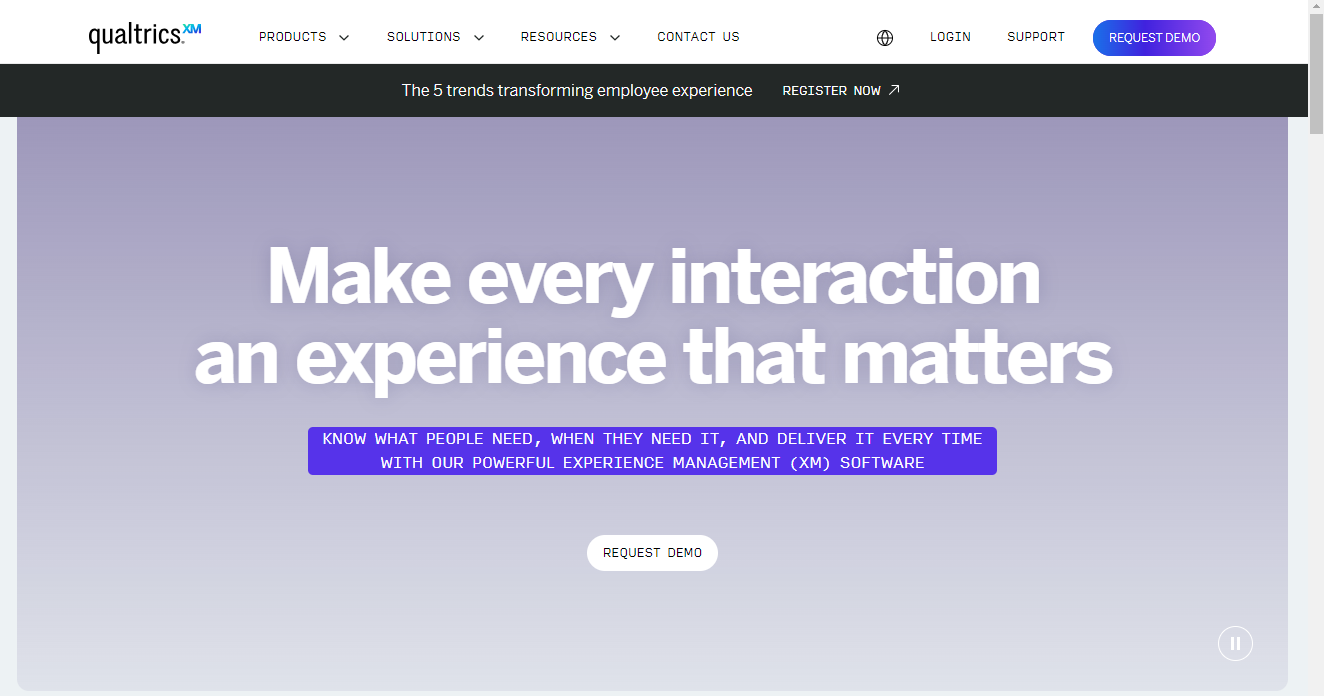 Qualtrics was founded in 2002 and has since become a well-known customer experience platform. Though it offers speech analytics, in fact it is a large software with many functionalities. In fact, it may not be the best solution for any company smaller than enterprise sized. This is also due to the fact that the price is on request only–so it's difficult to know what kind of financial commitment would be necessary without contacting their sales team. But, their speech analytics does offer sentiment analysis and the other basics a call center might need.
3. CallMiner Eureka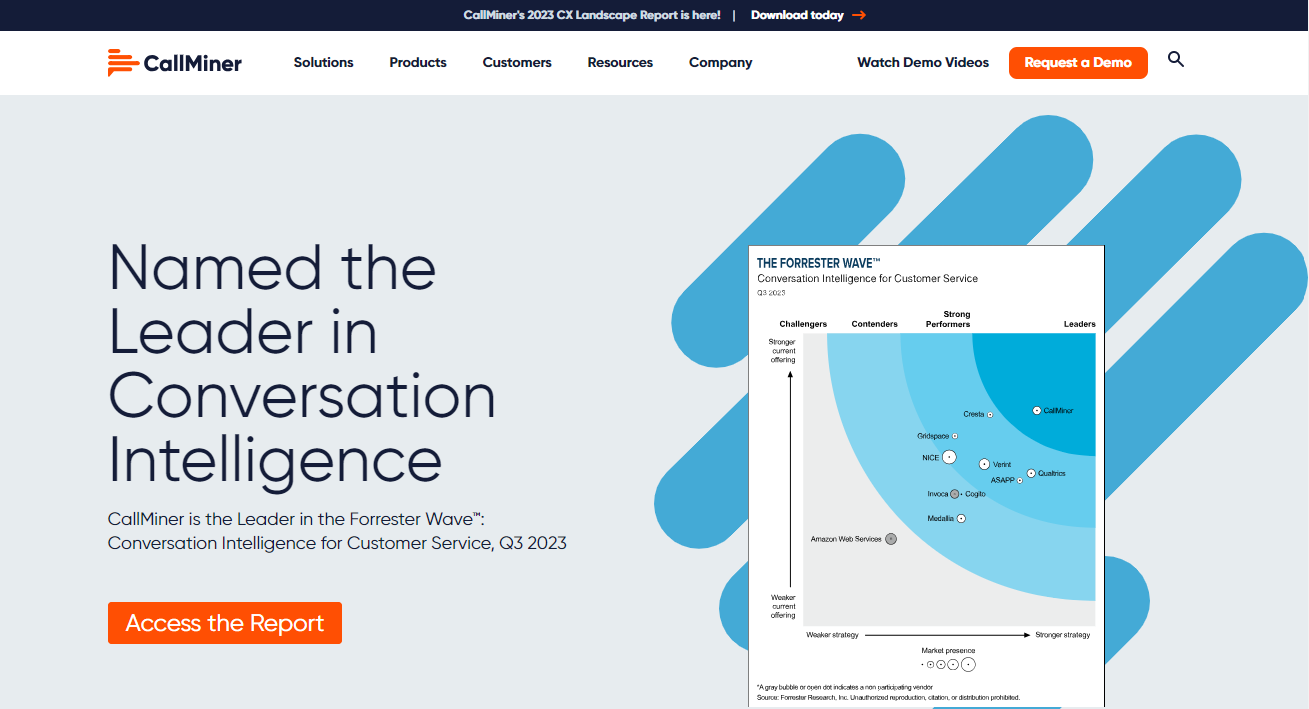 CallMiner focuses on conversation analytics, covering a wide range of metrics, including customer journey mapping, sales effectiveness, customer loyalty, and more. Similar to Qualtrics, this platform has a large variety of features–it could even be overwhelming. It's certainly intended for enterprise companies with the budget and technical resources to take on large and complex software. Once again, price is on request only. So if you're interested in considering this software seriously, you'll have to give your contact information to their sales team.
4. Invoca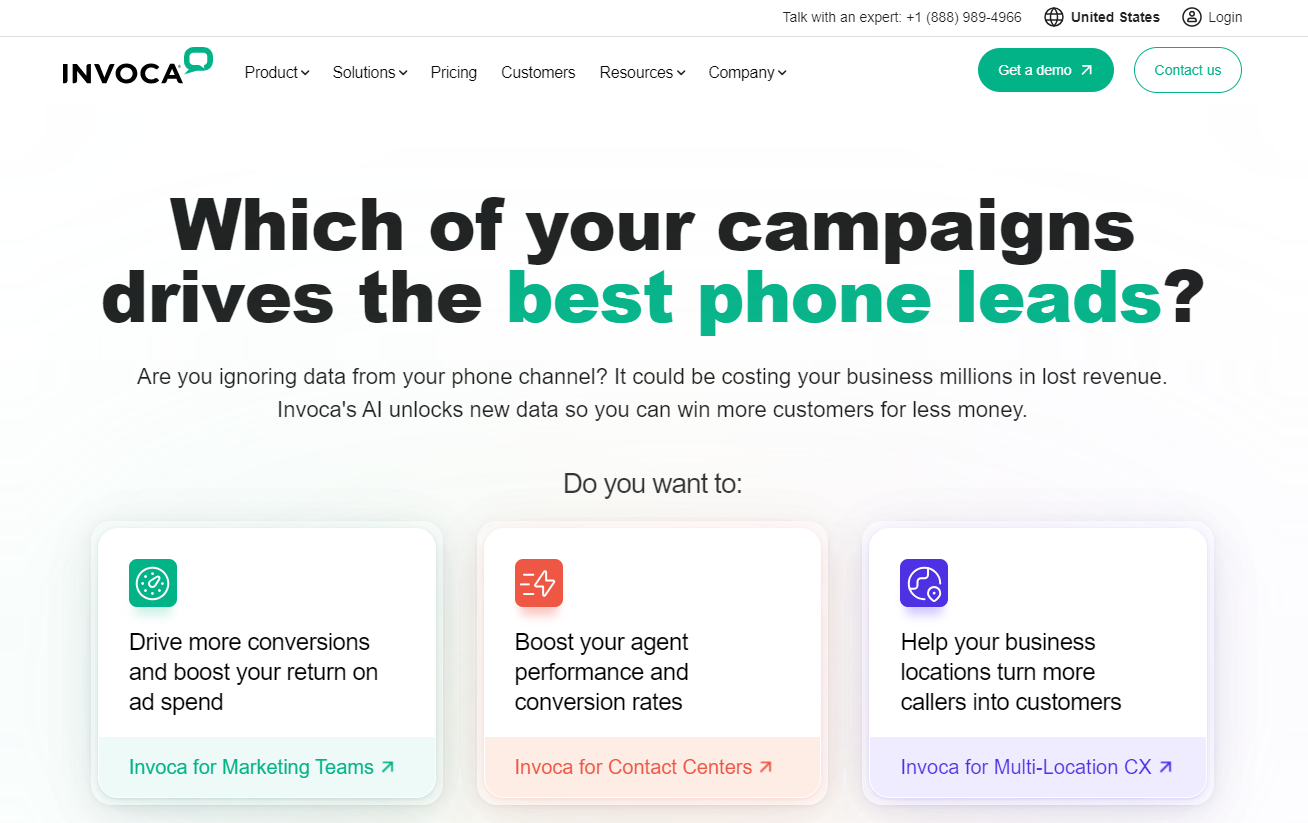 Invoca does offer speech analytics capabilities, but the main value proposition is their call tracking. This connects any phone calls to the customer's overall digital journey in an attempt to give users a more holistic look at the customer experience. That's why they actually have two specialized products, one for contact centers and another for marketing teams. If your goal is to support your call center in improving their sales performance and the customer experience, this software may not be optimized for your needs. Not to mention, the price is also on request, so it's not possible to evaluate the budgetary needs without interacting with their sales team.
5. Verint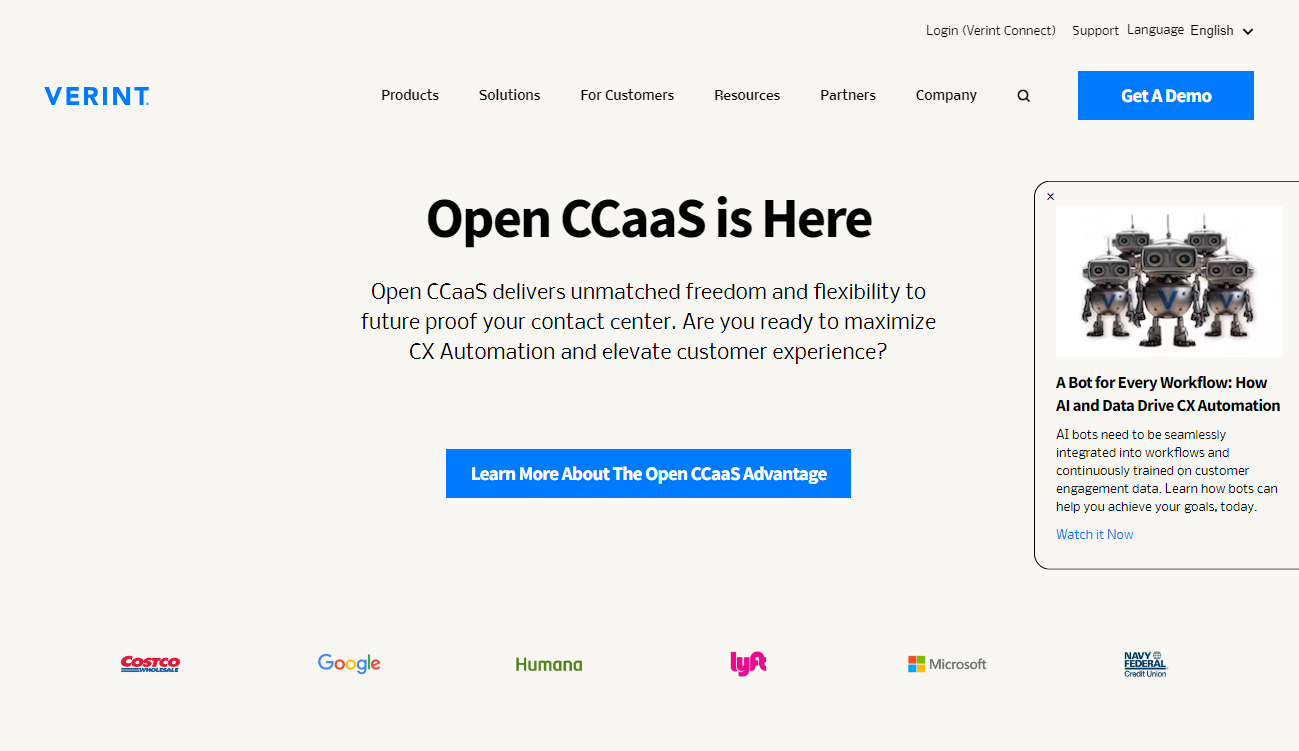 Verint describes itself as an Open CCaaS (contact center as a service) whose main purpose is to automate aspects of the customer experience. It's a platform with main different objectives, and speech analytics is just one of the features. The main objective of that feature is to provide an accurate transcription and identify instances of non-compliance. If these functionalities are what you're looking for, you'll have to get in touch with their team for pricing information–they don't have any information posted online.
Why is speech analytics important?
Speech analytics is a hot topic for call centers because of the important benefits it can bring. And when you're dealing with a department so critical to clients, any advantage counts. If you're trying to bring more empathy, efficiency, and personalization to your interactions, speech analytics makes the process incredibly simple. The ability to synthesize data for calls at scale makes all the difference! Here are the main benefits Empower by Ringover brings to your call center:
Increase customer satisfaction
The name of the game these days is personalization. Speech analytics software can help you achieve what you previously thought impossible: all scoring and evaluation of 100% of your calls. Having this data organized allows you to identify patterns in customer feedback and desires, and also optimize the phrasing agents use during interactions.
Make post-call work simpler and more efficient
Thanks to the personalized advice provided by Empower, agents will know exactly what they need to work on before speaking to the next customer. They don't have to re-listen to entire calls, or even create full or partial transcriptions or call summaries. Empower takes care of those tasks. While those elements help agents, managers also benefit from the automatic transcriptions and call summaries, in addition to searchable call notes and tags.
Optimize agent evaluation and training
While the agents will be able to improve themselves thanks to personalized advice provided by Empower by Ringover, that's just the start of it. In fact, Empower scores each call, making it easy for managers to pinpoint interactions that merit further attention. That way, they have examples of both best and worst practices to use when speaking with the team. Finally, KPIs like turns to speak and monologues also help the manager understand if an agent's in need of a training refresher.
How does call center speech analytics work?
One of the reasons why speech analytics has exploded in popularity lately is because the technology behind it is more accessible. Artificial intelligence is necessary for a speech analytics tool to have the efficiency and accuracy to understand the complexities of human speech. More specifically, natural language processing is needed.
What is natural language processing (NLP)?
NLP is an artificial intelligence-powered technology which understands the meaning behind human speech. It not only knows the definitions of words, but can also take into account context. As such, it allows for many types of analysis, including sentiment analysis. This technology is supported by computational linguistics, a branch of AI which builds human language models.
Speech analytics call center FAQ
What is analytics call center?
In call centers, analytics is the process of gathering and analyzing data gathered from agents and agent-client interactions. Analytics software then generates metrics and insights regarding agents performance, the overall call center performance, the customer experience and satisfaction, and even product performance.
What are the benefits of speech analytics?
More and more call centers are using speech analytics because they bring the following key benefits:
Reduce customer effort. If the agent has more insight into the customers' desires and concerns, the overall customer satisfaction will be improved. For example, speech analytics software identifies patterns in customer feedback, so agents can be better prepared to address recurrent issues. Additionally, agents can effectively mark product feedback with call notes and tags. In the long term, the product development team can leverage that feedback to improve the company's offer.

Quality assurance. Call center agent metrics are nothing new, but what is new is the ability to evaluate and score 100% of calls. Not to mention, you can rest assured the calls are undergoing a consistent and objective analysis by the speech analytics software. Thanks to these features, managers will be able to quickly and effectively identify outlying calls and take whatever actions necessary. Not only will managers know who has developed strong approaches that other agents could benefit from, they also understand who is underperforming and even why that's the case.

Improve agent experience. Take the guesswork out of agents' performance with a speech analytics software. Because call center agents can have complex interactions with customers and high work loads, keeping track of their own performance can be a difficult task. But Empower by Ringover provides an intuitive analytics dashboard with access to recorded calls, call summaries, and key moments where certain keywords or heightened emotions were noted. These features make it simpler for agents to self-evaluate and work in a more mindful and optimized way.

Increase your bottom line. Building a strong base of repeat customers is key to the sustainable growth of any business. And having a strong and high-performing call center is a key part of reducing customer churn. If customers feel they are well taken care of and have a relationship with the brand, they'll be significantly less likely to seek products or services elsewhere.
What is the difference between speech analytics and voice analytics?
Speech analytics analyzes words and phrases, including their meaning and context. Voice analytics focuses on specific intonations rather than any meaning attached to words, and can be used to identify the speaker.
How can I improve my speech analytics?
One of the simplest ways to improve speech analytics is by implementing a sales enablement software like Empower by Ringover. This tool will provide significant insights thanks to data collected from agent-client interactions within your call center. That can include sentiment analysis, the identification of key moments, identification of trends, and more. In the end, it will be easier to pinpoint how to improve products and services and how to optimize agent performance.