VoIP
The 20 best recruiting tools suggested by HR practitioners for 2024
Recruiting is a complex process which is often complicated by high levels of competition for the best candidates. That's why more and more recruiting agencies look to ease the process with recruiting tools and hiring tools.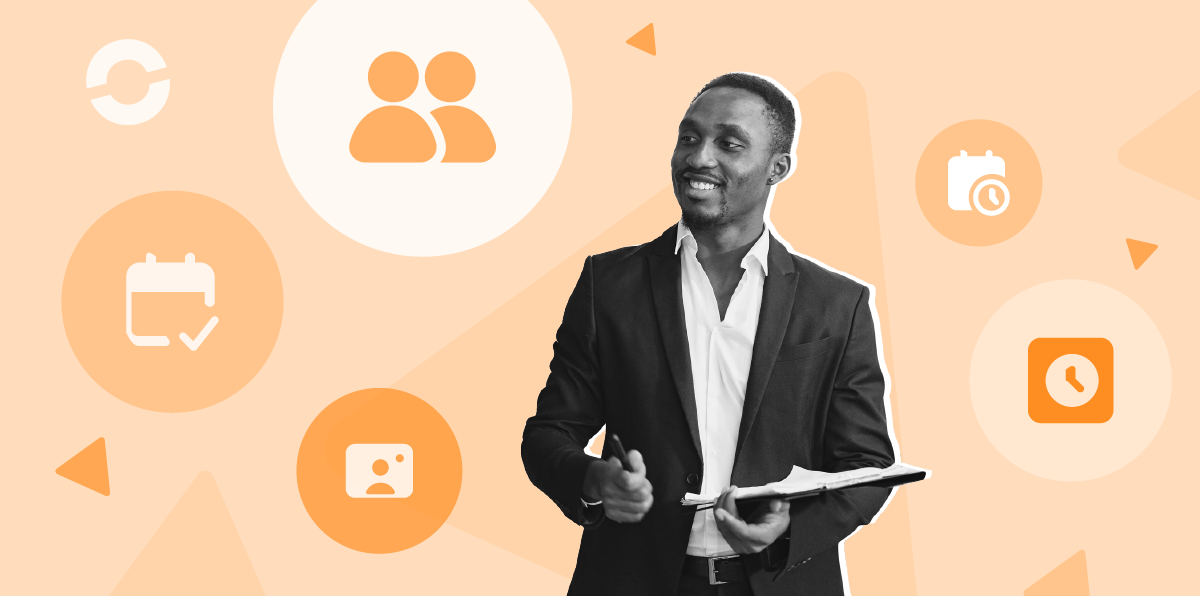 Summary
What are recruiting tools?
Recruiting tools for HR automate, organize, and generally simplify the process of finding, interviewing, hiring, and onboarding candidates. Though the benefits of using HR recruitment software are significant, the market has exploded with options in the past ten years. But all these possibilities can make decision-making difficult. To simplify the process of creating your HR tech stack, we've put together this list of the 20 best recruiting tools.
Top 20 recruiting tools
| Recruiting Tool | Tool Purpose | Tool Benefits |
| --- | --- | --- |
| Ringover | Provide omnichannel communications | Improve the candidate and employee experience, increase efficiency |
| SurveyMonkey | Create and run surveys | Gather and analyze information from candidates and employees |
| JobScore | Optimize job postings | A variety of elements improve the quality of job postings, including audio-visual and interactive elements |
| Textio | Increase inclusivity during recruiting | Automatically suggest improvements for texts to increase appeal to diverse groups and decrease bias |
| The Applicant Manager | Automatically track applicants | Automate job postings, ease the selection and onboarding process |
| hireEZ | Streamline the sourcing process | AI supplements their sourcing and analysis tools |
| LinkedIn Talent Solutions | Find candidates | Huge quantity of candidates at your fingertips |
| Buffer | Publish on social media | Develop your employer brand and increase candidate engagement |
| Eventbrite | Event organization | Increase awareness and engagement with your brand through networking events |
| Asana | Project management | Create your own workflows and track projects |
| Monday.com | Project management | Easily follow and manage your recruitment pipeline |
| Bullhorn | A staffing and recruitment software | Create a single source of truth for HR teams |
| Freshworks | Live chat software | Improve the candidate experience by providing real-time information |
| Criteria Corp | Skills testing | Streamline the interview process through screening |
| HackerRank | Platform to hire developers | Find and evaluate developers |
| Codility | Tech recruiting service | Screen candidates and improve your technical interviews |
| iMocha | Candidate assessment | Assess candidates easily and efficiently |
| Sterling | Background checks | Complete a variety of screenings to verify candidates |
| Paychex | Payroll management | Simplify the financial aspects of onboarding employees |
| BambooHR | Automate onboarding | Streamline employee orientation |
1. Ringover
When you're looking to reel in candidates, an solution goes a long way. You can take advantage of to efficiently call candidates, and create to easily work through outreach efforts. Other advanced telephony like and allow you to provide a personalized, seamless experience regardless of which team member is picking up the conversation.

There are also plenty of tools included to support employee training so your team can onboard easily and maintain a high performance level. One option is , which allows supervisors to pass advice to the employee without the candidate hearing or knowing. Plus, there is included, which allows you to remain compliant with regulations, but also easily identify and distribute examples of best practices or things to avoid.
Ringover Pricing
Ringover has three pricing plans available, ranging in price from $21 per user/month to $54 per user/month. These options allow you to not only choose the perfect choice for your company with its current needs, but scale easily in the future.
2. SurveyMonkey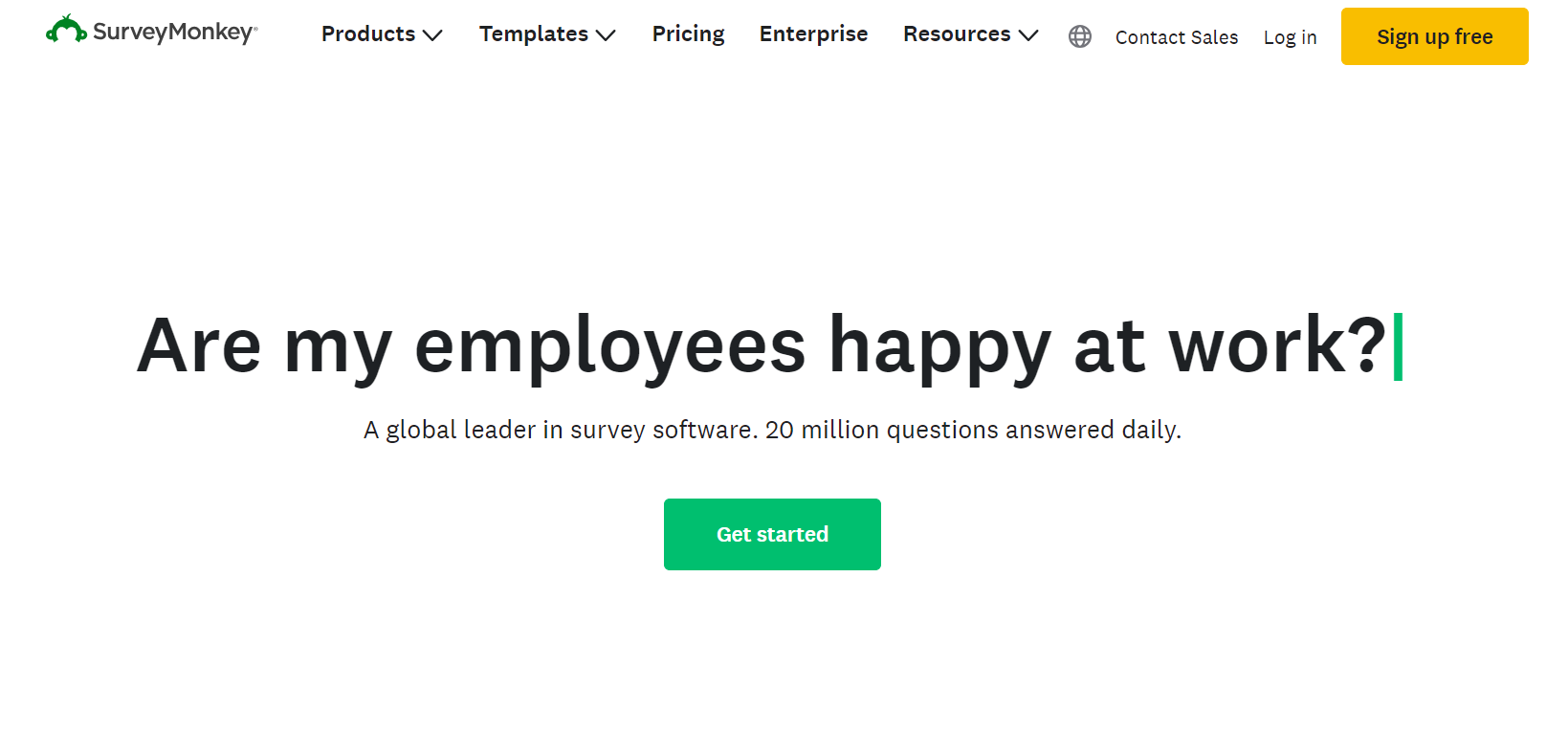 This famous survey-creation service is known to be versatile, so it's no surprise it has plenty of applications as a recruiting tool for HR. You'll be able to check in with both candidates and employees to understand their experience, level of satisfaction, and even allow them the opportunity to weigh in with their preferences.
Pricing
SurveyMonkey has two priced plans available for businesses, both with a minimum of three users. The user minimum is important to note since the plans are both priced per user. With the Team Advantage plan, you'll pay $25 per user/month, resulting in a total of $75 per month. With the Team Premier plan, you'll pay $75 per user/month, a total of $225 per month. For larger businesses, there is also an Enterprise option, which is price upon request.
3. JobScore
JobScore is a multifunction platform with the goal of making your job postings more attractive and easier to promote. You'll not only be able to create application form templates, but easily post those jobs on digital boards, create referral programs, and even simplifies the process of contacting candidates and scheduling interviews.
Pricing
The pricing for this applicant tracking system is quite high, which makes sense given how many functionalities it offers. The Start plan begins at $189 per month, with a limit of 5 open jobs. The price for that plan will then increase depending on how many jobs you need to post. Their second tier, the Scale plan, begins at about $600 per month with 10 job postings. Once again, you will pay more if you have more open positions. Finally, if you are a large company, there is an Enterprise plan that's priced on request.
4. Textio
For those who have diversity and inclusivity as a priority, Textio will score your texts and suggest ways to make them more inclusive. By diminishing the hidden bias included in your job postings, this software helps you build a more diverse and high-performing team.


Pricing
Textio doesn't publish pricing information on their website, so you'll need to contact their sales team for more information.
5. The Applicant Manager
The Applicant Manager is an applicant tracking system (ATS) which is meant for small businesses. It has all the basic features of applicant tracking systems, of which there are many. If you're not familiar with this type of software, you can expect it to automate job postings and offer several features to make selecting, interviewing, and onboarding candidates easier.
Pricing
The Applicant Manager doesn't have pricing posted on their site, but certain sources online state that plans start at $90 per month.
6. hireEZ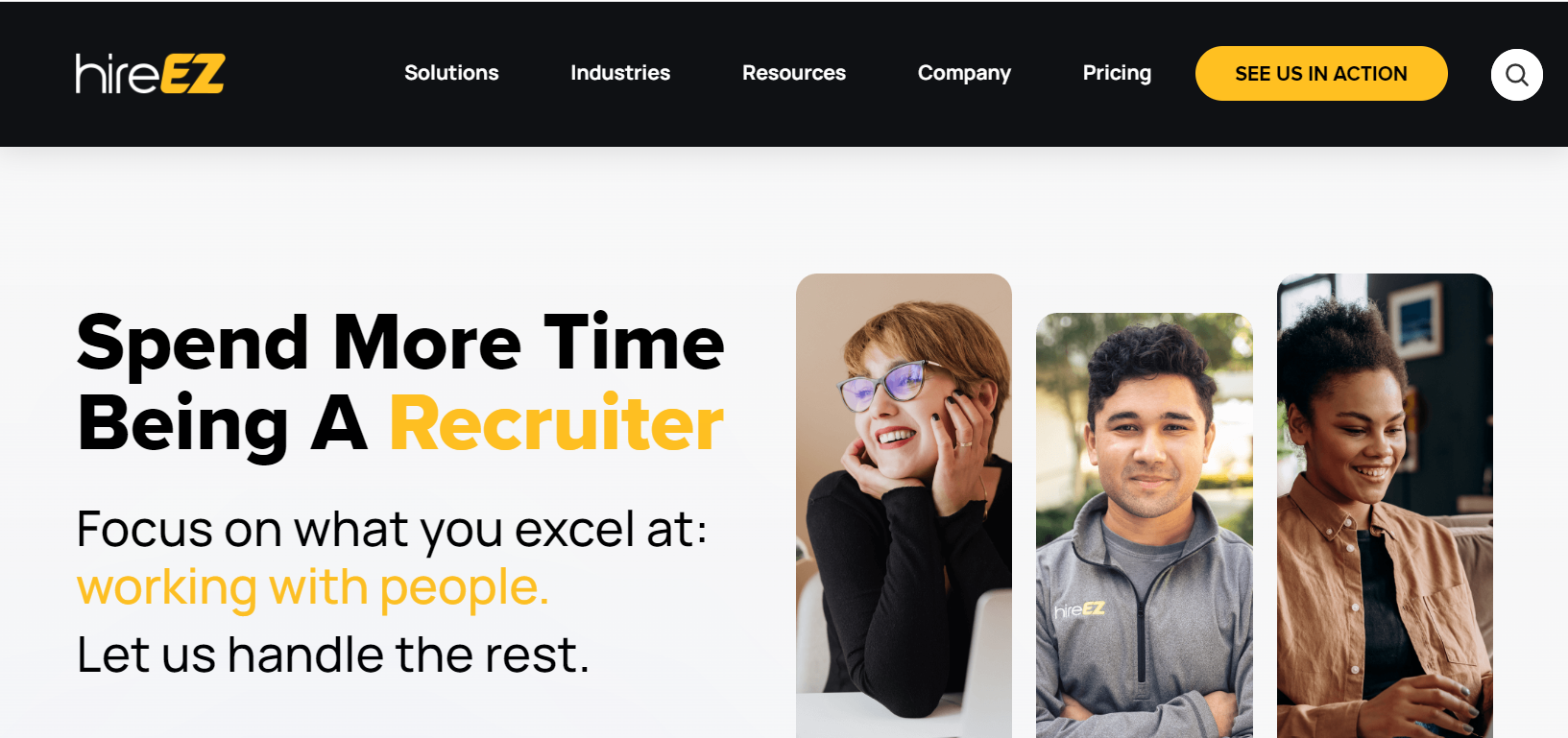 HireEz is an outbound recruiting program meant to support recruiters and improve their performance. Managers will appreciate the metrics provided on their teams, while recruiters enjoy the engagement automations and time-saving AI tools.
Pricing
HireEZ only lists an enterprise plan on their site, and the pricing depends on the specific functionalities and features you decide on. In short, contact their sales team for more information.
7. LinkedIn Talent Solutions
Who hasn't received a solicitation from a recruiter on LinkedIn? Those messages are usually supported by LinkedIn Talent Solutions, which provides filters, automated messaging, and other pipeline management tools.


Pricing
You'll need to contact their sales team to find out pricing.
8. Buffer
Getting the best candidates can be tricky, especially if there's not a great deal of awareness for your brand. So to make sure more candidates know about your company, what it stands for, and its work environment, many businesses increase their social media marketing. To get your social media strategy organized, you can use Buffer. It allows you to schedule posts and easily monitor their performance.
Pricing
Buffer has four pricing tiers. Their free plan allows you to add up to three social media channels, then they have an affordable second tier (called Essentials) which is $6 per month/channel. Then there is the Team plan at $12 per month/channel, and finally the Agency option for $120 per month for 10 channels.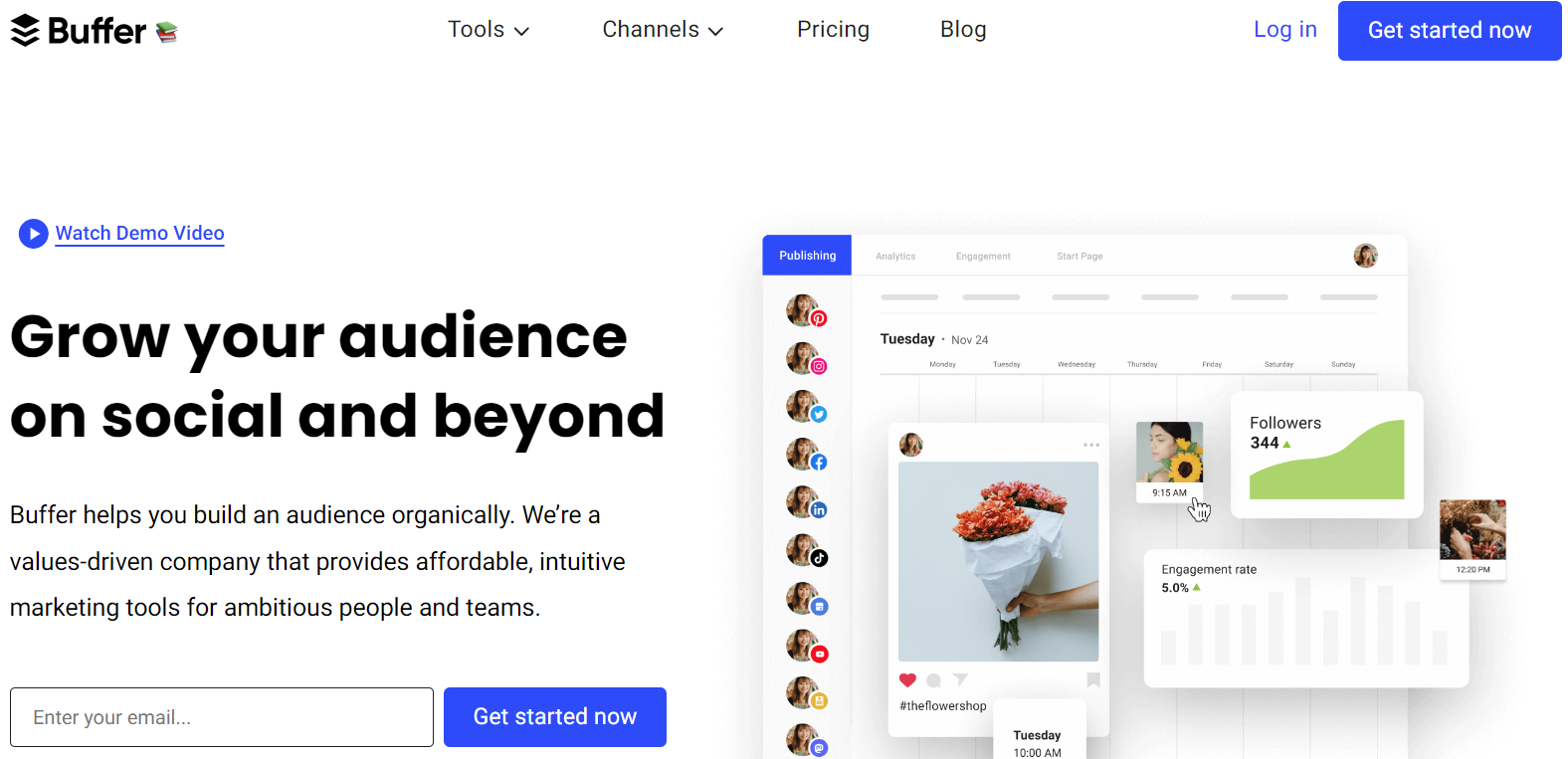 9. Eventbrite
In a post-pandemic world, in-person meetings are more valuable than ever. That's where Eventbrite comes in. This tool simplifies the event-planning process, ensuring you can communicate information and issue tickets easily and quickly.
Pricing
You can actually create events for free if you are issuing no more than 25 tickets. But to create larger private events, you'll have to subscribe to one of their three paid plans. The Flex plan is about $10 per month, then there is the Pro plan for about $30 per month, and a custom plan for those who have complex needs.
10. Asana
Organization is key in recruitment, otherwise you risk your pipeline stalling, and even losing candidates. That's where Asana comes in. You can create template workflows, projects, and generally improve your ability to track your accomplishments and understand the next steps to take.
Pricing
Asana has four price plans available. The Basic plan is free, but ill-suited to businesses. The Premium option is about $11 per user/month, the Business plan is about $25 per user/month, and there is also an enterprise option, but you'll need to contact their sales team.
11. Monday.com
Monday.com is similar to Asana but slightly more adapted to recruitment teams. You can use their templates to set up a visual recruitment pipeline, but also simplify application collection, manage communications with candidates, and even follow up with them for insights into their experience.
Pricing
This software does offer a free plan, in addition to three other tiers. The Basic plan is $8 per user/month, the Standard plan is $10 per user/month, and the Pro plan is $16 per user/month. But be sure to check the fine print, as there are limits on how many users you can have per plan.
12. Bullhorn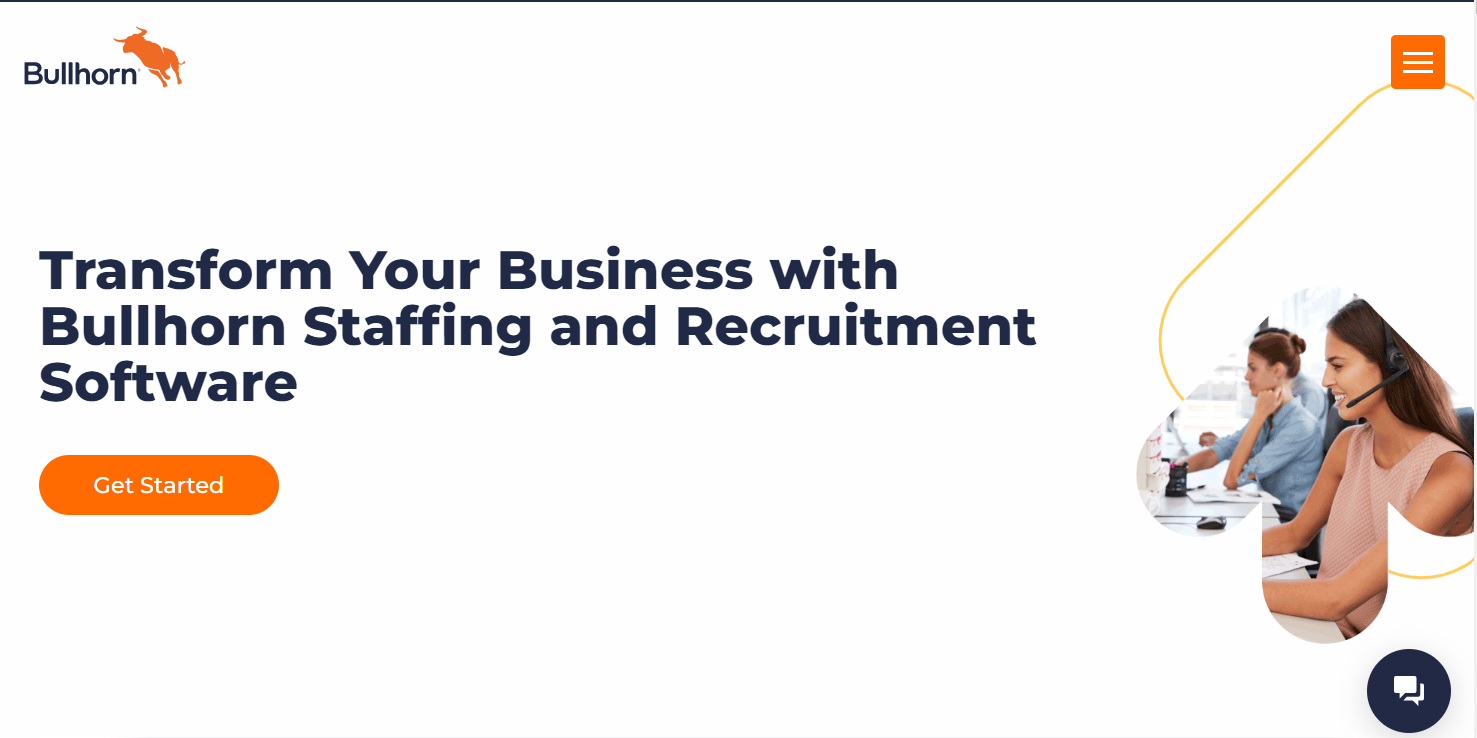 Bullhorn offers a staffing and recruitment solution which offers a large amount of functionalities. Not only can you track applicants, you can also handle onboarding, billing, and even payroll. Recently, they've also focused on bringing more automations into the software to help HR teams save time.
Pricing
Bullhorn has a large selection of products available, so you'll need to consult with their sales team to get a better understanding of their price.
13. Freshworks
Providing a great candidate experience is an important aspect of the recruitment process. After all, it's more and more common for candidates to expect the same sort of service they would from a customer service team. To help you achieve this standard of quality, you can incorporate Freshworks' live chat software.
Pricing
Freshworks has a variety of plans depending on your needs, with prices ranging from a free tier to about $70 per user/month.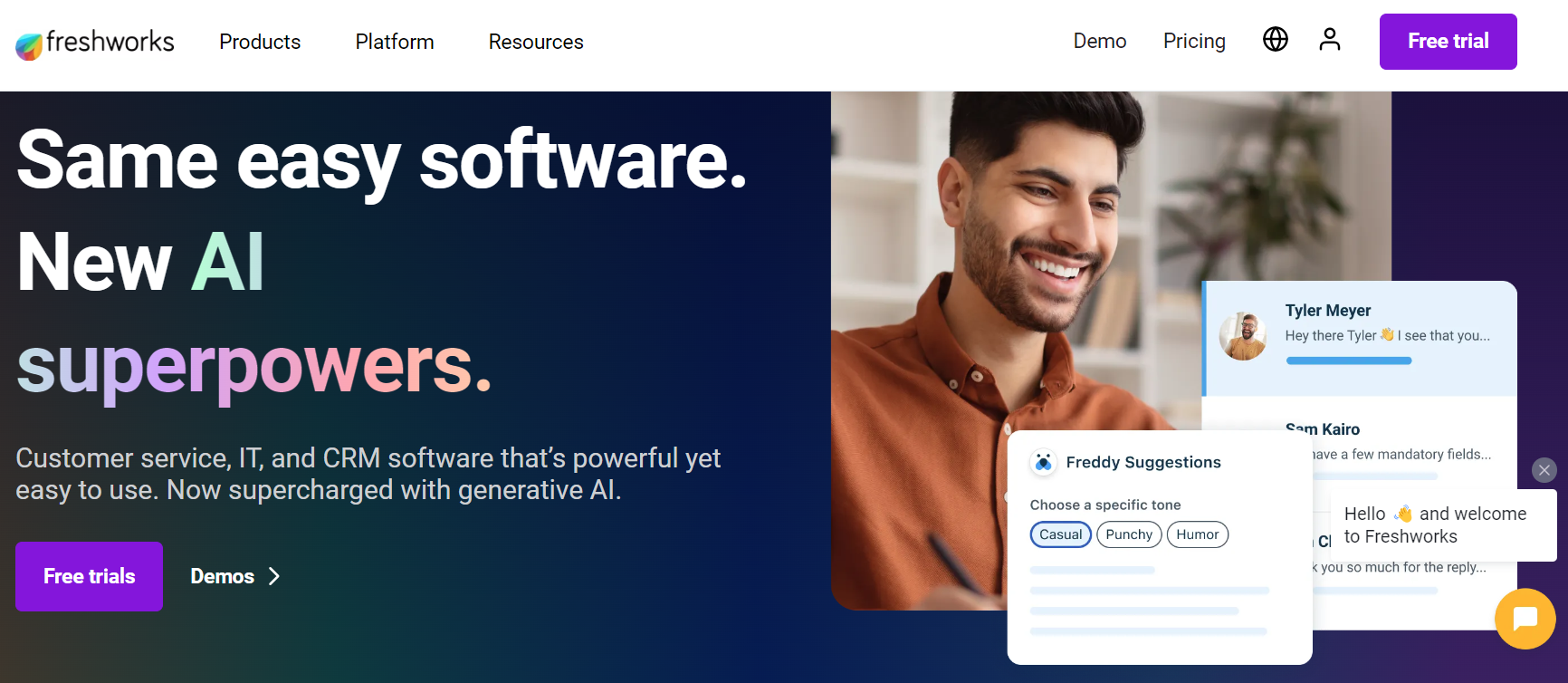 14. Criteria Corp
For companies in need of candidates with specific skills and knowledge, they can subscribe to a testing software like Criteria Corp. This type of tool helps you save time and simplifies the interview process.
Pricing
Given the complexity of this type of software, you'll need to get in touch with Criteria Corp's sales team for prices.
15. HackerRank
If you're looking to hire developers, HackerRank is a specialized platform could help you out in a big way. Not only does it have a large member base, it also helps you evaluate candidates with a real-world coding environment.
Pricing
This platform's start plan starts at $100 per month, with a second plan at $250 per month.
16. Codility
Codility is another option to help you optimize your processes for evaluating and hiring technical candidates. And once you've onboarded new employees, this service also helps with skills development.
Pricing
Codility's pricing is on request only.
17. iMocha
iMocha provides remote testing on a wide variety of topics, making the interview process more efficient for both your teams and candidates.
Pricing
You'll need to get in touch with their sales team for a quote because they don't have pricing information posted on their website.
18. Sterling
If you need to confirm information regarding a candidate's background or skills, Sterling provides a wide range of background checks, covering anything from civil court records to credit checks to international checks and more.
Pricing
Likely because they provide such a large assortment of checks and services, the price is on request only.
19. Paychex
One of the more tedious aspects of onboarding a new employee is setting up the financial aspects and getting to know the employee manual. That's where Paychex comes in, which automates those aspects of the onboarding process.
Pricing
You'll need to get in touch with their team, as prices are not posted online.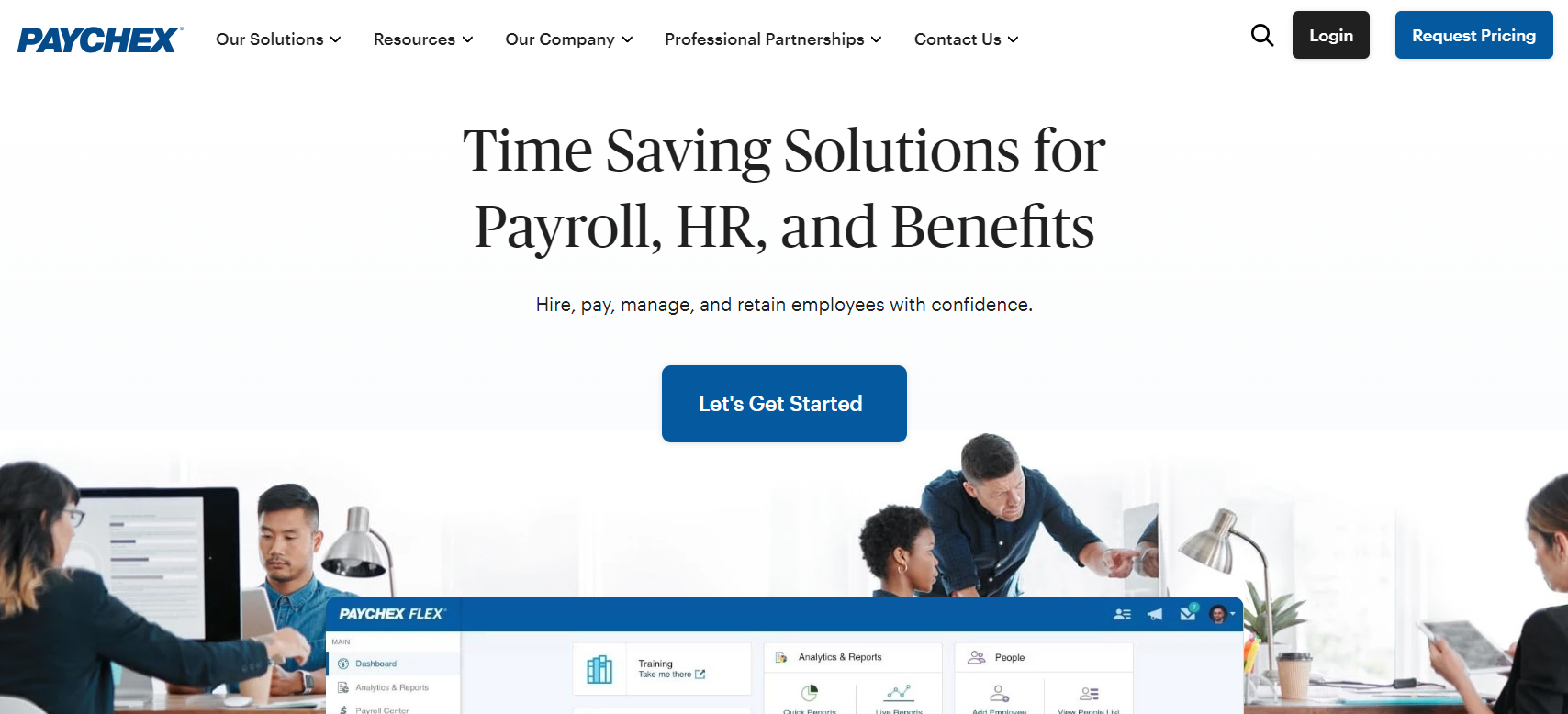 20. BambooHR
If you've realized that your HR team spends a lot of time helping new employees through the onboarding process, consider investing in BambooHR. As a self-service onboarding tool, this software allows new employees to manage aspects of their own onboarding. They can move at their own pace, and your employees gain back some time in their day.
Pricing
Prices are on request only.
Why are recruitment tools important?
Get the best talent
One of the biggest challenges facing recruiting teams is always finding quality talent and closing the deal. Technology makes a big difference when it comes to finding, filtering, and guiding candidates through the hiring process. Your employees can input specific parameters to find people for highly specialized positions, and once you do, it's easier to provide a high quality experience with an applicant tracking system.
Leverage data
Recruiters juggle a great deal of information on a daily basis, and keeping it all straight is top priority—nothing leaves a worse impression on a candidate or than a recruiter who appears out of touch. To prevent this, recruiters have turned more and more frequently to talent management systems, which provide a central source of information for recruiters.
Improve employee experience
Hiring tools can help you to provide a supportive and informative onboarding experience, and also create diverse employee engagement opportunities. There are not only options that allow people to weigh in on the working environment, but more technical tools that help you to create workflows and improve overall communication. For example, Ringover allows you to contact team members on the channel they prefer, so you can easily share key information, or even just ensure team members are updated regarding company events.
Types of recruitment tools
Communications suite
Making sure everyone is on the same page during recruitment is no small task. Not to mention, recruiters are often in competition for the best candidates, and outreach can make the needed difference to close the deal. Having a robust groups your communications with candidates in one central source. Picking up the thread of conversation is simple, allowing you to impress candidates with a personalized experience.
Applicant tracking systems
Similar to how a CRM allows you to track your , an applicant tracking system organizes and visualizes the path candidates take during the hiring process. You can automate many tasks, like posting positions to job boards, setting up referrals, and gathering feedback. Plus, between your ATS and a communications suite like Ringover give access to messaging capabilities and more directly within the ATS.
Screening tools
For certain jobs, screening is a necessary step of the process. Though this used to be an administrative-heavy process, which required knowledge of various organizations and their myriad requirements, now these sorts of requests can be automated or even outsourced.
Recruiting tools FAQ
What is used as a recruitment tool?
There are a wide range of recruitment tools available on the market, with many different uses. There are applicant tracking systems, job posting aggregators, skill assessment and screening software, and communication suites.
What tools do recruiters use to find candidates?
Here are the top tools recruiters use to find candidates:
Job boards

LinkedIn and other social networks

Applicant tracking systems

CRMs

Writing software

Event planning software

Screening software

Referral programs

Resume databases

Alumni associations
What technology do recruiters use?
Some common technology that supports recruiters are:
Applicant tracking systems, to simplify the hiring and onboarding process

Communications suites, to stay in close contact with candidates

Social media networks, to find and connect with candidates

Chatbots, to respond to inquiries quickly or even outside of business horus

Screening services, to confirm or test candidate qualifications

Referral software, to provide employees with the chance to recommend people

Interview scheduling tool to easily set up meetings

Virtual career fair service to network with potential new employees

Technical screening service, to ensure candidates are properly evaluated for the necessary skills
What are the 5 recruitment strategies and methods?
To optimize your recruitment, you can try out these five strategies or methods:
Create a referral program to encourage employees to refer candidates

Take advantage of social media networks to do social recruiting

Use software like ATS to automate low-value administrative tasks

Develop your employer brand to better attract candidates

Build a candidate persona, similar to a customer persona, so recruiters have a better idea of who to target