Call center
UCaaS vs VoIP: Which to use? The differences explained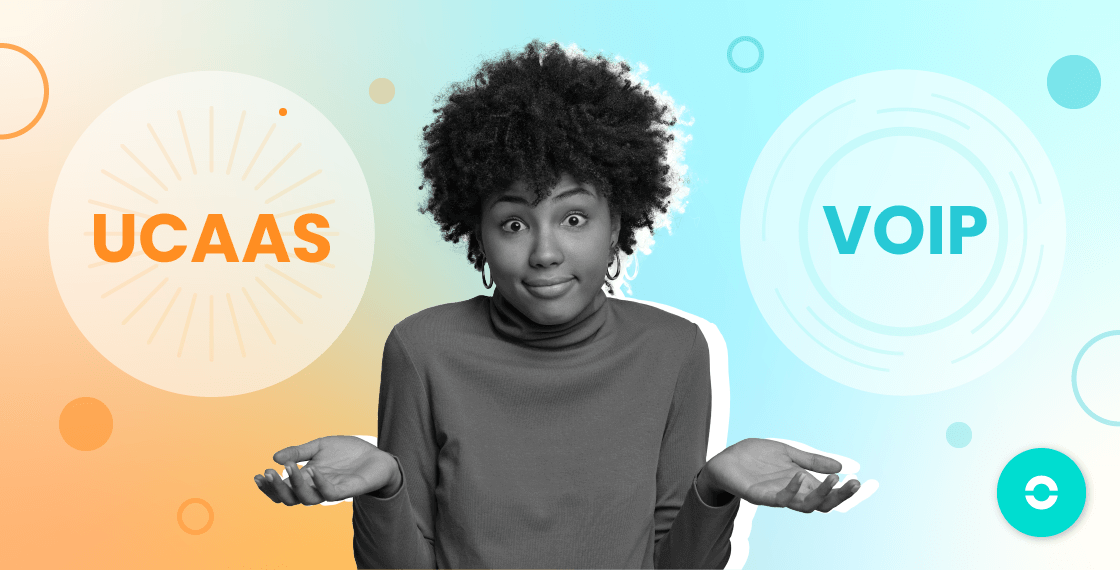 The internet has revolutionized business communications. You can now dial an international number as easily as a domestic number. As a business wanting to move on from the traditional on-premises PBX systems, the choice before you is between Voice over internet protocol (VoIP) and Unified Communications as a Service (UCaaS). Let's take a closer look at how these technologies can change the way you communicate. Or in short, UCaaS vs VoIP – what should you choose?
What is VoIP?
As the name suggests, VoIP (Voice over Internet Protocol) is a way to communicate over the internet rather than physical phone lines. This includes voice and video calling. VoIP technology works by digitizing your communication.

Voice and video files are broken into small data packs, compressed and sent over the internet to the recipient's device. Here they are uncompressed and reassembled. This transformative process happens in real-time keeping your conversation lag-free.

Unlike traditional PBX systems where numbers are connected to specific devices, a VoIP number is linked to an online account. You can access this account to make and receive calls from a mobile phone, tablet, laptop, desktop or even a desk phone as long as the device is connected to the internet.
Along with making and receiving calls,
providers also give businesses access to many advanced call management features as well such as:
Conference calling

Hot desking
VoIP Benefits
Some of the key benefits of using over regular phone connections are:
Easy setup and installation
There are no special devices required to use VoIP technology. All you need is a working internet connection. You can create a business account online with most service providers and assign user roles from there. VoIP services can be accessed from a web browser or from applications that can be downloaded and installed on your existing devices. This is a simple installation that does not require any technical expertise.
Virtual telephone number
When you sign up for a VoIP service, you can choose a virtual phone number. This looks and acts like a regular phone number. The difference is that this number could be chosen even for area codes where you have not yet established a physical presence. This is important for outbound calling since people are more likely to pick up calls from local numbers rather than international numbers.
Low-cost communication
VoIP services are usually structured in the form of monthly subscription plans. These plans are typically inclusive of a free virtual number and limited free calling to other VoIP accounts. You can also call non-VoIP numbers. These calls are billed at a per-minute rate that is considerably lower than regular international calling rates.
Access to advanced features
Along with access to video calls, VoIP communication plans have many more advanced features that are unavailable with regular phone connections. For example, you can customize IVR menus to route incoming calls to relevant departments, queue calls to minimize the number of calls going unanswered, record calls for later analysis and so on. Depending on the service provider and plan chosen, these features may be included in your monthly subscription or available as add-on packs.
Flexible communication
VoIP numbers are not linked to specific devices. This frees your team from their desks while keeping them connected wherever they may be. It is especially beneficial for businesses with remote workers and field workers.
Easy to Scale
VoIP communication plans are easy to scale up or down. There is no long-term commitment involved and plans can be changed at any time. Since there is no hardware involved, scaling is only a matter of adding or removing user accounts. This can be done online in minutes by anyone with administrative access.
Secure conversations
Unlike phone lines that can be tapped quite easily, VoIP conversations are encrypted to keep them from being overheard. Service providers may add additional layers of security like 2-step authentication to keep your accounts safe.
What is UCaaS?
UCaaS is an integrated platform for business communication that uses VoIP technology to enable communication over the internet. Along with voice and video calling, UCaaS also includes instant messaging, emails, paperless fax and other such communication channels. This platform is built mainly for internal team communication. Hence, it also includes collaborative tools such as screen sharing, whiteboards and team chats.

Users can switch between any of the available channels during a conversation. Let's say two people started a regular voice call to discuss a new product. Without cutting the call, they can switch to video mode and/or share screens for a more productive discussion. They could even convert the same call into a conference call by adding more participants to the call.
UCaaS Benefits
When compared to PBX connections, UCaaS solutions offer all the benefits of VoIP solutions. When comparing VoIP and UCaaS solutions, some of the benefits UCaaS offers over VoIP are:
Unified communication
UCaaS platforms can be considered akin to an umbrella for different communication channels. In addition to voice and video calling, it also includes communication via text messaging, instant chat, emails and faxes. Messages can be sent through any channel from the same platform. Not having to switch screens and applications while communicating is not only simpler but also helps keep track of messages better.
Cost-efficient feature access
UCaaS plans include many features that may not be present with VoIP service providers. For example, you can request and share documents while on a call and view the document on a shared screen. With only a VoIP connection, you would need to use a separate service for screen sharing which may incur an additional cost. Hence, bundling communication and collaboration features together within UCaaS plans make them much more cost-efficient.
Productivity tools
UCaaS is not just a communication platform but also an important tool for collaboration. It encourages collaboration through features such as screen sharing and whiteboards. This makes discussions and training sessions more productive. It also centralizes document exchanges so that team members working remotely all have access to the same information and stay updated with each other's progress.
Better customer experience delivery
UCaaS empowers brands to deliver a high standard of personalized customer support. Inbound calls can be routed to the right department with the help of customized IVR menus. This reduces the need for them to explain their query repeatedly and be transferred from department to department.

By unifying all communication on a single platform, it also gives the person handling a call access to data about earlier interactions the caller may have had with the brand. For example, let's say a customer calls and says they have received an email about a service and want to know more about it. The agent can see the email being referred to from the dashboard and take the conversation ahead accordingly.
UCaaS vs VoIP: Similarities
When comparing UCaaS vs VoIP solutions, you will notice a number of similarities. These include:
Both communication platforms are cloud-based

Neither solution requires special hardware. In both cases, you can use any existing communication device such as your smartphone, tablet, laptop or desktop computer that is connected to the internet.

In both cases, the installation is simple and can be set up without any technical expertise.

Both VoIP and UCaaS plans allow you to get a new virtual number in a domestic or select international area code.

Both are easy to scale

Both have lower operational costs as compared to traditional PBX connections.

Most service providers for VoIP and UCaaS solutions offer monthly subscription plans with no long-term commitment required.
UCaaS vs VoIP: Differences
Some of the key differences between VoIP and UCaaS solutions are:
Capabilities
The most basic difference between VoIP and UCaaS solutions is the type of communication provided by both. VoIP services are limited to communicating by voice and video calls. Some service providers also offer limited capabilities. On the other hand, UCaaS solutions offer voice and video calling as well as instant messaging, emails and other channels of communication.
Integrations
UCaaS applications are designed to be easily integrated with other existing business solutions for better internal collaboration and data transparency. Some of the popular everyday business tools UCaaS solutions can be integrated with include , , , , and .
Reports and Analysis
While both VoIP and UCaaS solutions offer call metrics and reports, the latter provides more in-depth analysis given that it unifies more modes of communication. This is helpful for teams looking into lead management or logistics management companies.
Costs
VoIP and UCaaS solutions are structured as tiered monthly plans. These plans differ in terms of the features offered and in some cases, the number of users permitted. Companies can subscribe to a plan of their choice and pay for services on a monthly or annual basis. A long-term commitment is not required in either case. That said, given the limitations in terms of communication channels offered, VoIP solutions are usually priced lower than UCaaS solutions.
When to Pick VoIP Solutions?
If your business communication needs are limited to conversations over the phone, a VoIP solution may be the most efficient solution for you. For example, let's say you're looking for a communication solution for your sales outreach team. Also, if budget is a concern, you may find yourself leaning towards VoIP services since they usually cost less than UCaaS solutions.
VoIP is also a good solution for companies looking at expanding their outreach globally. It allows you to get a virtual number in a foreign location even if you don't have a physical office set up in the area.
When to Pick UCaaS Solutions?
UCaaS solutions are more comprehensive as compared to VoIP solutions and hence are the better platform for companies looking at unifying all their communications. For example, UCaaS solutions would be well suited to a retail company's customer support communication.
While a VoIP service may be sufficient for a startup with a small team, UCaaS solutions are a better fit for growing companies.
Picking a Communication Solution for Your Business
There are a number of questions you need to ask yourself before picking between VoIP and UCaaS business solutions. Who does your team need to communicate with? Does your team work from a single location or remote locations? How important is collaboration to your team's productivity? What communication channels do your customers prefer?
UCaaS may be more expensive as compared to VoIP services but many companies prefer to pay the extra amount to be able to unify their internal and external communication. The communication and collaborative tools offered help boost productivity and make the system more cost-effective.
Once you decide between UCaaS vs VoIP solutions, the next step is to choose a service provider. There are numerous telephony brands offering both services. Before you subscribe to a service provider, you need to see the details of all plans, compare them and assess the features offered by each against what you need.
For example, let's say your company wants to cater to the French audience. With Ringover plans, you can easily get a new French local number. This may not be possible with VoIP service providers. Similarly, services like call recording are included in Ringover's starter plans while other service providers may not include it in their plans but offer it as an add-on feature.
Go for an all-inclusive plan that helps you grow without breaking your bank
It is usually better to choose an all-inclusive plan rather than a base plan that requires several add-ons. If you need to make international calls, you will also need to compare the number of destinations included in the plan and the per-minute call rates for excluded destinations.
Above all, make sure you choose a service provider like Ringover with a reputation for reliability and low downtime. Your business phone communication system will play a big role in keeping your team together and delivering good customer service. So, don't make price the determining factor and choose a service that meets your current and expected future needs.