Remote work and VoIP
5 Best Cities to Work from Home 2021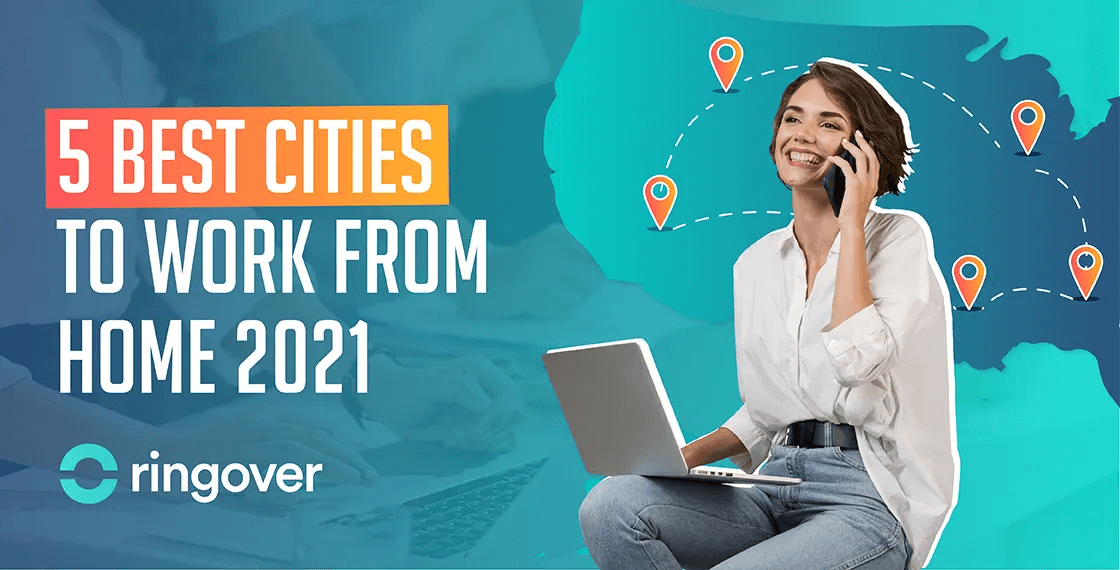 Summary
What to Consider When Looking for a Place to Work From Home:
With those considerations in mind, check out our top picks for work-from-home move:
Seven simple words: Work from home is here to stay. The pandemic has proven that for some professions, a fast Internet connection, smart devices, and productivity tools are the only requirements for a job well done.As the landscape of how we work changes, so will the landscape of how we live. Without being tethered to an office, it's worth asking yourself whether your current location is really the place you're most productive. It's a huge question, which is why we're here to help. Check out some food for thought on what you need in a move, plus our favorite spots to work remotely:
What to Consider When Looking for a Place to Work From Home:
Cost of Living:
If you've been handing over a giant chunk of your paycheck towards rent or a mortgage for a place with a short commute, it's time to rethink how you're spending your hard-earned cash. Whether COVID protocols have changed the way you enjoy your city or you just don't need to be close to an office anymore, it's possible you could lower your daily costs and up your savings with a move to a more affordable locale.
Workspace:
It should be a no-brainer, but tons of people forget that "work from home" doesn't mean "I can work easily from anywhere." As long as you're laying out the pros and cons of where to move, make sure you're headed to a place with a workspace that suits your needs. Do you want a location where you can buy a home with a big backyard that doubles as the office, or do you like to hunker down with your laptop at the local coffee shop? Are you looking to meet connections in a coworking space? Could you use some affordable studio space to store your goods? Do you need a home office where you can work unconventional hours? Think about the workspace where you'll not only survive, but thrive, and figure out if your desired destination can provide that for you.
Connectivity:
We love the idea of working from a rural farmhouse or a cruising sailboat as much as anybody, but nearly any job these days needs speedy Internet and proximity to networking communities. Think about how much you need to stay connected to do your job well. Would you benefit from a city ripe with tech incubators? COVID-safe coworking spaces? Blazing fast upload speeds? A venture capital networking scene? Smart recent grads you can hire? Whatever connectivity means to you, make sure you can find it in your new work from home hotspot.
Taxes:
Don't get to the point where the IRS has to come knocking (because they will!). Review the tax laws for the place you want to live before you go. They're different everywhere, so there's no one rule that will apply to every remote worker and their needs, but there are a few general things to keep in mind: check if you have to start paying taxes upon arrival for remote work, or if you get a 30- or 60-day stay without having to fork over some cash. If you're self-employed, where you pay taxes isn't only dependent on where you've spent time; the IRS will also take into account factors like sales revenue or the amounts collected in different places. The bottom line: don't make a move where paying your taxes will hurt your bottom line.
Time Zones:
Sure, a 4 am wakeup in Maui to hop on a call with Manhattan might be doable during a getaway, but can you sustain those hours for months on end? If you're frequently collaborating with people in a certain time zone, make sure a long-term move is in a place where your work hours won't prevent you from enjoying everything the area has to offer.
Your Current Job:
Don't forget that thanks to tax laws or plans for going back to the office, some places require you work from a handful of specific locations. Before you plan a move, make sure you get the thumbs up from your current gig.
With those considerations in mind, check out our top picks for work-from-home move:
Miami, Florida
Cheaper rent than NYC, San Fran, LA, and Chicago to live near an ocean that's perfect for a dip all year round? Plus a vibrant nightlife scene that's 100% fun, 0% pretentious? And a burgeoning startup scene that's growing thanks to local initiatives and investments that are helping to attract Silicon Valley transplants? Oh, and no income tax? If you want to wake up with an ocean view, have lunch with the scene's hottest venture capitalist, and go to sleep high on life and a few rum cocktails, Miami is your WFH spot. How Ringover can help you work from home in Miami: Miami is one of the more multilingual cities in the country. With an online studio that lets you create greetings for your business in 16 different languages, you'll be able to tap into new markets with ease.
Tulsa, Oklahoma
Forget getting paid just to work—why not also get paid to move? Tulsa Remote is an initiative designed to attract the best and the brightest to this Oklahoma hotspot. If you qualify, you can score a $10,000 grant to help with relocation costs, a spot at a local coworking facility, and the chance to be part of a new, vibrant community of remote workers. Ten grand aside, the city has a lot to offer: chill coffee spots and breweries, world class sporting events, massive investments in urban green spaces, and the opportunity to buy a home at 43% lower than the national average. As one Tulsa Remote work-from-homer put it, "Our blood pressures went down because we are not stressed out anymore." How Ringover can help you work from home in Tulsa: Taking a call while enjoying one of Tulsa's many parks? We don't blame you. Ringover's exceptional call quality will make sure your clients aren't picking up on any of that distracting wilderness breeze while you make outdoor calls on the go.
Tucson, Arizona
Craving some desert air instead of a polluted commute? Look no further than Tucson. It was popular with freelancers even pre-pandemic, so it's already full of affordable coworking spaces and laptop-friendly bars and cafes. The city is especially great for creatives interested in blending art and smart city design in the new Warehouse Arts District, or for bosses looking to recruit from the talent pool at the University of Arizona and other nearby colleges.If you're an avid biker or hiker who hates the cold, its proximity to toasty year-round outdoor getaways might seal the deal. How Ringover can help you work from home in Tucson: Managing creative endeavors usually means managing a giant team. Ringover's collaboration tools allow you to instant message each other to make sure all your thoughts are in one place, share screens so you can see each other's visions, and use a smart dialer to get more people on the line when their insight is needed.
Cumberland, Maryland
Massive investments in this small but gorgeous Maryland city have made this one of the most attractive towns for young remote workers who want the best of both worlds: the chance to enjoy fresh air and a tight-knit community, while also being just a couple hours away from meetings or networking events in Pittsburgh, Baltimore, and Washington, D.C.Housing and high-speed Internet costs are low, and new coffee shops and breweries are fun, laid-back places to put in a hard day's work. How Ringover can help you work from home in Cumberland: Maybe you want the laid-back atmosphere of Cumberland even though you can't afford to be totally laid-back as a boss. Ringover's supervision tools help you monitor when your workers aren't putting in the effort you need to succeed, and give you real-time data you can use to track the conditions that help your team boost productivity.
Chattanooga, Tennessee
Chattanooga made attracting remote workers a priority, and their efforts have paid off. Now known as the "Gig City," it's the first US city where you can find a reliable, citywide 10-gigabit network—and be able to use it from your private desk at a coworking space for under $75 per month. There's easy access to the mountains for weekend warriors, and fun downtown art galleries, museums, and cocktail bars for weeknight hangs. You can use this calculator to figure out how Chattanooga costs compare to your current home, but thanks to affordable renting and buying options and a low cost of living, we're willing to bet this move would be a deal. How Ringover can help you work from home in Chattanooga: In a city with such a fast, powerful Internet network, it's a little embarrassing to have to ask your coworking buddy for tips on using productivity solutions. But Ringover's system is simple and intuitive, and its customer service is available 24/7 to walk you through step-by-step tutorials. You'll never have to look like a tech dinosaur in a room full of pros. No matter where you decide to hang your hat, Ringover can be the elegant, intuitive solution you need to stay connected to clients, customers, and coworkers across the world. You'll be able to make quality calls, monitor your team, ease collaboration, automate tasks, and receive the data that helps your productivity soar. That way, you'll get your job done in no time, so you can get out and enjoy your time in the new place you've chosen to call your (work from) home.Contact our experts to help guide you step-by-step at +1-844-411-1221 or send an email to sales@ringover.com. Start your free trial today.