Call center
VoIP providers for small business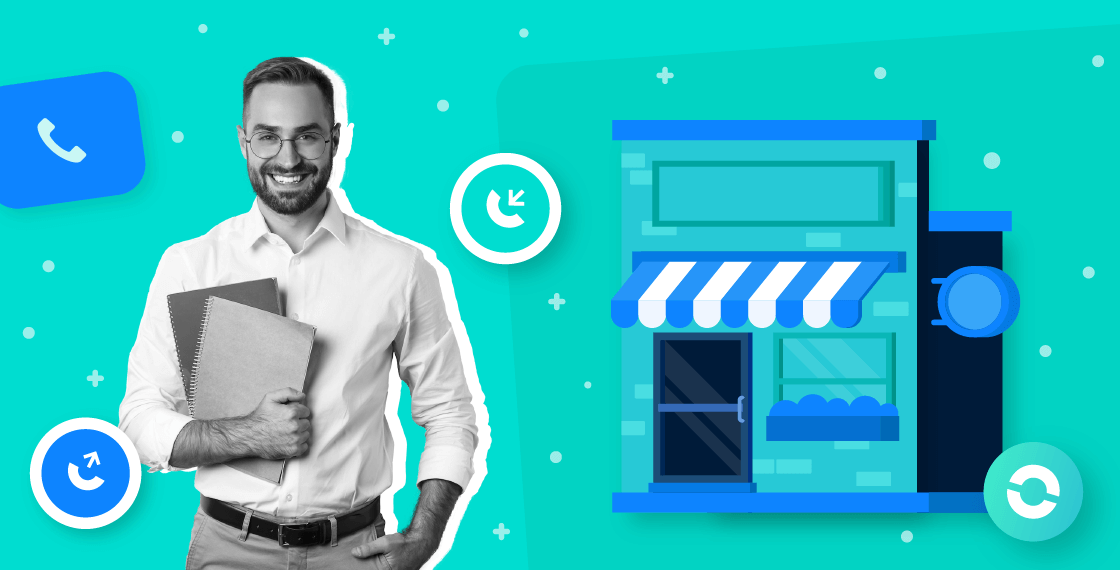 Summary
Is VoIP worth it for a small business?
What is the best business VoIP?
How much does VoIP cost for business?
What is the cheapest VoIP provider?
There was a time when business phone systems meant manual switchboards and bulky on-premise Private Branch Exchanges (PBX). Since such phone systems demanded upfront costs and technical expertise, small businesses and startups could rarely afford them.

Today, as organizations look for scalable, cost-effective, and flexible solutions, cloud-based VoIP providers for small business owners are gaining popularity. , more and more SMEs are opting for VoIP telephony - they are likely to grow more than 15% in the VoIP market by the end of 2025.

So, what makes VoIP the go-to communication solution for small businesses? Is it worth investing in it? What are the best VoIP providers for small business owners? Read on to learn answers to all these questions and more.
Is VoIP worth it for a small business?
Definitely. From reducing costs to increasing operational efficiency to facilitating remote work, VoIP phone systems enable SMEs and startups in many ways. Let's check out some of them:
Reduced calling costs
One of the main reasons why SMEs choose is its cost-effectiveness. show that small businesses can save about 40% in local calls and more than 90% in international calls by switching to VoIP phone services.
Reduced upfront and operational costs
Many VoIP providers for small businesses offer cloud-based phone systems and take care of hardware requirements. It significantly reduces initial investment, upfront costs, and long-term operational expenses. , VoIP phone systems can reduce the initial costs of new businesses by 90%.
Advanced features
VoIP systems are rich in features and functionalities that help increase the operational efficiency of small businesses. In addition to VoIP calls, such systems offer call management and call center capabilities. show that many SMEs rely on VoIP features like auto attendants (57%), ACDs (29%), internet fax (28%), softphones (25%), conferencing (17%), and call recording (16%).
Remote working capabilities
Small businesses don't always have centralized offices – they often operate with employees working remotely. VoIP phone systems are remote-friendly and allow employees to access the system from anywhere with an internet connection. Features like remote call forwarding, softphones, multi-device accessibility, etc., facilitate hybrid and remote working.
Increased business visibility
VoIP providers usually offer plans with local landline numbers in different countries. Small businesses can run sales campaigns in many countries using these numbers without establishing offices. Having local numbers helps them increase their business visibility and connect to local customers with authenticity.
Flexibility and scalability
Since VoIP systems work on a subscription-based model, small businesses can add new lines and remove existing lines without making complex hardware changes. Moreover, they work through web apps, softphones, and VoIP desk phones to give small businesses optimum flexibility.
What is the best business VoIP?
The answer to this question depends on many factors – how big is your company, what are your business requirements, what are the features you look for in a phone system, what is your budget, and others.
Must-have features
What makes a VoIP system the best in the market is the communication features and functionalities it offers. Further, it should have collaboration features for sharing information and data among team members. These include:
Local landline numbers

Multi-device accessibility
Best VoIP providers for small business owners
Of the many options in the market, Ringover is one of the best VoIP providers for small and medium business owners. It is a full-featured cloud platform that helps unify your internal and external communication. The solution is easily scalable and integrates with your CRM and other business tools to provide end-to-end visibility of your communication processes.

Other notable cloud-based VoIP providers for small business owners include:
Ringover

Quicktalk

RingCentral

Dialpad

Nextiva

Vonage

8X8

GoTo Connect

Grasshopper

Zoom

Phone.com

Google Voice

CallHippo
How much does VoIP cost for business?
Though VoIP phone systems are more cost-effective than traditional telephony, service providers have different prices and features. Most cloud-based VoIP vendors offer their at a monthly subscription fee, which usually is the only cost you will incur.

Take, for instance, the calling plans of Ringover. If you are a small team that needs only the essential features, you can go for the basic plan that starts at $21 per user/month. The Business plan, which has advanced calling and call-management functionalities, is priced at a monthly fee of $44 per user/month. For businesses in need of sophisticated telephony features, the Advanced plan includes Power Dialer, voicemail drop, and three integrations at $54 per user/month.

Many VoIP providers, including Ringover, will also let you customize plans based on your business needs. In such cases, the pricing will depend on the features you choose.

VoIP calling plans typically include unlimited calling to all local numbers and a specified list of international destinations. You will only need to pay for calls to destinations that the list does not include. Likewise, if you choose VoIP desk phones, you must factor in that cost too.
What is the cheapest VoIP provider?
Though there are several VoIP providers for small business owners, they offer their services at different pricing. The key is to find a phone system that offers competitive pricing without compromising features and functionalities.
Free VoIP providers for small business
Free VoIP phones are usually applications you can download and use on your computers or mobile devices for making internet-based calls. Some of the popular free VoIP apps include:
WhatsApp

Viber

Google Hangouts

Skype

Facebook Messenger
However, such applications don't usually have enterprise-level features. You may also find business VoIP providers that offer their services for free. Here again, their free plans have limited features. You must upgrade to their premium version if you need advanced features.
Cost-effective VoIP services
Given that free and freemium VoIP services have limitations, it is always a good idea to go for a full-featured phone system with cost-effective plans. Here are a few providers and their calling plans you can consider:
Ringover Smart > $21 per month/user

Quicktalk > $19 per month/user

Ooma Essentials > $19.95 per month/user

Dialpad Standard > $23 per month/user

Nextiva Essential > $21.95 per month/user

Zoom Business Plus > $ 250 per year/user

RingCentral > $19.99 per month/user

GoTo Connect > $27 per month/user

Phone.com Basic > $14.99 per month/user
Many service providers offer free trials and demos of their phone systems. Instead of choosing the provider with the lowest pricing, you must book a few free trials and demos, try out the features, and select a provider that suits your needs and budget.