Sales prospecting
Sales Enablement reference guide
Sales enablement… Everyone's talking about it, but it's not always clear on what exactly it is and how you can implement it. In concrete terms, sales enablement is a process of preparing sales teams by providing them with the appropriate content to sell a service or product more effectively, and to more easily draw in and catch the attention of potential clients.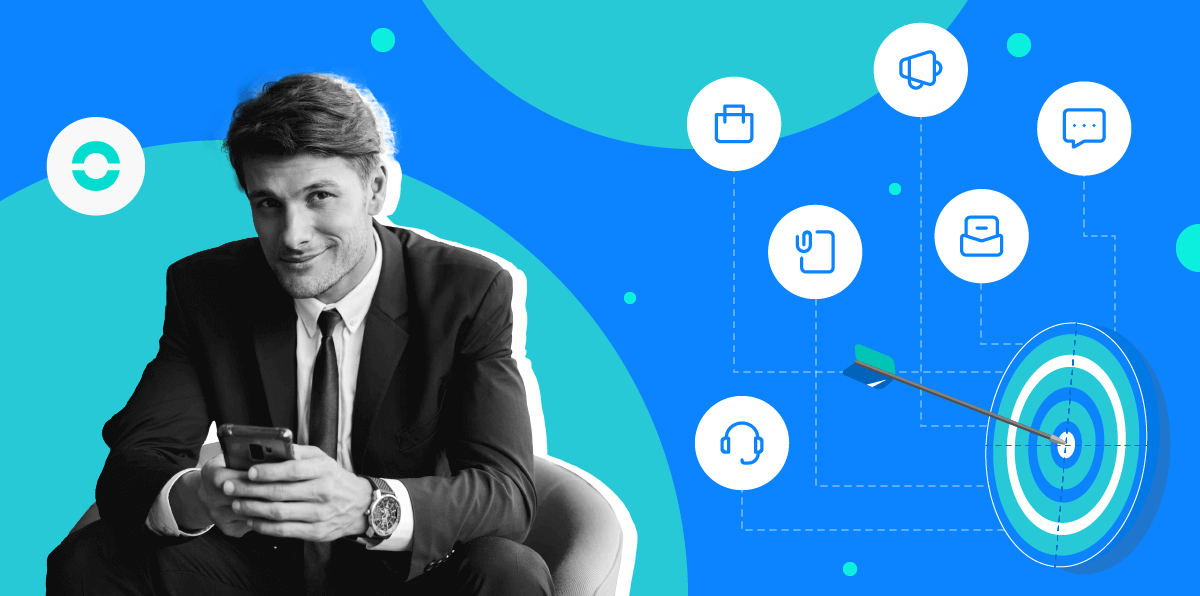 There's been a boom in interest around and a growing number businesses are adopting it. To give you an idea of this exponential growth, the number of businesses using sales enablement has increased by since 2018. This trend can also be explained by the great sales results recorded by the businesses which have implemented it. 76% of businesses that have deployed a sales enablement strategy have seen their sales increase by anywhere between 6% and 20%.

So, how can you activate this leverage point? That's what we're going to cover here, starting with giving you a more in-depth insight into what sales enablement constitutes.


Enhance your sales enablement
What is sales enablement?
As we explained in our introduction, sales enablement is a process which helps sales teams not only to sell more, but to sell better. It involves providing sales and marketing teams with precise data that can be used to generate new sales opportunities and more revenue. The foundations of sales enablement are composed of three key principles:
Team engagement

Sales team involvement

Client engagement
1. Team engagement
Teamwork is the cornerstone of sales enablement. A sound structure needs to be laid out to:
Get organized with retrospective planning and a to-do list

Identify the sales enablement content

Discuss, analyze and customize this content
This structure needs to be flexible enough to allow everyone involved (across both the sales and marketing teams) to develop the sales enablement strategy according to their results and field feedback from clients and prospects.
2. Sales team involvement
Getting sales teams involved and giving them the right tools are essential steps for successful sales enablement. This principle results from the first principle of increased collaboration between the sales and marketing teams. Your sales teams are the ones in direct contact with your targets, and they can therefore provide pertinent insights for your marketing team. It's also the sales teams who will primarily benefit from sales enablement.

Therefore, you should be attentive to their needs, to help boost their efficiency. However, it's important to note that the marketing team also gets important insights from its communications (namely via emails). In both cases, the toolkit made available to the teams is key for centralizing this information and making it accessible to everybody who needs it.
3. Focusing on client engagement
The client should be at the center of your strategy, which is why you need to eliminate any vertical and functional communication on the marketing level or in interactions between sales team members and clients. Opt for content based on precise and comprehensive data sourced from your targets. So, how can you know what's really going on in your client's head as they make their way through the sales funnel?

This is where conversational analysis tools, such as Empower, come in handy. These tools allow you to make the most of each communication with clients, from macros to micros, allowing you to dial into their mindset, their vocabulary, data on their sector, etc.

These conversation analysis solutions give the marketing and sales teams something to work with, providing them with data which reflects the realities of the market.
What are the stages of the sales enablement process?
There are multiple ways to implement sales enablement. To give you a more comprehensive vision, here's the sequencing that we recommend: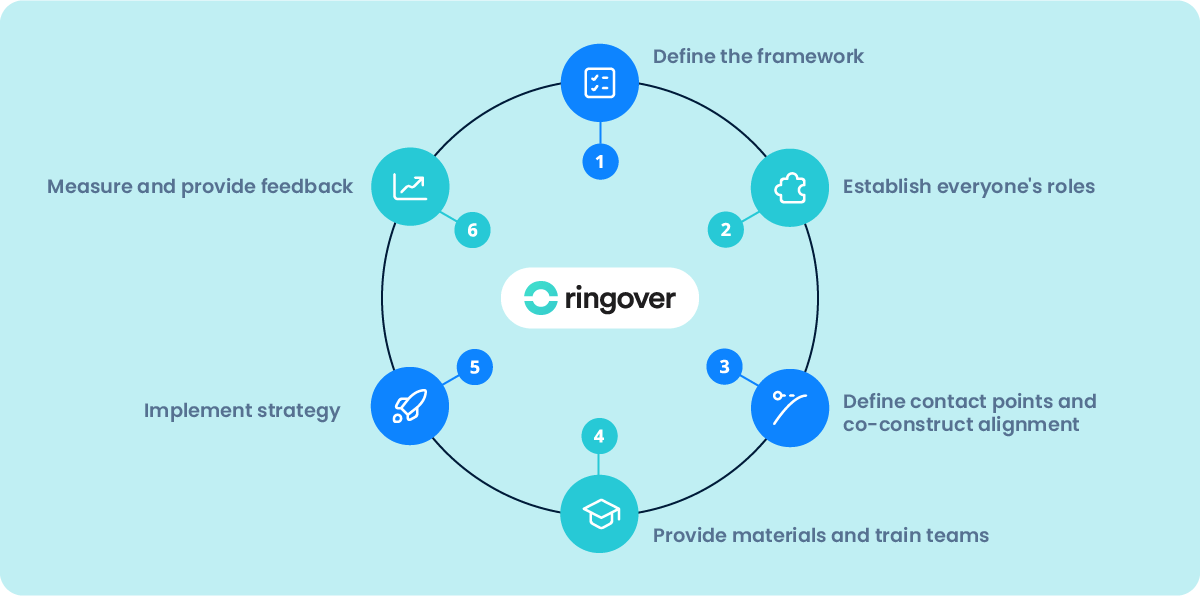 1. Define the structure and identify the teams' needs.
This will effectively be your plan. It should act as a set of guidelines, providing structure and a framework to formalize:
Your needs;

Your expectations;

Your business processes;

Your objectives.
This may seem extremely conceptual initially, but you'll soon see that, without structure, members of the sales team will tend to cover leads without any clear sense of logic, whether it's for product presentations, follow-ups or even . This plan needs to summarize good practices, and to help you define clear objectives, SMART goals.
2. Establish everyone's roles and work together to create alignment
During this step, the idea is to get the stakeholders involved with a clear objective: To eliminate pitfalls in the aim of stimulating dialog and exchanges between the marketing team and the sales team. Plus, don't forget about the customer services team, to create perfect alignment, even if customer services intervene downstream. This step also allows you share your information and ideas.
3. Define the points of contact and set up operational processes
Your client pathway needs to be clearly marked out in order to facilitate the prospect's progression. These markers come in the form of points of contact, which should be defined according to the client typology. If your client pathway isn't formalized, review it in detail and list each of its steps. At this stage, you should also define the type of messages that the sales agents will use for each point of contact, as well as the tools and processes to be implemented.
4. Provide the tools and train the teams
You can no provide the sales teams with all of the content that they need. This may be templates for social media posts or emails, blog articles, case studies, video demos, infographics on specific industries, etc. During this stage, you should organize training workshops, ideally including role plays, and examples (audio or video) of top-performing communications, etc.
5. Implementing the strategy
The sales teams are, in theory, operational. New messages can now be sent out. This is when the sales enablement process shifts from theory to practice. Make sure you've got the right toolkit in your arsenal, such as a CRM, a high-performance prospecting software, and a conversational analysis solution (particularly for checking that the sales pitch is on the right tracks) to automatize the processes covered in Stage 3.
6. Monitoring and feedback
It's important that you monitor this new strategy. Your day-to-day tools should allow you to record your audio and video calls, to analyze them, measure your performances using KPIs, and centralize all of the data collected by all your teams. This data is crucial, as it allows you to adjust your strategy, if need be. As always, iteration allows you to standardize your methods and to refine your top techniques.
When should you implement a sales enablement strategy?
Deploying a sales enablement strategy can be done at various points, depending on the development of your business and your current needs. Sales enablement is typically implemented:
For a business launch, in the aim of having an operational sales team from the get-go by providing it with all of the material it needs to sell effectively.

During the on-boarding of new recruits, to facilitate their integration.

When products/services are changed, or when your business launches on a new market.

To achieve new growth objectives.

To adapt to competition.

When your want to develop your processes and identify any pinch points or shortfalls.
What are the advantages of sales enablement for businesses?
To help you get a clearer idea of the potential that you can unlock with sales enablement we've summarized what it can do for your business in the table below:
| Advantages | Description |
| --- | --- |
| Centralize your content and other information | Sales enablement allows you to centralize all of the information and content used to help sales teams sell better into, bringing it all into one, single place. The organization and management of information is therefore simplified. |
| Improve sales efficiency | Sales enablement provides all of the resources, tools and services allowing sales teams to perform better, to boost their productivity, and to develop KYC (Know Your Client) data. |
| Align teams | It promotes better coordination between teams and allows you to adopt a coherent, harmonized approach for each department (sales, marketing, support). |
| Create a seamless client pathway and sales cycle | A good sales enablement strategy optimizes the client pathway by clearly and efficiently marking it out to allow the prospect to progress through it at a better speed, in turn shortening the sales cycle. |
| Reduce turnover | Providing the sales teams with the tools that they need and giving them optimal working conditions also helps to generate employee loyalty and to reduce turnover, which can be pretty high depending on the industry in question. |
| Customize the sales experience | Sales enablement allows you to draw data from each interaction, offering a high-quality and customized experience for each client. |
| Reduce your error margin | Getting clear and precise information helps everyone make fewer mistakes and, in turn, saves time. |
| Continuous innovation | Iteration and feedback allow you to continuously improve your sales enablement and, in turn, to constantly innovate so that your business can step up to market requirements and client expectations. |
| Gain a competitive edge | When you quickly and pertinently respond to the fluctuating needs of the market, and when you're able to identify trends before your competitors, you get a clear competitive edge over them. |
Who is in charge of sales enablement?
Sales enablement is not put down to a single person — it's a team affair. While in an ideal world you'd have a dedicated team composed of employees from the marketing department and representatives from the sales team who are in contact with clients. Some businesses choose to have their sales enablement mostly handled by the sales team or the marketing team.
Sales enablement managed by the marketing team
| Pros | Cons |
| --- | --- |
| Marketing expertise: The team is able to create high-impact content or implement effective communication strategies. | Lack of sales expertise: It's highly likely that the team doesn't have sufficient knowledge of sales and handling objections, which can diminish the pertinence of its preparatory work for the sales teams |
| Good brand consistency: The marketing team is able to guarantee the alignment of the brand's content and communication with its image. | Insufficient understanding of the field: Marketing teams are not always clued up on the challenges encountered by sales agents. Unfortunately, this can lead to a discrepancy between the reality of the field and the resources provided. |
| Good knowledge of marketing data, particularly the performances of the most effective messages | Negligence regarding KPIs and sales data: Marketing teams don't necessarily have access to all sales data and, often, they can't narrow it down to fine enough details. |
Sales enablement managed by the sales team
| Pros | Cons |
| --- | --- |
| Sales expertise: The team perfectly knows its needs and can therefore create content that aligns with the reality of the field | Lack of marketing expertise: Sales teams may struggle to create attractive content to draw in new prospects |
| Good understanding of the field: Members of the sales team know what challenges and constraints they encounter in their work, and therefore have the material needed to create relevant content | Issues with brand image coherence: By only focusing on its field of expertise, the sames team risks straying away from the brand image. |
| Good proximity with clients, which allows for sales enablement resources to be customized | It generally has a high operational load: Consequently, the sales team may miss opportunities, particularly in terms of lead generation. |
| The risk of conflict is practically zero. | The pitfall logic is too high and may pose prejudice to the business. |
Sales enablement managed by a dedicated team
As we explained earlier, it's preferable for sales enablement to be a joint project for your teams.

Setting up a team composed of members from the sales field team, members from the product marketing team, and content creators will put all of the chances in your favor to deliver pertinent, coherent and effective resources whilst bypassing the pitfalls, all without losing connections with clients.

Of course, there is a higher risk of disputes or tensions between different teams at times, but this friendly competition can really stimulate creativity and critical reflections within the team, and can lead to innovative solutions, right?
How to measure the success of your sales enablement strategy
Simple questions often have simple answers: ROI! Measuring the ROI of your sales enablement strategy consists of using the following formula: (profit after sales enablement - cost of investment) / cost of investment. To get a finer measurement of your strategy, you'll need to take other factors into account. You can observe these factors and understand their impact on your performances by using specific indicators.
KPIs and metrics for sales enablement
Below, we've put together some useful KPIs and metrics to allow you to keep a finer track of your performances. The idea isn't to use all of them, but to cherry-pick the ones that are most relevant to your business and your teams' daily work. Marketing teams won't necessarily track the same indicators as sales teams:
Prospect conversion rate

Average sales cycle duration

Frequency of sales teams consulting the content provided

Total profit generated

Number of contracts

Contract values

Contract volume (particularly when it's licenses for X users)

Training material completion rate

Average total of revenue generated per deal

Time required for new recruits to achieve the set quotas

Percentage of content used after onboarding

Number of onboarding sessions

Cost of each onboarding session
It should be noted that some factors and phenomena aren't totally quantifiable:
Team alignment

Coherence with brand image

Impact on any internal conflicts
Example of an effective sales enablement strategy
Below, we've put together an example structure for successful sales enablement.
Strategy
Establish the framework for your sales enablement using guidelines, then define the strategy and get everyone on the same page about the plan of action, identify the stakeholders and start putting together a timeline, letting everyone know what they need to do.
Team
Model your organization, draft a recruitment plan, if needed.

Sales enablement process
Model the process, taking into account:
Onboarding for new recruits (number of sessions planned)

The client pathway (model the entire purchasing pathway)

Specific training workshops to be arranged

Follow-up points

The operational timeline
Playbooks
Draw up the playbooks that the sales teams will refer to throughout the process. They should cover sales methods, set out campaign strategies, and summarize the managers' vision.
Sales enablement tools
Which solutions will you use for your strategy? The following tools may be a huge help: A conversational analysis software, like Empower, to unlock and exploit the full potential of each interaction between the sales team and prospects, but also to verify the relevance of the pitch and to identify sales opportunities and trends.

A to centralize all of your information between departments, and to measure each of your actions.

A tool dedicated to prospecting, to standardize it with new recommendations resulting from the sales enablement process. Solutions such as Cadence can also help you to identify sequences and top-performing follow-up messages for each campaign.
Optimizing your multi-channel prospecting


A platform to centralize training resources and to facilitate access to them, as well as the incorporation of new information.

A cloud-based communication system which integrates into your other business tools, to simplify call management, video calls, and campaigns. Ideally, this system will have features such as call recording, two-way listening, and like .
Try Ringover


A software for submitting sales offers and optimizing closing. A mailing solution for managing email communications with prospects and clients, in order to obtain market insights. Ideally, it'll be integrated into your CRM.
Training
Creating content for onboarding sessions and various workshops for all of the sales teams (AE, SDR, managers, etc.), as well as customer service teams, particularly if there are new releases for the product, as this will most likely trigger changes in the process for handling clients contacting the support team.
Sales support content
The creation of various sales enablement content:
Sales documents: Brochures, leaflets, product information sheets, white papers presenting the specifications and advantages of the product/service

Sales scripts which will act as a framework for sellers, and which will help them to handle any objections

Video demos to structure the presentation of the product/service

Online quizzes

Client testimonies and success stories in video or written format

Templates for social media posts

Infographics with key statistics

Message templates (emails and SMS)

Role plays
Communication management
Communication is an essential factor of a sales enablement process. Find the right rhythm and channels, and regularly inform the stakeholders.
Measuring and adjusting
We've already mentioned it, but it is absolutely essential that you monitor your strategy in order to identify any shortfalls and to highlight strong points.
Conclusion
Sales is therefore a precious asset or businesses looking to optimize their salesforce.

Its management and implementation vary from business to business but, regardless of the context, the principles such as collaboration and client engagement still apply. A well-designed and well-executed sales enablement process can help you in many ways by:
Boosting sales efficiency

Reducing churn in sales teams

Clearer onboarding procedures,

etc.
That said, to make your sales enablement process a success, you'll need to make adjustments, whether they're to processes, tools, content, or communication support, for example. This is why it's important to measure your performance, so you always know what's what, where you are, and what can be improved.

For this, use the analysis features included in your CRM, in your telephony system, or even in your prospecting tool. Take Ringover, for example, which systematically provides users with analysis and reporting tools in each of its solutions.

To take your sales enablement even further, and to see how Ringover can help you to deploy your strategy, or our products.
FAQ - Sales Enablement
Which teams are concerned by sales enablement?
Within a business, there are generally two departments directly involved in the sales enablement process. It's the marketing teams which oversee the product and brand image, and it's the sales teams which provide a good understanding of the field and the client. That said, you can also get a third department involved: Customer Services. This will give you a comprehensive vision over the client pathway, and you'll be able to clearly mark it out with the relevant resources and points of contact.
What does sales enablement mean?
Sales enablement is a strategic process in its own right, allowing for sales teams to be provided with all of they material they need for:
Better communications with prospects;

Better presentations of the product/service;

Generating engagement with existing clients;

Generating and seizing new types of sales opportunities;

Selling more;

Generating more revenue.
Why use sales enablement?
A well-oiled and perfected sales enablement strategy will improve sales performances by helping the teams in the field to optimally engage prospects throughout the sales pathway. Here are just a few of the benefits of sales enablement:
Resource centralization

Team alignment

Smoother client pathway and shorter sales cycle

Reduced sales team turnover

More and improved customization of the client experience

Fewer errors

Continuous innovation

A competitive edge