Call center
8 call center coaching tips to improve your agents' performance
Customer experience is intrinsically linked to call center performance, as clients direct the majority of their queries to call center agents. To ensure the agents provide a first-rate experience, many teams now incorporate regular call center coaching.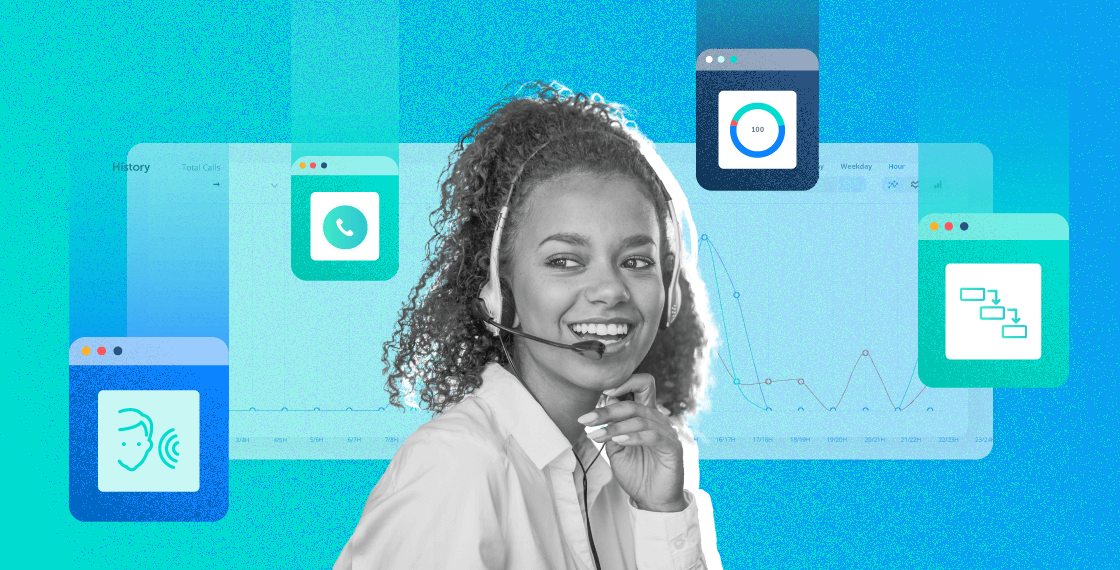 To successfully optimize the service level of your contact center, many businesses turn to call center coaching software. Using a digital tool like Empower by Ringover supports businesses in identifying who needs to be coached, what topics should be covered, and whether the coaching was successful. To make sure you set up a successful coaching program, take a look at the following eight tips.


Try call center coaching software
8 call center coaching tips
1. Define objectives
In order for your coaching team to perform well, it needs to have a structured strategy and objectives to work towards. Define their KPIs, including those regarding productivity, which can be measured by tracking call duration and call rate, and service quality, which can be determined through call monitoring or call recordings.
2. Use tools to improve call productivity
A helps you to streamline your operations, especially if it provides . This type of productivity tool will include features like a , which saves you time by eliminating the need to dial numbers over and over again. It also provides functions like , so you can reach out to a contact with a click, or –which you can also do without having to ever dial a number.
3. Centralize call management
Organization is key to a successful coaching program, especially if you have a significant volume of incoming or outgoing calls. Once you've implemented an solution like Ringover, your team will be able to manage calls from one intuitive interface. This makes it easy to decrease or eliminate wait times, unanswered calls, endless , and other drawbacks that frustrate customers. Having a and even provides , so your clients and prospects can always reach an agent.
4. Keep an eye on performance analytics
One of the biggest benefits of using software to centralize call center operations is that they provide valuable insight into performance thanks to an . For example, Ringover provides information on call duration, number of daily calls handled, client waiting time, and more. When you're launching your coaching program, these analytics give you an understanding of your team's baseline. And once your program has gotten underway, these analytics will be key in determining if it's effective, and how to optimize it.
5. Train your coaching team
Even the teachers can use teaching every now and then! Customer expectations shift rapidly these days, especially in competitive industries like consumer goods or B2B services. If your coaching staff is updated on what people expect, they'll be able to pass those learnings on to the agents. Additionally, it's important for them to be informed on the latest training techniques and approaches. If they have a large knowledge base in how to train staff, they will be better able to keep your team engaged and respond to specific team member's needs.
6. Focus on teachable skills
One of the most valuable aspects of IP features like double listening and call supervision is that trainers can identify the specific areas where an agent shines or needs support. Encourage your training staff to focus on the exact behaviors and discussion points that can be improved. This will help your team tackle performance errors in an organized and accessible manner, rather than overwhelming them with vague, high-level advice.
7. Create a communication plan
In addition to the technical tools, you need to develop materials and protocols so that the coaches know how to act in each situation. This will allow the team to work in a coordinated way, improving efficiency and consistency.
8. Empower your coaching team with AI
One of the first rules of coaching is that your team members are motivated. In this way, they will be able to better guide, guide and motivate your clients. In this line, empowering your coaching team through effective and transparent internal communication will help your entire team to improve performance, and the leadership, confidence and initiative of the coach, by being more aware of their actions and the results they generate, will allow them to improve and influence those aspects that need improvement.


At Ringover we are committed to the success of your business in the coaching sector. With our artificial intelligence software, IP telephony and call center solutions you can plan, organize and coordinate your team of coaches and sales agents to be highly productive and offer the best service to your customers. Curious to see how Ringover can support your call center coaching? Sign up for a free trial today!


Call Center Coaching FAQ
What does a call center coach do?
Call center coaching is part of the quality management of a call center. The intent of a coaching program is to give agents valuable skills training, feedback, performance assessment, and disseminate best practices to eventually improve the customer experience provided.
What is the role of a call center team coach?
When you're a coach in a call center, you'll observe the agents on a day-to-day basis to understand what they are doing well and what can be improved. You'll interact not only with the agents, but also with their managers and potentially upper management to get their input on the training objectives.
What are the 4 types of coaching styles?
There are four basic types of styles, which can be summarized as follows:
Democratic: As the name suggests, the coaches and coachees will make decisions together in a collaborative process.

Autocratic: As opposed to a democratic approach, this style is based on a high level of involvement and control from the coach.

Laissez-faire: When a coach delegates responsibility and places a significant amount of trust in their team members, they are employing a laissez-faire style.

Holistic: This approach regards the team members as people first and employees second, with a strong focus on personal growth.
How can I be a good call center trainer?
Follow these 10 tips to be a great call center trainer.
Analyze performance based on quantitative data.

Provide specific feedback in real-time employing IP features like call whisper.

Set clear goals and communicate them clearly to the call center agents.

Make sure agents receive technical onboarding for any relevant business software.

Do your homework! Make sure you prepare before a training session so you can offer specific and actionable feedback.

Base your feedback on the customers. Tools like Empower by Ringover help you identify key moments in interactions that are potential learning opportunities.

Address performance issues through an action plan so agents have small goals that help them reach a larger objective.

Adjust your communication style to specific agents to meet them where they are.

Consider role playing within the team to prepare for challenging conversations.

Make sure you call out positive moments as often as possible.