Business phone system
What is a Predictive Dialer: How to choose the right dialer software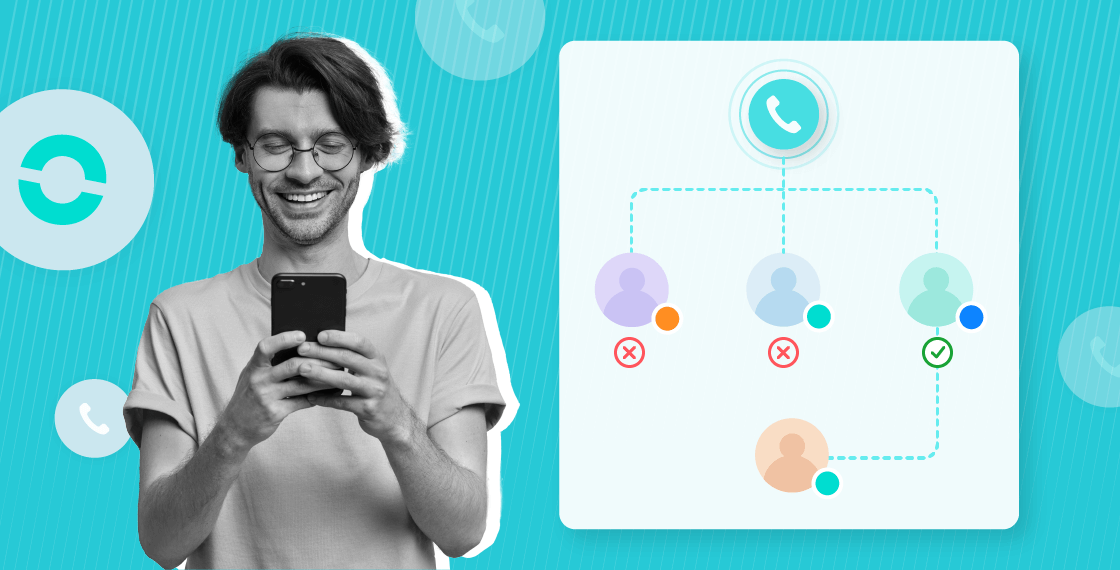 Summary
What is a predictive dialer?
How does a predictive dialer work?
How much is the cost of auto dialer software?
What is the top predictive dialer software?
What is the difference between progressive and predictive dialers?
Are predictive dialers illegal?
Empower your business with a data-driven predictive dialer that promotes sales
For outboard call center agents, dialing each prospect's number and then waiting for it to be answered is wasted time. Customers don't always pick up a call on the first ring. Sometimes, you may have to call 8 prospects before you can finally speak to someone. All of this time can be saved and put to more productive use by using a .
Using a predictive dialer reduces the time spent listening to dial tones and increases the time you can spend talking to customers. It's an evolution of the auto-calling system that has been around for a few decades.
Scroll down to learn more about predictive dialers and how to choose the right predictive dialing software for your business.
What is a predictive dialer?
A predictive dialer is an automated calling software that dials successive numbers from a list until a connection is established. It then routes the connected calls to available agents. In the background, it screens out unanswered calls, calls routed to voicemails, calls to numbers that are engaged, etc. Thus, it minimizes waiting time and maximizes the time agents spend speaking to customers.
The dialers do not wait for agents to be free before dialing a number. Instead, they use special algorithms and formulas along with call metrics to forecast when agents become available and adjust the speed of dialing customer numbers accordingly.
Thus, if a large number of agents are available to receive calls, the predictive dialer will increase its outreach speed and vice versa. This is one of the key aspects of predictive dialer software that sets it apart from other automated dialing systems.
How does a predictive dialer work?
A predictive dialer takes a list of telephone numbers and calls each number successively. If a call is answered, it is routed to an available agent. If not, the software moves to the next number. The software can dial multiple numbers simultaneously.
A predictive dialer solution is driven four factors:
Pacing algorithm
A pacing algorithm is a formula used to forecast the number of phone calls that need to be made at a time according to the number of agents available to answer these calls.
Pacing algorithms work in real-time and adapt to changing scenarios. This means that when a majority of agents are engaged on calls, fewer numbers will be dialed and as the number of agents available increases, so will the number of outbound calls placed.
This minimizes the agent's downtime between calls and ensures that customers do not have to listen to hold music for too long before the call is routed to an agent.
Abandon rate
If the pacing algorithm is not accurate, there may be several calls made at the same time and not enough agents to handle them. If customers have to listen to hold music for too long, they will probably hang up.
This is not only a lost opportunity but also a pain point for customers that degrades their overall brand experience. Hence, call rates must be managed to minimize the abandonment rate while ensuring that agents are not idle for too long.
Call center size and campaign management
The dialers work well with large call centers and campaigns that involve a larger amount of statistical data. This gives them more data to analyze and finetune their calling algorithm.
Agent awareness
Lastly, the predictive dialer needs to know agent details including the number of idle agents, live agents, average duration of call, etc.
How much is the cost of auto dialer software?
The cost of auto dialer software varies based on whether you are being charged upfront, a monthly/annual fee or on a per-call basis. It can range from a few hundred dollars to a few thousand dollars.
Using a software with an inbuilt auto dialer such as Ringover would give you more value for your money.
How much is the cost of predictive dialing software?
Predictive dialer software is available as an on-premise solution as well as a cloud solution. In the case of the former, along with the software cost, you also need to consider the cost of maintenance and upgrades.
Using a cloud solution provided by Ringover can help you boost your agent's productivity without maxing out your budget.
Advantages of getting a cloud-based predictive dialer solution
Some of the benefits of using a cloud-hosted predictive dialer software are:
More calls can be handled by each agent
Idle time between calls is reduced
Agents can spend more time on each call and still meet targets
Minimized risk of dialing wrong numbers
Maximized efficiency reduced the cost per call
What is the top predictive dialer software?
The best predictive dialer software is one that boosts your call center's productivity while giving customers a better experience. Ringover's Call Center and Contact Center software featuring an is known to increase agent productivity by more than 50%.
While making sure that no time is wasted manually dialing telephone numbers, Ringover allots time after each call for agents to make notes and get ready for the next call. This ensures that customer needs are fully met and they get the personalized experience they expect.
What is the difference between progressive and predictive dialers?
While predictive dialers place multiple calls and routes answered calls to available agents, a progressive one dials numbers only when an agent is available and routes the call to the same agent.
Are predictive dialers illegal?
The technology is not illegal but using the software to call people who have not consented to have their numbers stored on a database may be an issue.
Empower your business with a data-driven predictive dialer that promotes sales
The more time your agents spend talking to customers, the higher their conversion rate. An omnichannel contact center solution like Ringover has not just a predict dialer but a host of other productivity-enhancing features such as call routing, call transfers, call recording and call monitoring.
It's a simple solution to help your team achieve more and give your customers a good experience with every interaction.
Know how can help you take your business to new heights.