Streamline Business Operations With a Virtual Contact Center
All-in-one platform designed to give your agents everything they need.
Try it for free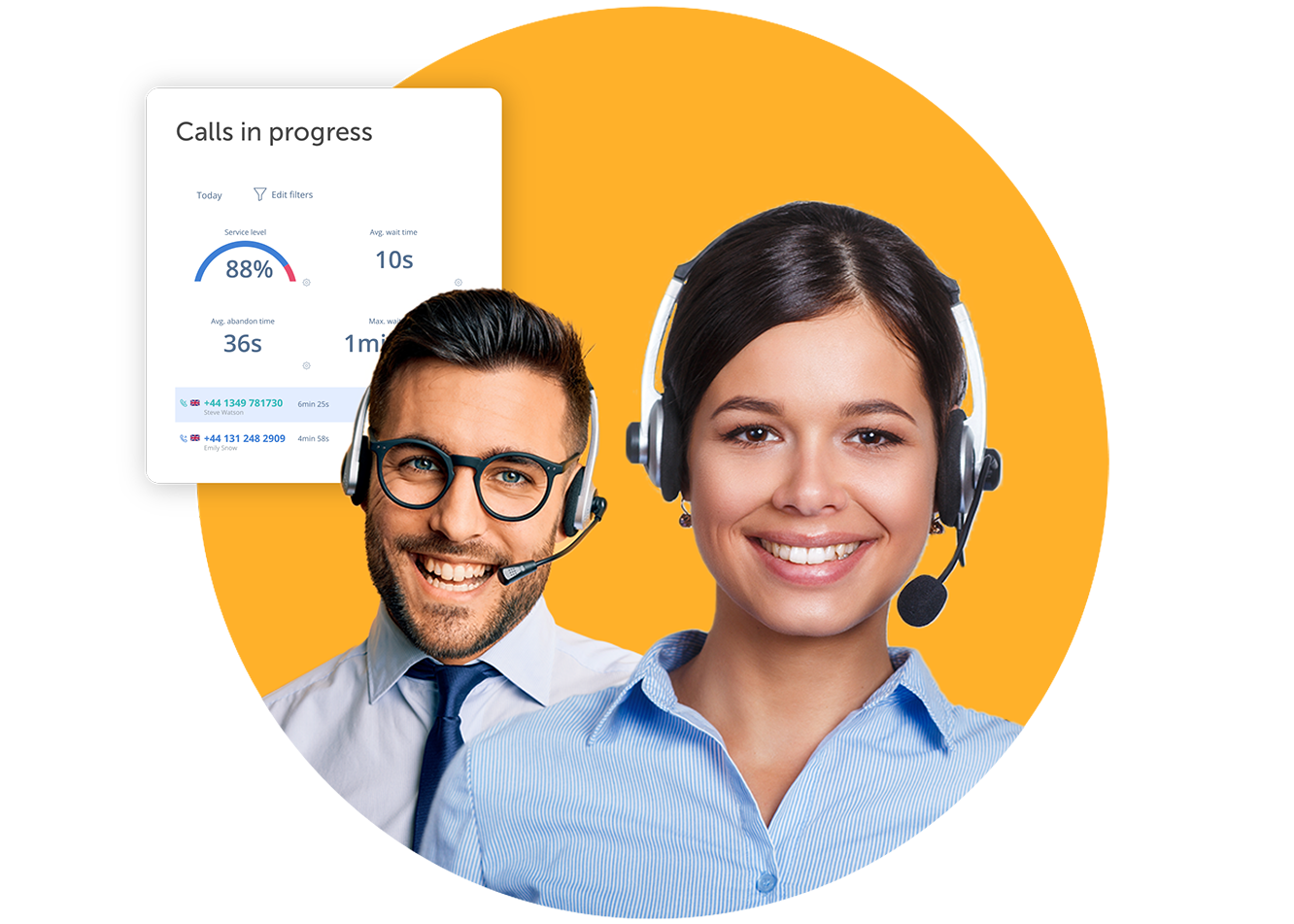 //= WEBCDN ?>//= $t['block']['h1img'] ?> //= WEBCDN ?>//= $t['block']['h1img'] ?> //= WEBCDN ?>//= $t['block']['h1img'] ?> //= WEBCDN ?>//= $t['block']['h1img'] ?> //= WEBCDN ?>//= $t['block']['h1img'] ?> //= WEBCDN ?>//= $t['block']['h1img'] ?> //= strip_tags($t['headofpage']['h1imgalt']) ?>
Deliver World-Class Customer Experiences with a Virtual Contact Center
Exceptional customer experiences begin with communications. And faster, smarter, and more aligned communications start and end with an all-in-one platform designed to give your agents everything they need.
When you use Ringover's call management software, you'll be giving your business the juice it needs to:
Create more robust, long-term relationships with customers
Anticipate your customers' needs
Give sales teams and agents the tools they need to convert leads into sales
Expand globally and setup a local presence in international markets with zero setup time and costs
If you're ready to slim down your costs while scaling up your business impact, a virtual contact center may be the gamechanger you need. Start your free trial of Ringover today.
Virtual Contact Center Pricing
Reap the Benefits of Virtual Call Centers
Virtual call centers represent the future of call management software and customer relationship management. Why?
Because on-premise systems are a constant trouble for business owners. They're usually complex to solve and expensive to maintain. The worst part is that they also become obsolete quickly and require frequent hardware and software upgrades.
With a virtual contact center powered by Ringover, you can look forward to tangible business benefits such as:
Affordable to set up
Low to no cost to maintain
Easy to launch and use, regardless of location
Highly scalable, without needing any additional hardware installations
Simple, flexible, and lightweight UI allowing agents of all skill levels to access with ease
Ready to let go of outdated systems and 10x your business revenue? Start your free trial of Ringover's call center software today.
Engage Customers and Empower Agents with a Virtual Contact Center
Move your customer contact systems into the future when you harness the power of Ringover's call management software. Amplify your customer service, boost your sales, and empower agents to do way more with a lot less.
Ringover's innovative features channels the power of technology and AI for cloud contact centers in service of delivering better customer and agent experiences.
International numbers — Establish your business presence in 65 countries
Unlimited calling — Receive and make an unlimited number of calls in up to 80 countries
Custom routing — Intelligently route calls through an auto dialer based on a customer's history or custom rules you define
Priority queuing — Power up your predictive dialer with "VIP" caller routing to agents
IVR — Sort your calls wasting less time and cutting out customer frustration
Native CRM integrations — Use the customer contact data you already have to make personalized offers and interactions
Quick access to customer history — Centralized access to a customer's case files, call history, chat logs, and more
After call qualification — Spend time after each call to qualify leads in your sales pipeline
Smart tagging — Create custom filters to sort and share calls more effectively
Ready to transform your cloud contact center? Use Ringover's communications and call center software today.
Maintain a Handle On Your Costs While Skyrocketing Productivity
A virtual cloud contact center has an immediate impact on every aspect of your business operations, costs, and revenue. The most significant ROI that we hear from current Ringover customers is the simplicity and ease of setup.
With Ringover's insightful call center software, you can expect an experience designed to get you running in minutes:
Boost your agent productivity with an easy setup
Allow your agents to tap into the cloud and field customer queries from any location in the world
Multiple call options to connect to your customers and leads even faster
Make any laptop or mobile device your call center using innovative, mobile-friendly forms of communication
Sync your contacts with external customer information using CRM integration
Adjust call routing based on granular criteria such as agent skills, shift times, caller language, and much more
Bring Ringover's transformative features to work for your customer experience. Start your free trial today!
Keep Your Team Operating Together With a Virtual Contact Center
Ringover's call management software knows exactly what managing a remote team involves. It can be incredibly rewarding to be able to work with the best and brightest talent without a ZIP code in your way.
But then comes the hassle of managing remote workers in multiple locations and keeping them on the same page about projects in multiple time zones.
Say goodbye to the hassle of collaboration and connectivity. Our intelligent software makes communicating a simple, efficient, and even joyful task. Using aligned features like HD video conferencing, screen sharing, and easy call transfers, you can ensure your internal team is running like clockwork.
Improve Workplace and Customer Satisfaction
What if you could anticipate your customer's needs before they even happened? Ringover's simple yet powerful call center software allows you to do just that — and so much more.
Take advantage of our intuitive features, which can make even the smallest and leanest of company operations look and feel professional, consistent, and productive.
Both workplace and customer satisfaction hinges on one thing: Communication.
With your virtual contact center established with Ringover, you'll be able to achieve the most important business outcomes with the least amount of cost.
Smooth out your sales process and capture clients at every stage of the pipeline
Maintain agent performance through progressive coaching, monitoring, and on-call feedback
Get detailed insights into business analytics to harness intelligence for continual optimization
Ensure customer satisfaction by providing 24-7 service
…and so much more. Ready to experience the power of a cloud contact center? Start your free trial of Ringover today.
Virtual Contact Center FAQ
What is a Virtual Contact Center?
A virtual contact center, also known as a VCC, is a software solution that lives in the cloud. It handles customer service, support, and query functions across multiple communication channels such as phone, text, and email. Virtual contact centers simply do what ordinary contact centers do but they operate in the cloud. As such, agents can be location-independent and the hardware is hosted offsite so businesses don't even need to keep physical facilities.
Why Use a Virtual Contact Center?
Virtual contact centers provide a seamless, one-to-one, and consistent experience for both customers and agents. Some virtual contact centers are designed specifically for inbound sales and others are devoted specifically to outbound centers. The platforms are usually customizable and easy to setup.
Enterprises and small businesses can get equal use from a virtual contact center. The software is usually designed to optimize workforce, integrate multiple channels, streamline customer service routing, and offer secure, scalable, and flexible functionality.
How Can a Virtual Contact Center Help My Business?
A virtual contact center can transform the way you do business. It helps companies across a variety of industries in many ways. The most compelling of these are:
• Getting agents up and running quickly
• Scaling in size and team without a lot of upfront costs
• Using the built-in analytics functions to understand customer needs and help agents facilitate sales conversations more effectively
• Giving customers more choice when calling and interacting with the business.
Are Virtual Contact Centers Expensive to Setup?
The cost of a virtual contact center depends on the size and scale of your operation. However, one of the best parts about these kinds of cloud contact centers is that they're a scalable and low-cost alternative to on-site systems — all at a fraction of the cost. Because you eliminate much of the hardware — and the special, technical expertise you may need to hire to work on it — you can keep your setup, installation, and ongoing maintenance costs low to negligible.