Business phone system
Temporary Phone Number: how to create Disposable Numbers For Free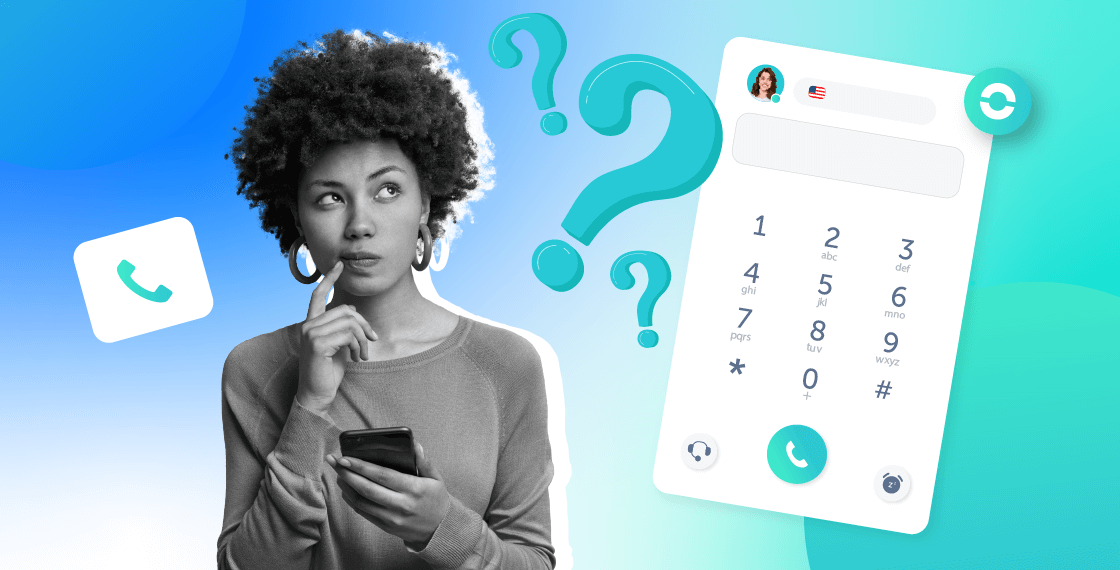 Summary
Can you get a burner phone number?
How does a temporary number work?
How do I get a disposable phone number?
How to get a fake phone number for free?
How do I make a fake temporary phone number?
Get more than a disposable phone number
Let's say you run a small business. Your clients need to be able to contact you, but you may not want to hand over your personal number to everyone you meet. The same may hold true if you rent out an apartment or if you have a job that involves talking to a lot of people on the phone.

One way to solve this is by getting a second phone with a new SIM card. But, do you really want to carry two phones everywhere you go? Instead, how about getting a disposable phone number that you can use to make and receive calls from your existing phone. It's convenient and cost-effective. Keep reading to learn more about how to create temporary numbers.


Get a disposable phone number
Can you get a burner phone number?
Anyone can get a burner phone number. It is legal and can be used for personal as well as professional communication.
How does a temporary number work?
A temporary or virtual phone number allows you to communicate with others via calls and messages sent over the internet. You can use a VoIP desk phone or your existing smartphones, tablets, laptops or desktops. There is no additional wiring required and you can use this service on the go.

When you make a call using this service, your audio signals are converted to digital data, sent over the internet and converted back into audio form at the other end. As data is converted from one form to another, it is also compressed to a certain degree. This determines the quality of the call and the bandwidth required.

Calls with low compression have higher quality but also require more bandwidth. On the other hand, high compression results in low quality but makes calls possible even in areas with limited bandwidth.

This technology can be used for voice calls as well as video calls and conference calls.
How do I get a disposable phone number?
Private or disposable phone numbers keep you connected with VoIP (Voice Over Internet Protocol) technology. There are many such . You can get a disposable phone number for personal use or professional use.

If you're looking for a temporary phone number for individual use such as staying connected to your tenants, and accessing online services without revealing your personal number, etc. you could look at apps like Hushed, Burner, etc. They offer in many different area codes with embedded text and talk capabilities.

While this does protect your privacy, it may not be sufficient if you want to separate your ongoing personal and professional communication. In this case, you would need a disposable phone number from a VoIP service provider that offers a wider range of features. Ringover is one such service provider. Along with basic voice and video call and text features, it also allows you to to other numbers, , switch devices while you're on a call, , have and more. If you have a team subscribed to Ringover, you can also use the platform to monitor calls being made by everyone and get analytical reports on call statistics.

Getting a disposable phone number from Ringover is quick and easy. Choose between three plans starting from $21 per user/month. You can start with a free seven-day trial if you like. Then download the application on your phone, tablet, laptop or desktop and get started.
How to get a fake phone number for free?
Nothing good is ever truly free. That said, there are certain VoIP service providers that advertise their services with free fake numbers. Of course, there are many conditions hidden in the fine print. The number validity may be limited to a few days or you may be charged additionally for calls and messages.

If the data files are not compressed adequately, they may use extra data and thus cost more. What's more, the connectivity may be unreliable. It can be quite frustrating to have calls disconnected mid-sentence…

The bottom line – you can find options for free fake numbers but it is always better to use a paid plan that gives you better connectivity and service.
How do I make a fake temporary phone number?
Rather than call it a 'fake' phone number, look at VoIP phone numbers as 'temporary' or 'alternative' solutions. When you choose a VoIP service provider like Ringover, you can get temporary phone numbers in up to 65 countries! This is aimed at helping businesses strengthen their presence in these areas without having to set up a brick-and-mortar office.

This number can be a regular phone number or a toll-free number. These numbers are not linked to a physical phone but rather can be used by the same account across devices.

Choosing your number and getting it set up is easy. Start by choosing a plan that suits your needs and choose your level of commitment. This ranges from no commitment to 12 months. You will be eligible for a discount by choosing the latter.

Next, click on the 'start free trial' button. From here you will be directed to a signup form. Enter your personal details and create your account.

It's as simple as that! You can now start sending messages or making and receiving calls with your Ringover app.
Get more than a disposable phone number
A virtual or disposable phone number can be a great way to keep your phone number private while staying connected to everyone. It is especially beneficial for small businesses as it also offers a range of tools for productivity and collaboration. There are many VoIP service providers to choose from if you are planning to get a virtual number.

That said, make your choice wisely and subscribe to a service that not just matches your budget but also gives you access to tools that simplify your operations. Ringover is the ideal VoIP service provider for startups and growing businesses.

Check out their and see how the range of features can benefit your business.