Call Center Technology
Ringover provides businesses with advanced call center technology, including a customizable cloud contact center software offering a multitude of features. Fully set up and manage your remote customer service center with ease, with Ringover's call management software solution.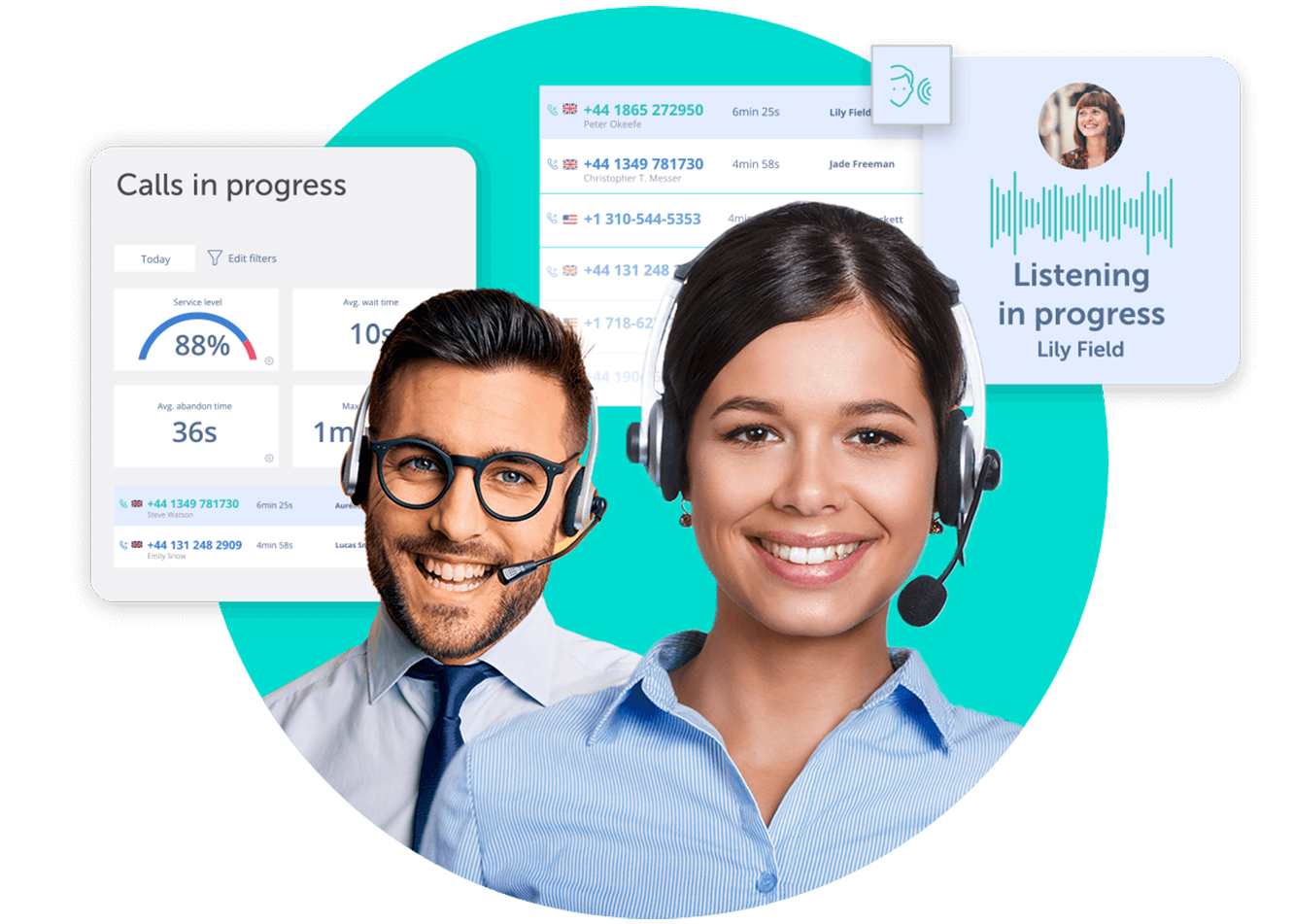 Take Advantage of Advanced Call Center Technology
Today's business world increasingly demands faster resolution timeframes, more flexible remote work options, and a dependable backbone of high-quality advanced software to run everything smoothly. Ringover offers a flexible, scalable, and dependable software solution for your full-service call center. Ringover's cloud-based telephony software gives you the ability to establish and manage a fully remote contact center, all from the comfort of your own home or remote location. Easily and quickly configure the application, establish up to 80 new lines, and assign agents. From there, you'll be able to monitor and manage your entire contact center performance from an easy-to-use real-time dashboard.
Discover How Ringover Boosts Business
See an improvement in your customer satisfaction levels with Ringover's advanced technology. Your agents will have the tools they need to perform their job well, with full integration of CRM software into the Ringover platform. All needed client file information, actions, updates, and helpdesk tools can be accessed from just one screen. Watch as your customer experience levels improve, thanks to faster call resolution times and shorter call wait times, as well as more efficient resolution to customer inquiries.
Call Center Technology Empowers You to Do More
Begin your journey to running a more effective and efficient customer service center, with Ringover and its robust offering of features:
View essential service level and performance data on demand, from a customisable dashboard
Instantly add and remove up to 80 lines
Place and accept calls from anywhere around the globe, as long as there is an internet connection
Create and manage auto dialer call campaigns with ease
Stay in contact with your agents with whisper capability, direct SMS, and video conferencing
Why Choose Ringover for Your Call Management Software?
Install and Get Going in Minutes
Installation and setup of Ringover is easy and simple. No need for a technology specialist or an entire afternoon…it only takes a few minutes to configure your settings and add new lines.
Flexibility and Scalability
Ringover's cloud contact center software solution provides you with the features needed to monitor and respond quickly to changing needs and volumes. Control inbound and outbound call volumes, route calls according to agent availability and skillset, and quickly establish and remove lines as needed.
Manage a Remote Team with Ease
Even from a remote location, you'll feel up to date on all that's happening with your customer service center, with your at-a-glance and real-time dashboard. Get essential current and historical data, pull and view reports, and make changes all from one customisable location.
Empower Your Agents with Advanced Call Center Technology
Fully Integrate Your Current CRM Software
Ringover knows that CRM (Customer Relationship Management) software is an essential part of a successful contact center business. Enjoy full integration of your CRM software into the Ringover platform, giving your agents the tools they need.
Provide Needed Coaching
With call recording, you'll be able to review calls and provide your agents with helpful coaching and training. Agents can also benefit from a whisper capability, allowing you to provide discreet and helpful tips to your agents whilst on customer calls.
Highlight Your Agents' Skills
Depending on the size and skills of your staff, you may want to take advantage of the ability to route certain call types to specific skill set groups amongst your agents. Ringover also gives you the option of routing calls based on language, time zone, and multiple other factors.
Why Wait to Give Ringover a Try?
Join the Many Satisfied Businesses Who Use Ringover
Discover the incredible benefits offered by Ringover that are already being enjoyed by tens of thousands of businesses world-wide. Ringover makes it a mission to understand what today's cloud contact center businesses need, and to deliver a solution that works.
There's No Better Time Than Today
Try Ringover for yourself with a free trial. No commitments or obligations. Simply follow the prompts below and within a few minutes you'll be on your way to discovering what Ringover can do for your business.
Ringover's Solution is Just a Few Clicks Away
It only takes a few simple steps to start your free trial and explore the many advanced features of Ringover's call management software. Try Ringover, starting today.
Call Center Technology FAQ
What is call center technology?
What type of technology does a contact center need?
Is it possible to set up a contact center from home?
Can you work for a contact center from home?
What are people looking for in a contact center technology solution?
Why is call center technology important?
What are the 3 types of call centers?
What tools do call centers need?
What are advanced call center technologies?
What is call center technology?
Call center technology is a term applied to a wide range of software and hardware used for telecommunications for both physical and virtual customer service centers. It includes automated systems that facilitate answering and routing inbound calls and performing outbound calling as well. For physical call centers, hardware can include desk phones, headsets, computers, and a landline system including a PBX. Virtual contact centers require fewer hardware items, yet do require a router, internet connection, computers, laptops, or smartphones, and softphones if needed.
What type of technology does a contact center need?
The basic technology and equipment needed for a contact center to function begins with a computer, headset or softphone, and an internet connection. Also needed are a customer service center software application, CRM software, call recording and monitoring capabilities, and the ability to analyse call center performance. These needs can be met by a comprehensive cloud contact center software solution.
Is it possible to set up a contact center from home?
Yes, with the right technology it is certainly possible, and often simple, to set up a contact center from your home. The first step is to decide how many agents you'll want to employ and select the best technology for your business needs. Implementing contact center software can typically be done by yourself. With modern cloud-based contact center software, you can run your business and interact with all of your agents from a remote location.
Can you work for a contact center from home?
You can work for a contact center either at a physical location or from a remote location such as your home. With cloud-based telephony services and cloud contact center software, virtual centers can operate in a fully remote capacity for owners, agents, and managers. VoIP telephony allows agents to download the software application and use a computer, laptop, or even smart phone to place and accept calls.
What are people looking for in a contact center technology solution?
There are current trends apparent in technology for contact centers, including the ability to operate a cloud-based contact center from a remote location that also employs a team of remote agents. Also in demand is the ability to pull analytics on overall contact center and agent performance. Auto dialer and predictive dialer capabilities are important for businesses placing outbound client calling and for marketing campaigns.
Why is call center technology important?
According to a study, 90% of the participants considered customer service as an essential factor that affects their buying decision. It is not the perfection of your products or services that attracts customers anymore. Buyers prefer brands that offer post-sales support.
When used right, call center technology can improve productivity, simplify analytics, and enhance customer experience.
What are the 3 types of call centers?
The three types of call centers are inbound, outbound, and blended call centers. Let us take a detailed look:
Inbound call center
An inbound call center is designed to receive calls from existing customers offering them support including:
Product or technical support
Help desk services
Payment and order processing
Upgrades and renewals
Outbound call center
An outbound call center is where sales agents make outgoing calls to reach prospects or convert leads. Outbound call centers handle:
Market research such as phone surveys
Lead generation using cold outreach programs
Appointment setting with customers
Blended call center
A blended call center combines the activities of inbound and outbound call centers. You can easily integrate cutting-edge call center software into your blended contact centers helping your agents deliver unmatched customer experience.
What tools do call centers need?
Boiled down to essentials, a call center requires a set of hardware and top-notch software to function efficiently.
Hardware
The hardware includes computers, headsets, and a PBX switch.
Computers or laptops that can be connected to the internet are required for various functions such as making and receiving calls, accessing dashboards with reports and analytics, etc.
Headsets: A quality headset helps the agent multi-task. The noise cancellation feature surely helps deliver a better customer experience.
PBX Switch: A tool that connects laptops or computers with external networks, a PBX switch can be used with any type of phone system including a VoIP phone system.
Call center software
From a cloud-based virtual phone system to call recording software, a range of software is used to ensure the smooth functioning of a call center. Some of the technologies used are:
Customer relationship Management (CRM) software
Metrics and analytics tools
Call recording
Real-time reporting tools
Chatbots
What are advanced call center technologies?
Advanced technologies used in a call center are:
Help desk software
A help desk is a call center software solution that helps track and maintain customer queries sent via omnichannel. It comes with ticketing systems that help prioritize and resolve issues on time.
ACD – Automatic Call Distributor
ACD is a telephony system that answers and routes incoming calls to an agent that is best suited to handle the caller.
Predictive dialer
The technology automatically dials from a list of phone numbers saving agents time.
Voice biometrics
This tool authenticates a person's identity and helps prevent fraud.
Workforce management software (WFM)
This call center technology forecasts call volumes and other omnichannel interactions. This helps managers hire an optimal number of resources to meet the requirements. Coupled with other call center technologies, WFM can empower agents to deliver unmatched customer experience.
Empower your customer support team with world-class call center technology that is futuristic and feature-rich. From predictive dialer to call whispering, contact center software offers your team the flexibility and scalability they need.