Smart Business Systems

Boost Profit and Build Relationships with Smart Business Telephone Systems

Keep your enterprise connected with the right smart business telephone systems. In just a few minutes, Ringover can help power-up your business operations with features that are designed to get efficient, insightful, and personalized with your clients.

Try it for free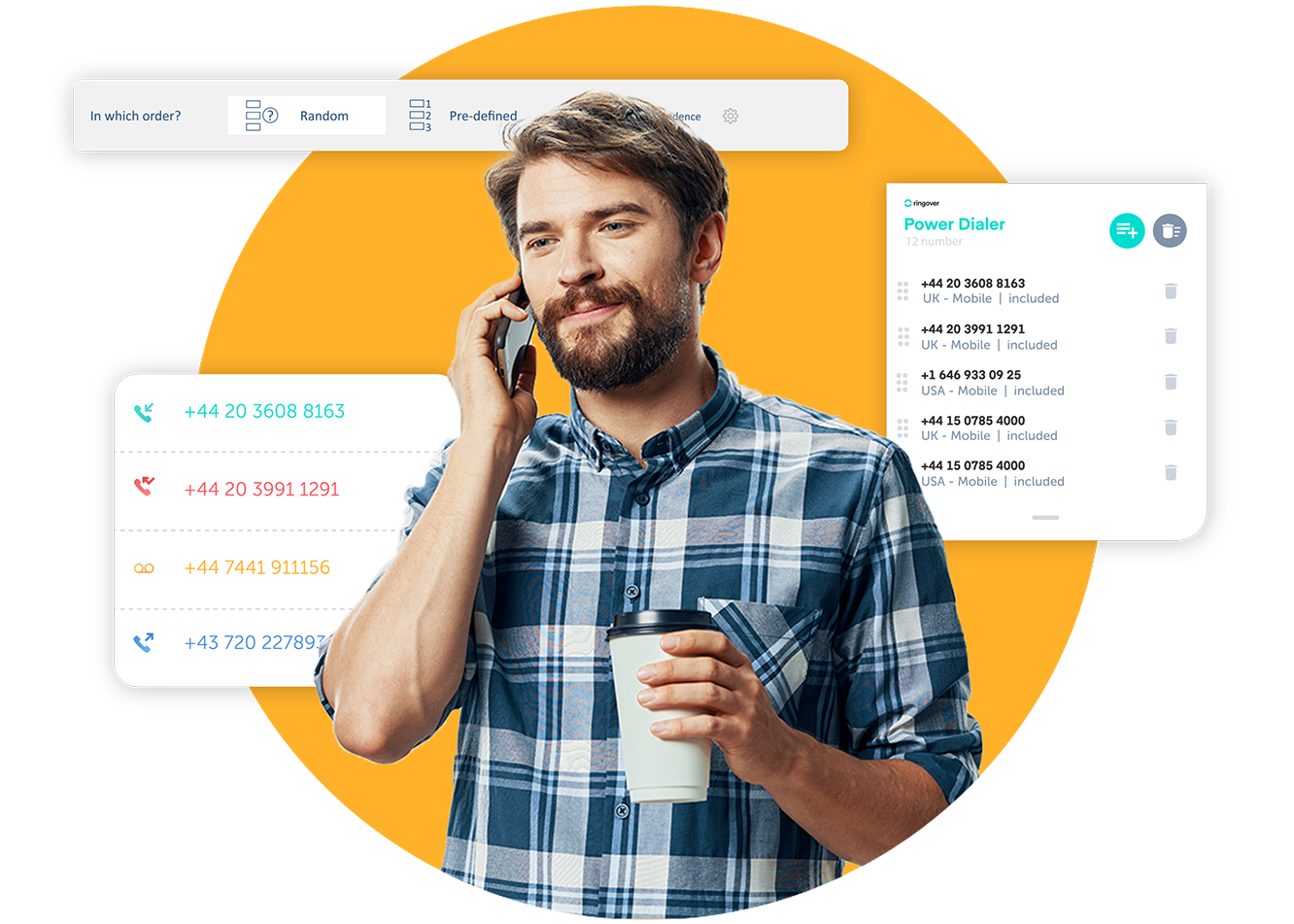 Meet the Next Generation of Business Telephone Systems
You already know that a direct call can do more for your business than any kind of marketing initiative. That's why it's so important to keep your enterprise connected with the right small business telephone systems.
Businesses using phone systems to amplify their sales, lead generation, and customer support and contact rely on Ringover's features to:
Field calls from more than one customer
Deliver and receive messages on-the-go
Answer and direct customer questions and calls to the right individuals
Connect multiple callers or groups in a single conversation
Provide engaging on-hold communications for customers while they wait
Ensure that incoming calls are routed to the next available line or agent
Experience all this and more using Ringover's call management software. Start your free trial today!
Provide Fast, Flexible Customer Service No Matter Where You Are
Setup your call center software and customer service and support business no matter where you're located. In just a few minutes, Ringover can help power-up your business operations with features that are designed to get efficient, insightful, and personalized with your clients.
Your business can harness Ringover's plethora of features, including:
Priority queuing that acknowledges VIP callers and allows them to feel cared for
History-based routing designed to help create long-lasting relationships
International numbers that allow you to connect with clients and customers in 65 countries
Unlimited calls in up to 80 landline and mobile destinations
Quick access to previous notes, chats, and customer details
After call qualification to help agents close the loop on client cases and communication
Better Business Telephone Systems Needs Insightful Communications
There are many different reasons why businesses choose call management software to simplify their communications. Contrary to popular belief, you don't need to be heading up a call center to experience the benefits of a feature like a predictive dialer or an auto dialer.
Just imagine how much time and effort a team can save using these features, especially when it's hooked up to a suite of supportive functions such as:
Native integration with leading CRM software such as Freshdesk, Salesforce, and Hubspot, for deep collaboration
Click-to-call directly from your browser with additional call recording for training and after-call qualification and flexible voice-to-video conferencing
Remote monitoring and performance analysis for location-independent teams
Ringover Delivers Reliability and Affordability In a Single Solution
One of the key advantages of maintaining a cloud contact center environment for your business communications is costs.
As a call management software, the Ringover platform costs less than traditional multi-line phone systems for offices. Instead, businesses pay little to no maintenance fees overtime when using call center service software. Instead of requiring physical handset purchase and installations, cloud phone systems for businesses enable virtual multi-point access.
The best part is that you can make all these changes and configurations entirely remotely. Set up in minutes? Ringover has got you covered!
Scale Up Operations with Smarter Business Telephone Systems
These days, the cloud is powering every aspect of your business operations — and your communications with clients, customers, and internal teams is part of that transformation.
Do away with costly business phone hardware because the next generation of telephone systems for businesses are helping you do more with less. The best part is that solutions like Ringover grow with you — without growing in complexity.
Small teams are well-positioned to take advantage of Ringover easy and effortless call management software features. At the same time, Ringover's functionality helps you bring in more business by maintaining close contact with customers.
So don't be surprised if your business scales up its revenue and operations in no time at all. Ringover is right there with you, every step of your growth.
Customer Satisfaction Is As Important As Your Team's Experience
Founded by entrepreneurs for entrepreneurs, Ringover offers businesses a better way to manage, organize, log, and initiate their communications.
Our powerful cloud contact center solution gives businesses the opportunity to accomplish multiple goals at once, using advanced phone systems, texting, group messaging, and video conferencing.
Simple but powerful, Ringover's call center software provides an interface for you to control every aspect of your call center service. Whether you're calling from your browser using our handy Chrome extension, or conducting sales training with your team, Ringover can help you boost both customer satisfaction and agent experience.
Business Telephone Systems FAQ
What are Business Telephone Systems?
A business phone system ranges in complexity and ability, but these are telephony solutions designed for offices and enterprises. Small business teams, medium-sized companies, and large-scale organizations harness various phone system types, powered by different types of technology, to accomplish multiple goals like customer experience, inbound and outbound sales, customer support, lead generation, and remote team management.
Phone systems designed for businesses offer common features like call routing, call monitoring, and conference calling. However, some phone systems call for physical hardware integration, along with software implementation, while others use cloud-based phone systems to manage and host calls and call data.
How Do You Choose Between Business Telephone Systems?
There are four common types of business phone systems. These include:
• Multi-line phone systems — Best for small businesses, multi-line phone systems allow the entire office to make and receive calls at the same time. Calls are routed through traditional phones.
• VoIP phone systems — "VoIP" stands for "voice over internet protocol," which means that calls are operated over a broadband connection. You'll need a business service package, which can support this kind of data transfer, but, other than that, VoIP systems are very flexible and scalable.
• PBX phone systems — PBX means private exchange branch, and it's a way to route incoming and outgoing calls through a business's phone lines. IN a PBX phone system, calls are centralized and they don't occur through a phone unit. The software accompanying these systems also offer advanced features like call holding, routing to extension, and more.
• Cloud phone systems — Like the name suggests, cloud phone systems are hosted on a third-party server. The system is VoIP and completely off-site, which means you don't have to worry about hardware or software.
What are the Advantages of Using Business Telephone Systems?
Phone systems for businesses allow small, medium, and large companies to align their customer and client communications to their operating systems. When you use specific call management software for businesses, you can:
• Contact multiple clients at once
• Handle incoming customer support calls in a streamlined manner, without adding more hires
• Qualify leads and ensure more sales contact through the day
Phone systems amplify a business's reach and can ensure that there are no missed revenue opportunities.
Can Business Telephone Systems Integrate With CRM Software?
This really depends on the kind of phone system or call center software you use. Some types of software do offer third-party integrations, which allow business users to integrate customer data, contact information, and other relationship management details for use in more personalized phone conversations.