Hosted Phone System
While it may be tempting to stick to the familiarity of a more traditional phone system, the reality is that a hosted phone system can offer everything a PBX can and a great deal more besides. Hosted phone systems like Ringover's utilize Cloud-hosting to boost everything from cost-efficiency to security. They offer everything you know your company needs as well as a host of additional features you didn't.
Try it for free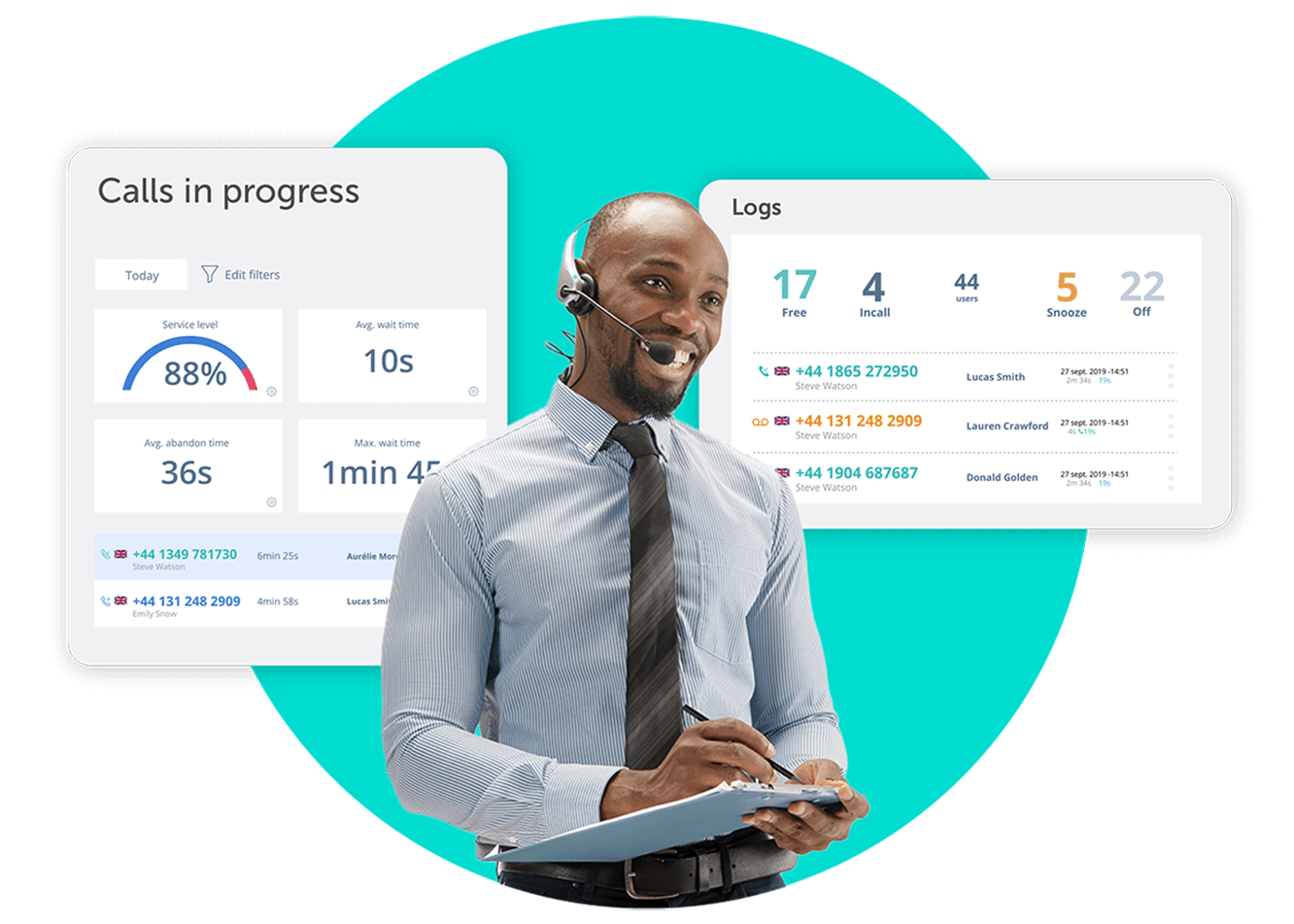 Enter the new age of communication with a hosted phone system
While the benefits are clear, some businesses and call centers stay away from the switch to a hosted phone system simply because they are not clear what it is. In very basic terms, a hosted phone system is a phone system that operates through the internet. This means that the excessive costs involved in setting up a more traditional in-house phone system are avoided as bulky, complex and expensive equipment is not necessary. These functions are carried out and created within Ringover's servers. All you need to do is log in with an individualized login of your making.
How exactly does a hosted phone system work?
While the minutiae of each individual step are complex and a little technical, the basic steps are not.
You connect to the Cloud PBX of Ringover.
When someone calls you, that goes to the host system.
Ringover's hosted system converts the call into digital packets that can be transferred via the internet.
Your phone rings, you pick it up and the digital packets are translated back into voice output. In short, the hosted system is a middle man that you never notice working!
Why should you be looking at a hosted phone system for your company?
While the most obvious reasons for choosing a hosted phone system over a traditional in-house set up are the savings, there are also a large number of other benefits and features that have caused it to become the go-to for almost all new and expanding business. These relate to a number of different factors, including mobile workers, advanced security, and scalability when it comes to an expanding workforce and more. Whether you are a service call center or sales focused, hosted phone systems can work to enhance the customer experience you wish to provide.
A closer look at some of the benefits of a hosted phone system
Mobility
Ringover's hosted phone system allows for a more seamless experience for remote or mobile workers. For instance, it allows you to link your business phone easily with any third-party apps you wish to use.
Data integration
Your hosted system should integrate seamlessly with your CRM. Ringover's service synchronizes with your CRM to make tasks like logging call data, recordings and notes a breeze.
Flexibility
Our phone system allows you to log on to your account from anywhere, meaning any computer can be your business phone.
The pros of a hosted phone system for new businesses
Get started faster
Compared to the work involved in a traditional phone setup, Ringover's couldn't be easier. You can be set up in 65 different countries in a matter of minutes.
Lower costs
Take every piece of equipment you need and reduce it all down to one single service cost. Now take away installation costs and the money lost if that installation is delayed for any reason and you'll start to see why our hosted phone system is the cost-efficient option.
Scalability
A new company means a growing workforce. With a hosted phone system, installing a new phone is almost instantaneous, meaning your new workers get to work right away.
The Value of security
Customer confidence
A data breach can have a major impact on your customer's confidence in your company. Ringover's hosted phone system offers security over and beyond even other similar products ensuring continued customer satisfaction.
Hacker resistant
Inbuilt identity management tools making it much harder for hackers to access privileged information.
Encrypted call data
With strong encrypting throughout the call you are protected from the possibility of eavesdroppers.
Hosted Phone System FAQ
What is a Hosted Phone System?
In technical terms, a Hosted Phone System is not necessarily Cloud or even Internet-based but is actually a term that refers to any phone system that is based outside the place of business that is using it. Previous non-internet versions of a hosted phone system include Centrex which was a phoneline-based system offered by several major phone providers. Cloud-based Hosted Phone Systems have become by far the dominant form of hosted Systems thanks to the availability and easy access to a vast amount of inexpensive storage.
What are the advantages of a Hosted Phone System?
Hosted Phone Systems offer a number of advantages over phone line setups. One is the speed and ease with which a system can be installed and customized. With Ringover, you can start making and receiving calls in a matter of minutes. Cost efficiency, flexibility and scalability are also some key benefits of the Hosted Phone System.
Can I integrate Hosted Phone System software into my CRM?
With Ringover, you can easily integrate and synchronize the data gathered by your phone system with your call center software or call management software. This includes the ability to automatically enter important call information such as date and time of call, tags, SMS, notes by the agent and even audio recordings into your CRM database where it can be stored and made available for any future calls enhancing your ability to deliver premium customer service.
What are the benefits of a Hosted Phone System for my sales people?
Hosted Phone systems offer numerous benefits for all departments within a company. For sales people in particular there is the benefit of mobility. The system can be integrated easily with any third-party apps which means any apps that are central to your sales people out in the field will still be viable. It can integrate with other features such as auto dialler and predictive dialler to create an enhanced customer experience.
In addition, the fact that users can login to their account on any computer means that they don't even need their phone to access and utilize the system to make secure business calls. The encryption and identity security of the system also means the fact that agents are making calls outside the premises is no longer a data breach risk. Lastly, as sales teams are often subject to rapid expansion in high-sales seasons, the hosted system allows you to provide new phones quickly and easily when and as needed.