Call monitoring

Monitor your agent calls

Use the call monitoring feature to easily evaluate agent performance and maintain high standards for your call center. Conduct training sessions and offer effective coaching by joining conversations in real time.
What is call monitoring?
Call monitoring allows you to listen and analyze your call center agent calls in the moment. By monitoring calls, supervisors can help improve agent performance, offer training and advice as needed and deliver a high-quality, consistent customer support experience.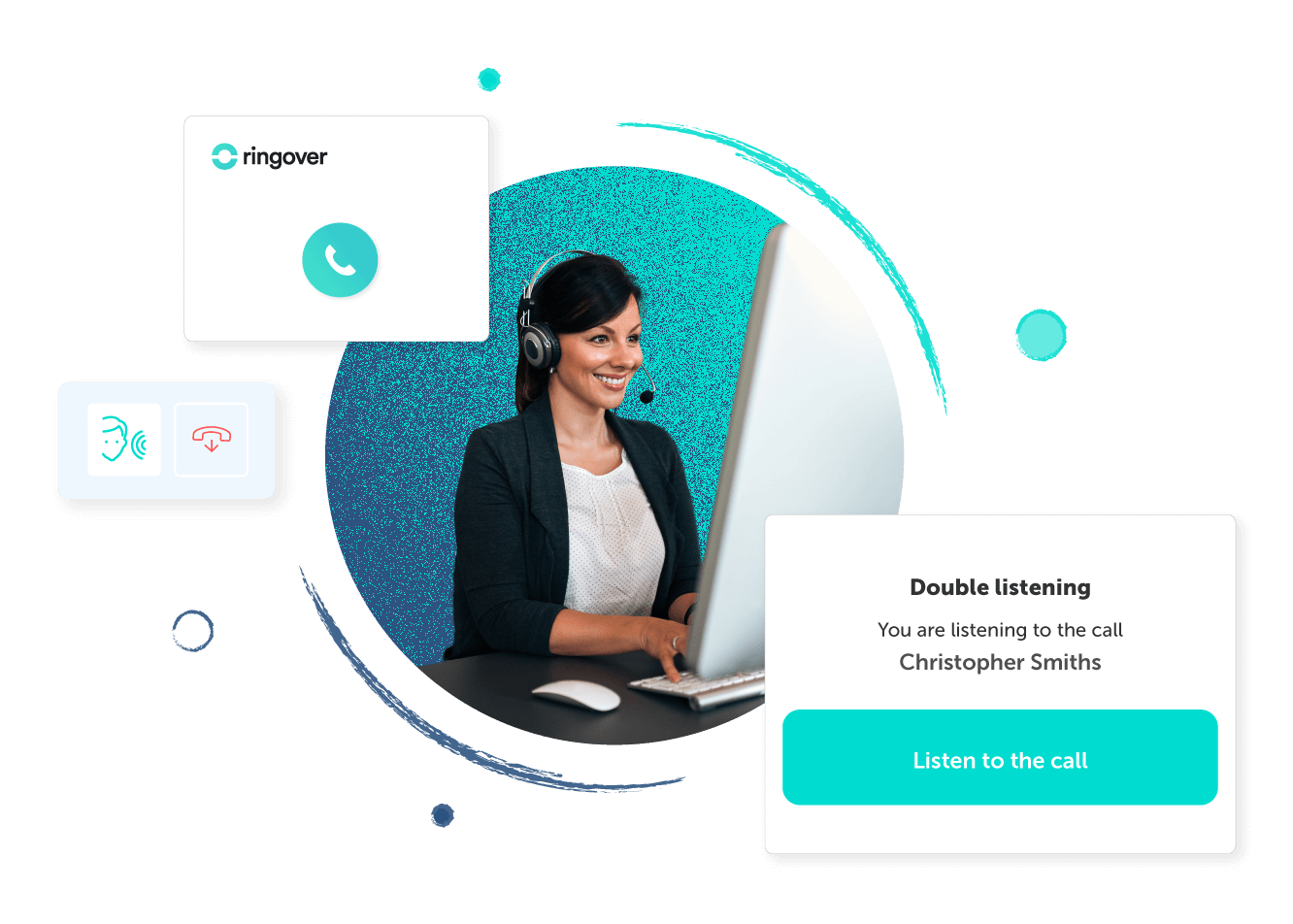 Ways to monitor calls
Verify the quality of responses that your customer support agents provide over the phone or the sales method used by your agents approaching prospects by phone.
//= $helper('InjectSvg', '/features/list/SVG/029', wrapper: 'div', class: 'c-card__picture__img') ?>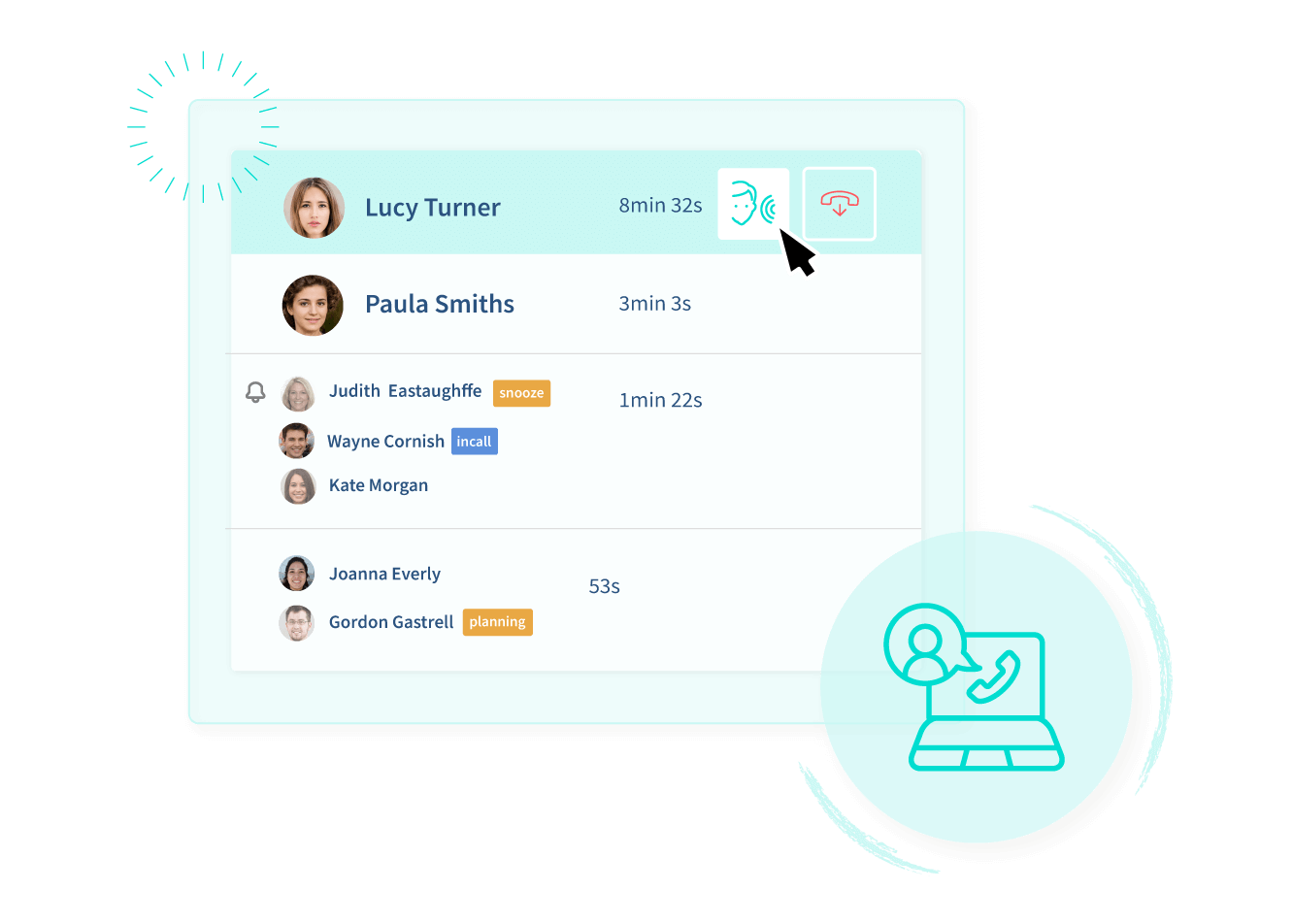 Live call listening
The foundation of call monitoring. Live call or double-listening happens without the knowledge of either party on the call. It is commonly used by supervisors and managers to take notes and provide feedback after the call.
//= $helper('InjectSvg', '/features/list/SVG/040', wrapper: 'div', class: 'c-card__picture__img') ?>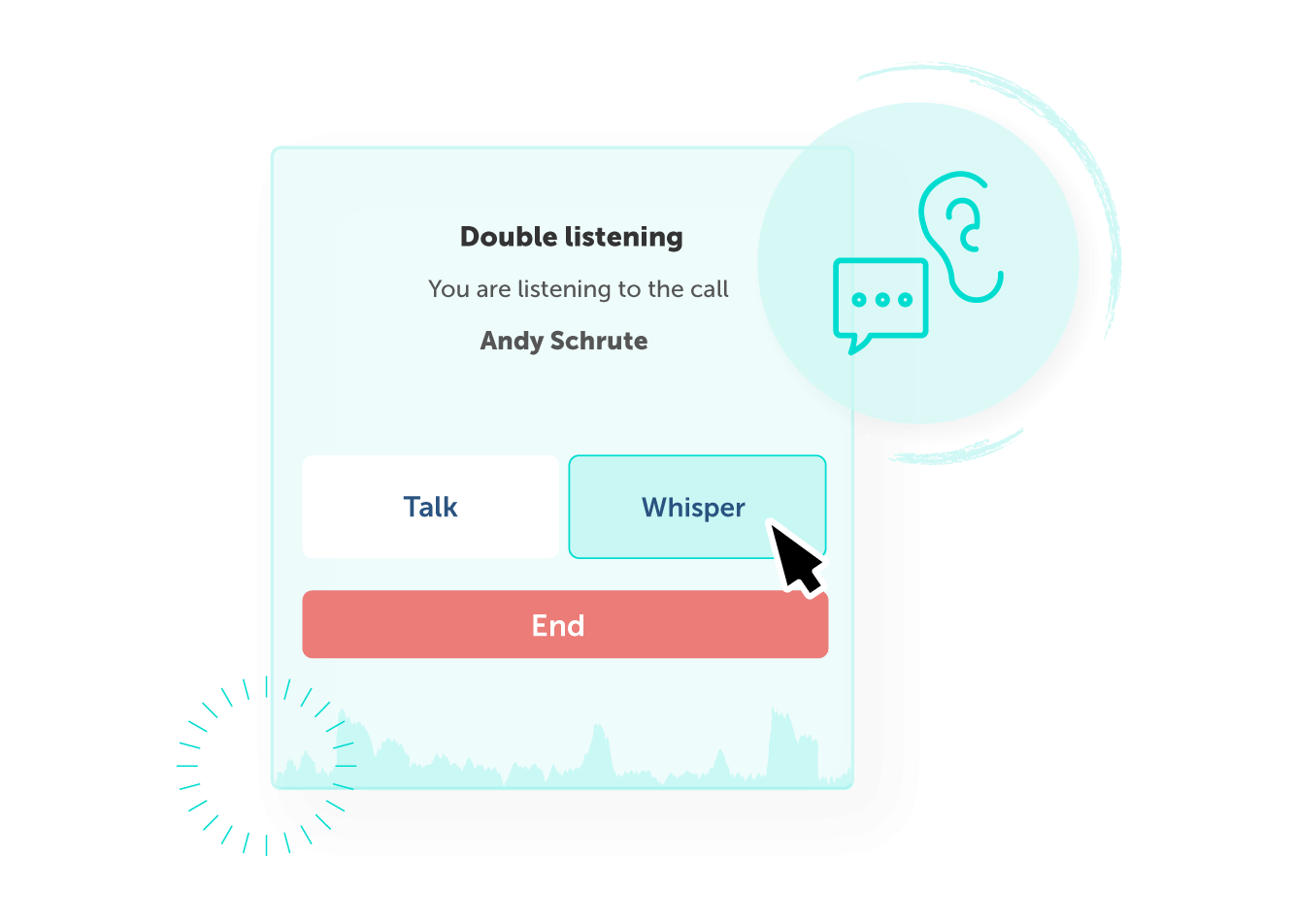 Whispering
The secret weapon of call supervision success. This feature allows the supervisor to speak to an agent directly during an active call without their caller hearing.
//= $helper('InjectSvg', '/features/list/SVG/030', wrapper: 'div', class: 'c-card__picture__img') ?>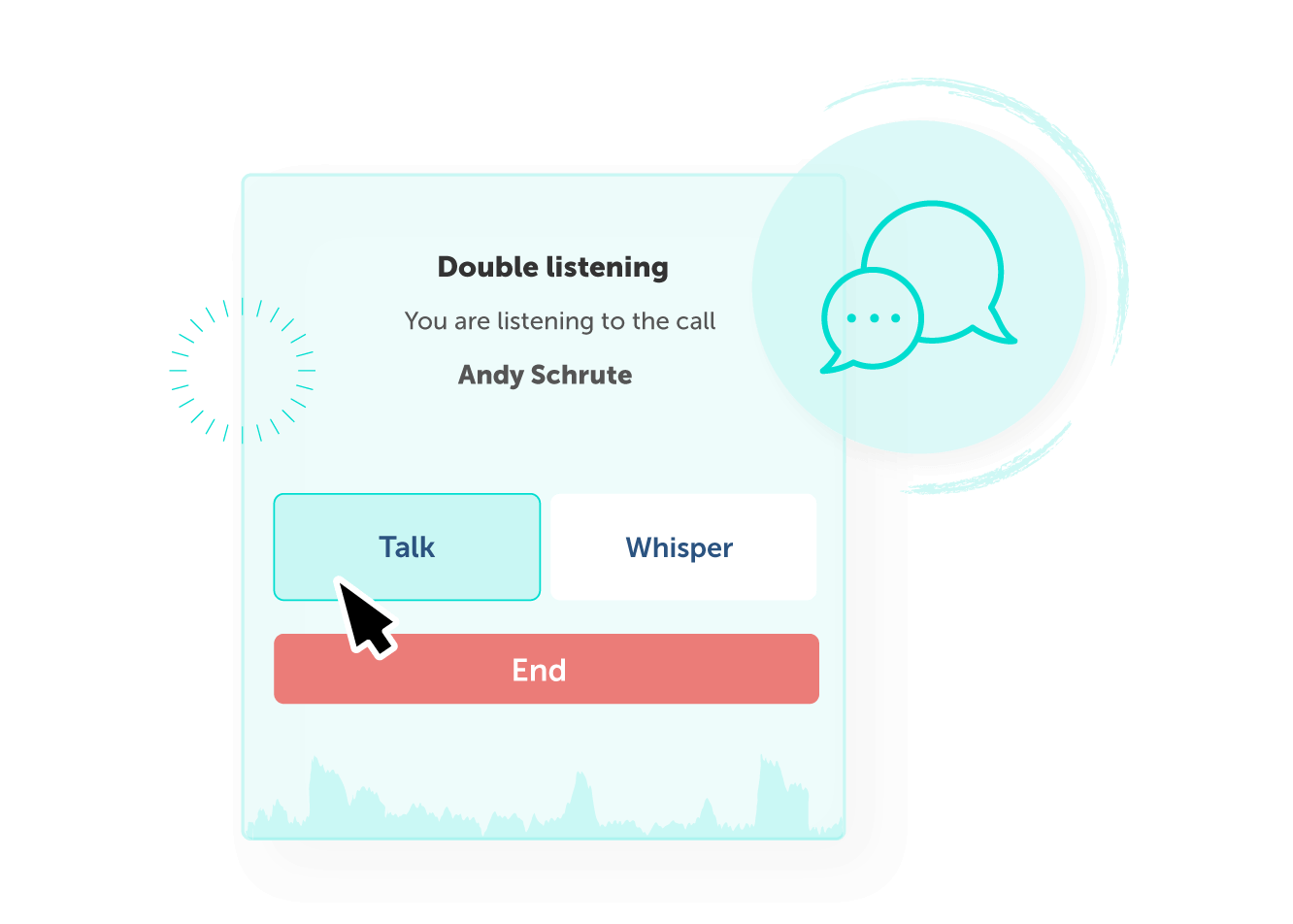 Call barging
Jump right into any live call. The manager can speak to both parties on the call without the need for call transfers or spending time on hold.
//= $helper('InjectSvg', '/features/list/SVG/026', wrapper: 'div', class: 'c-card__picture__img') ?>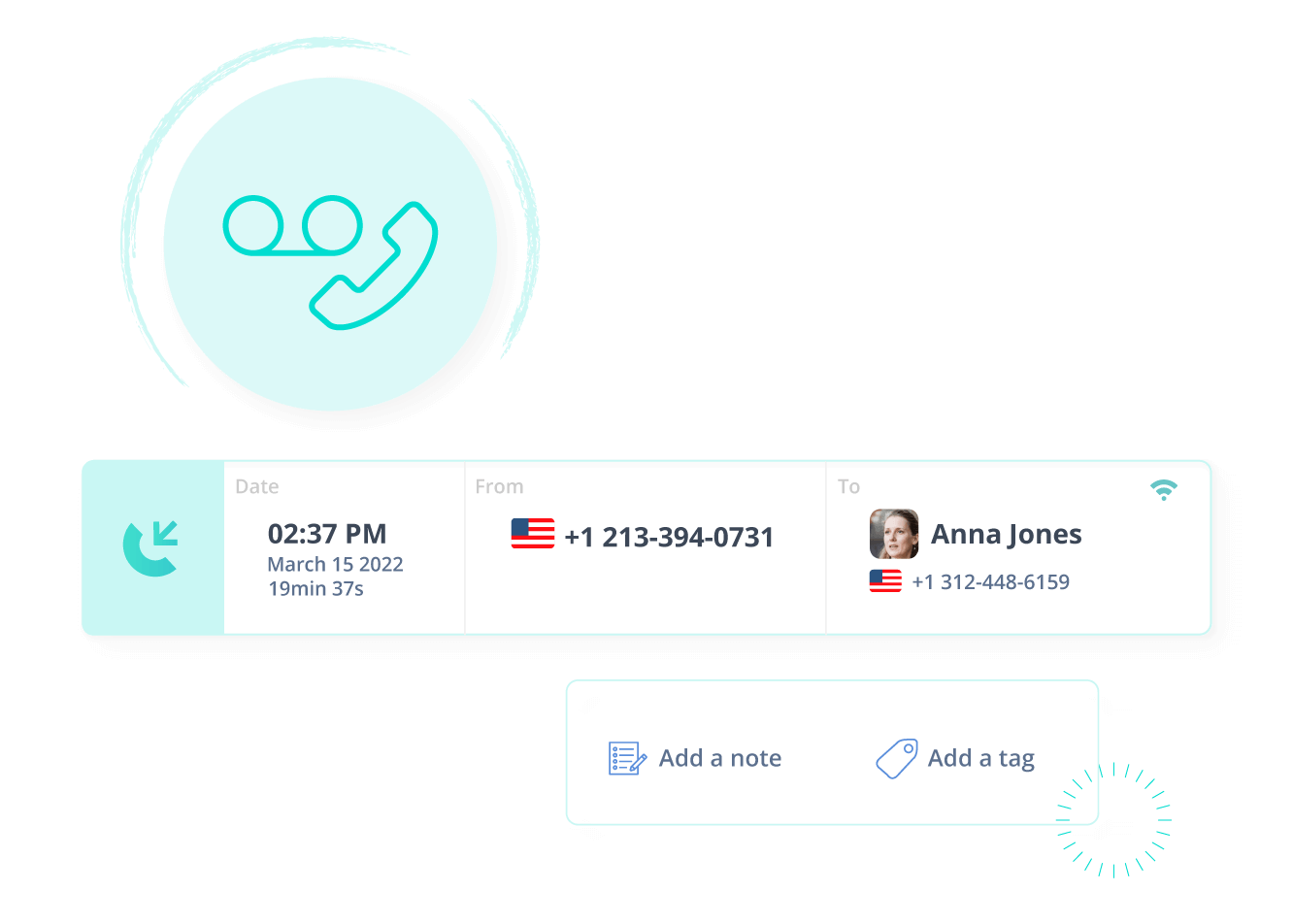 Call recording
A more long-term approach to call monitoring. Recording calls ensures that agent conversations - whether inbound or outbound - can be stored safely and then easily retrieved when needed later on.
Benefits of call monitoring
Your call center is a fundamental part of your business. It's therefore crucial to pay close attention to the quality of inbound and outbound calls that pass through your call center and make constant improvement a goal.
Enhance customer service
Monitor live calls from your customer support team and monitor the effectiveness of your agents in responding to customer requests.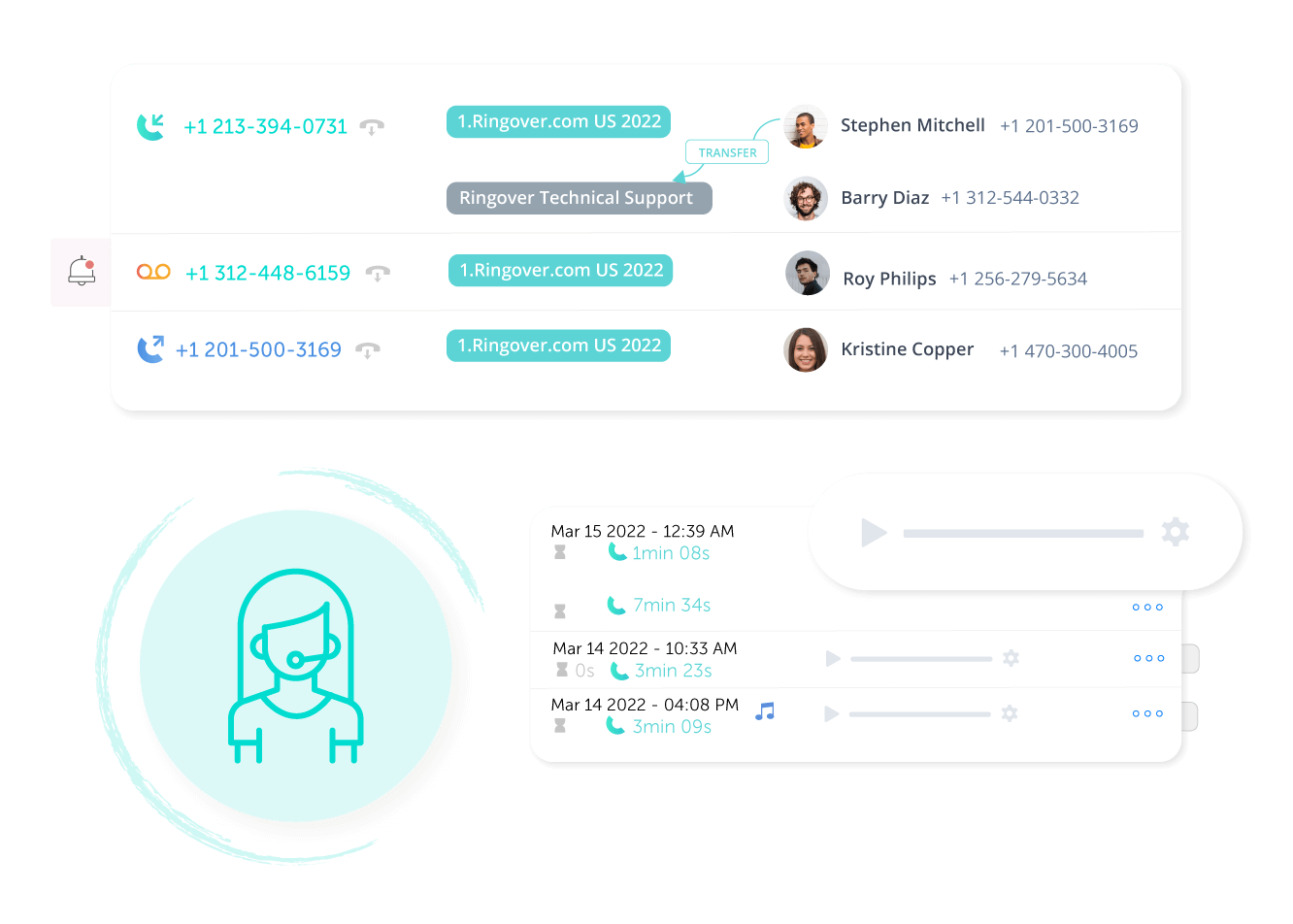 Boost sales results
Call monitoring is critical for your sales team. Understand how leads are being handled once they reach your sales reps or assess the quality of product or service pitches being delivered over the phone.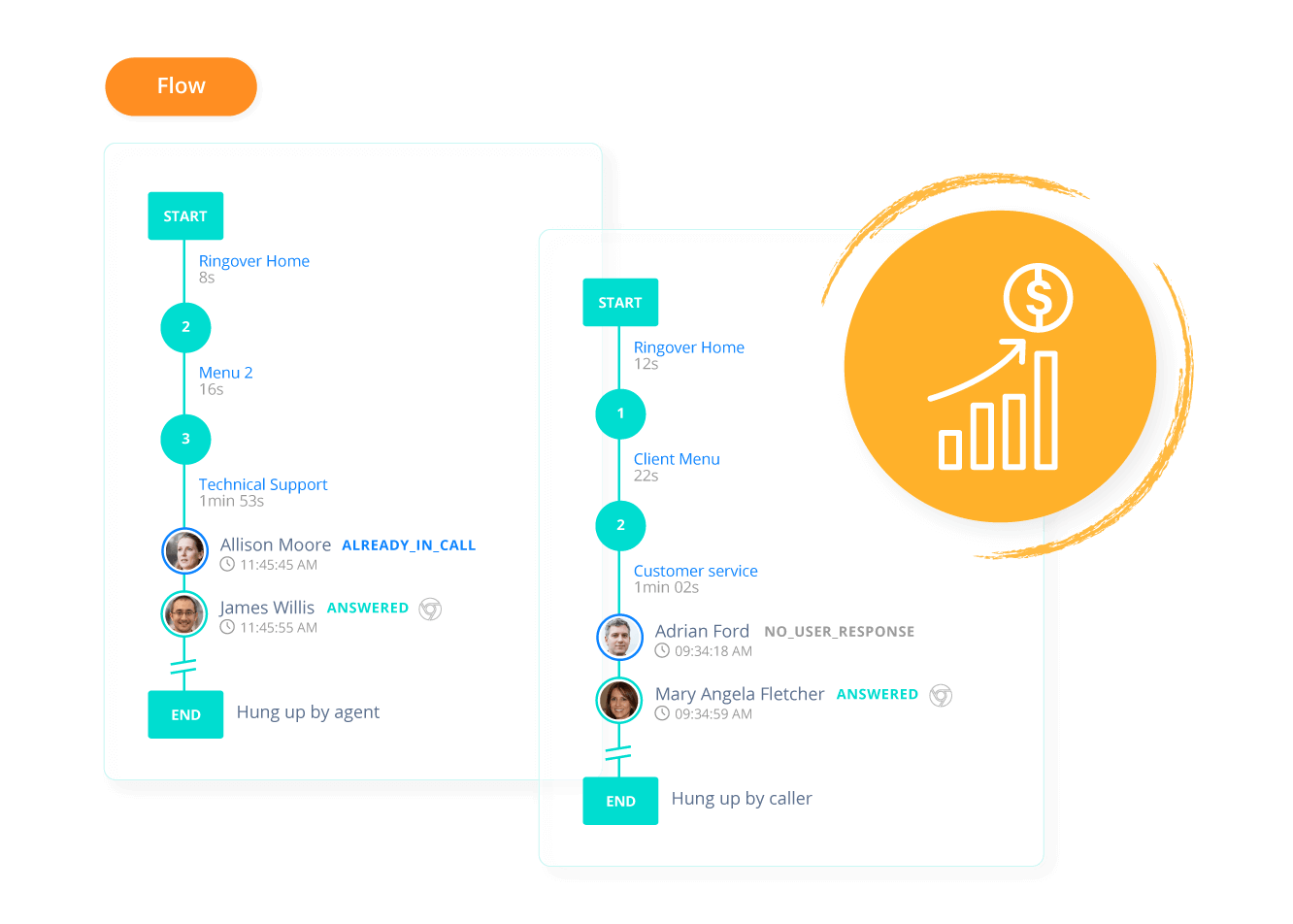 Evaluate your call center quality
Verify the quality of responses that your customer support agents provide over the phone, or assess the approach used by your salespeople when talking to leads.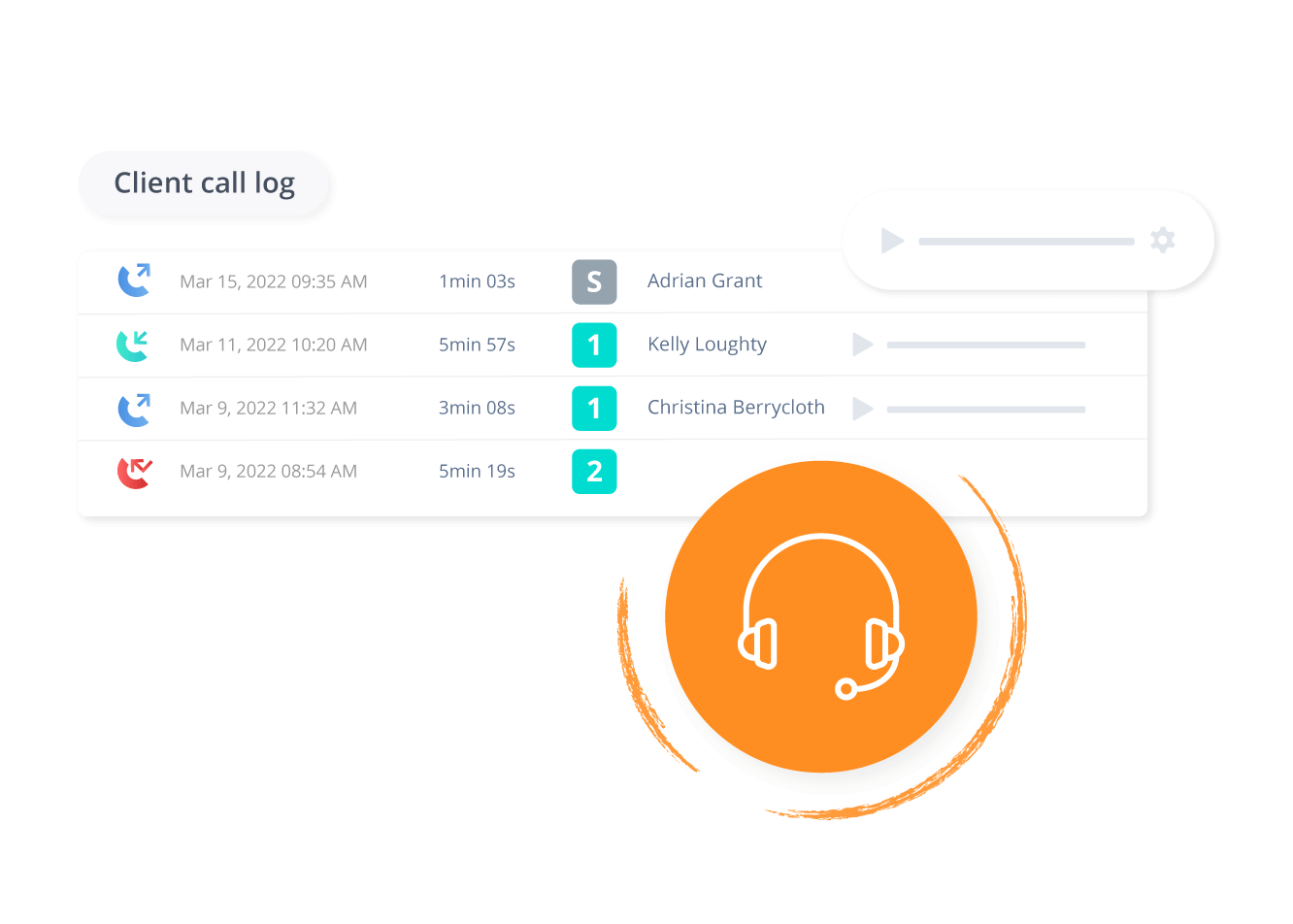 Train your team
Use call monitoring to properly onboard new hires via live and engaging training sessions. Have them listen in directly to the best agents' conversations so they can pick up on their conversation styles and techniques.
Coach new agents
Monitor your agent's first experience on the sales floor by listening systematically to their conversations. Use call data to suggest concrete improvements to their phone conversation techniques.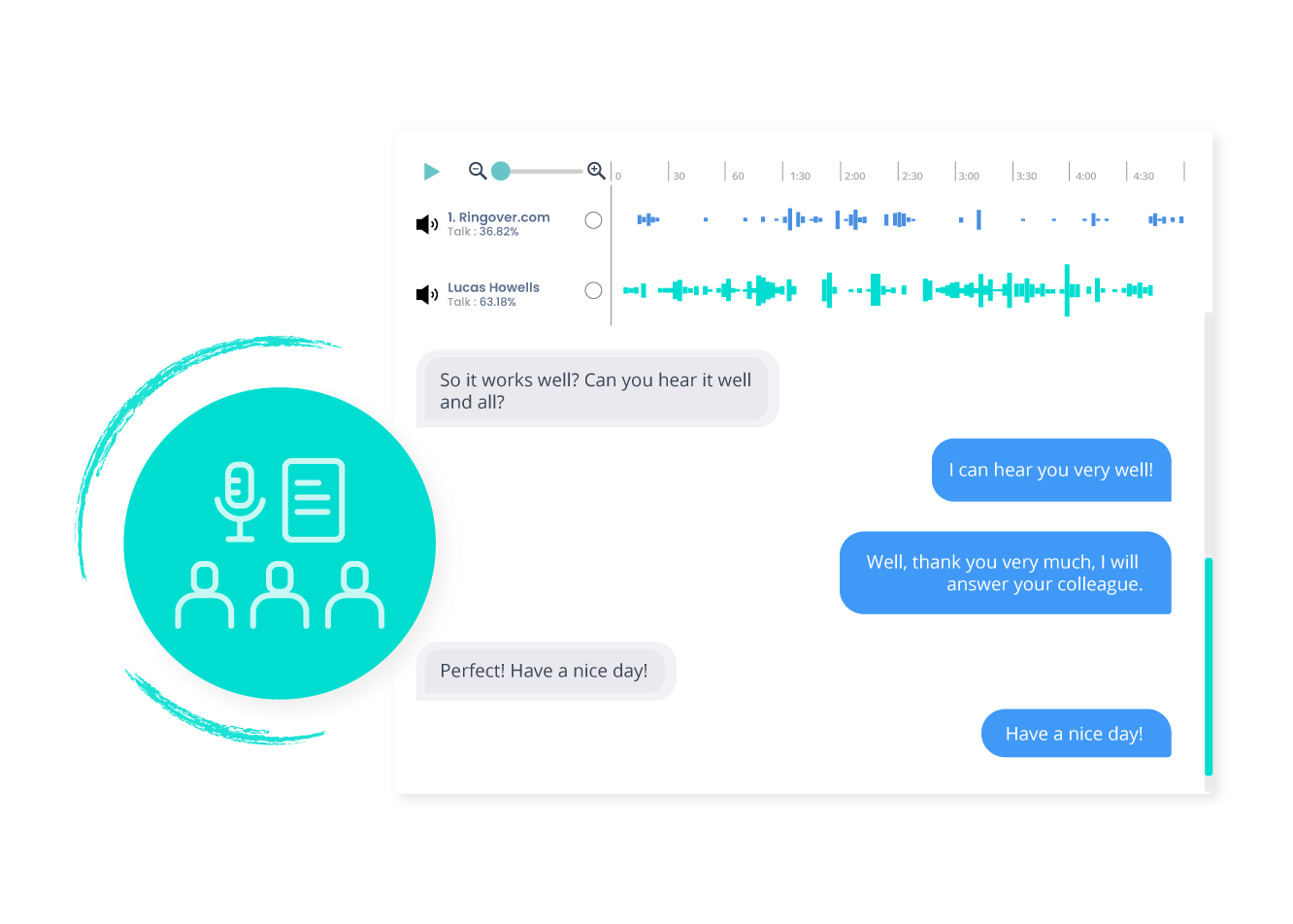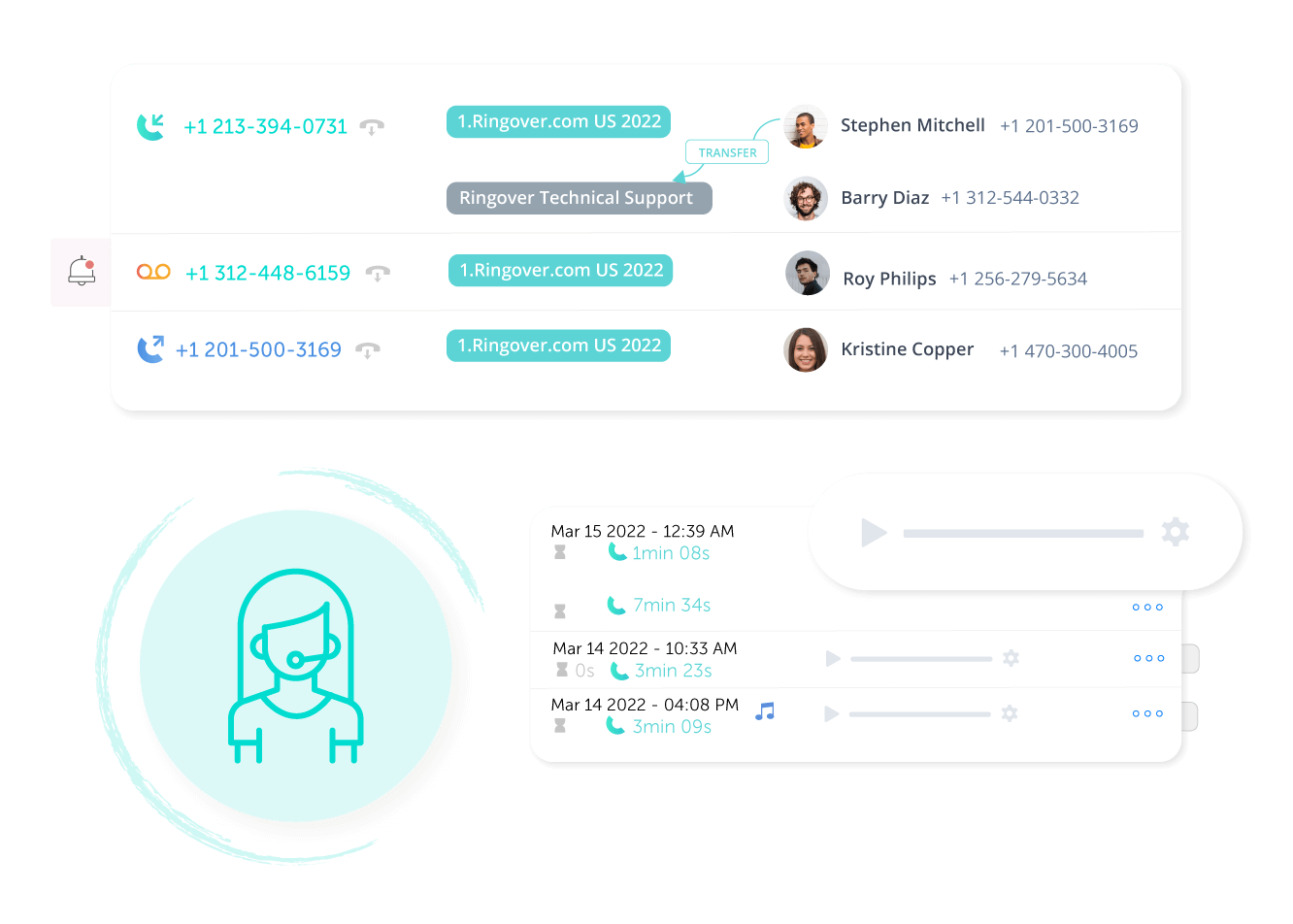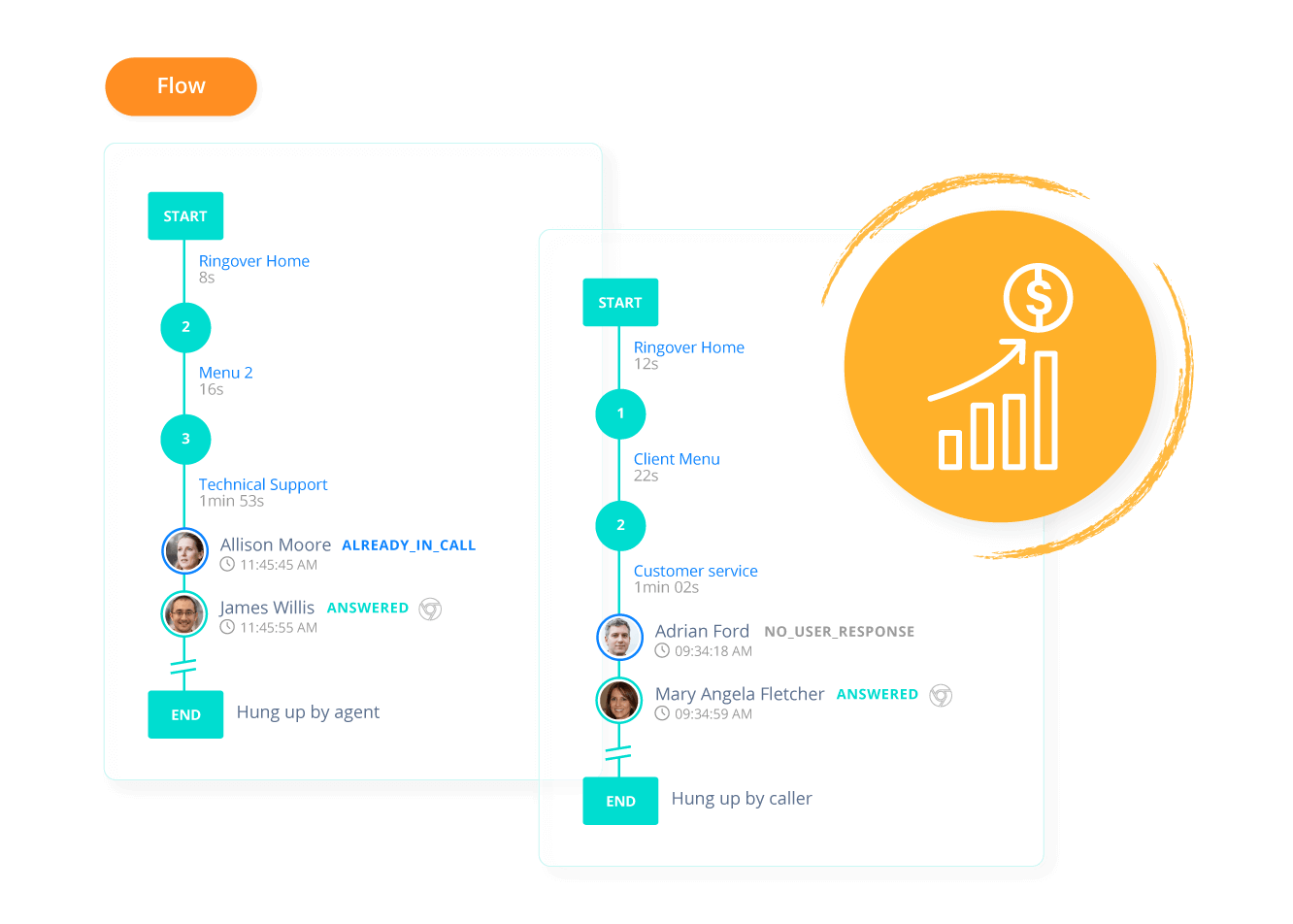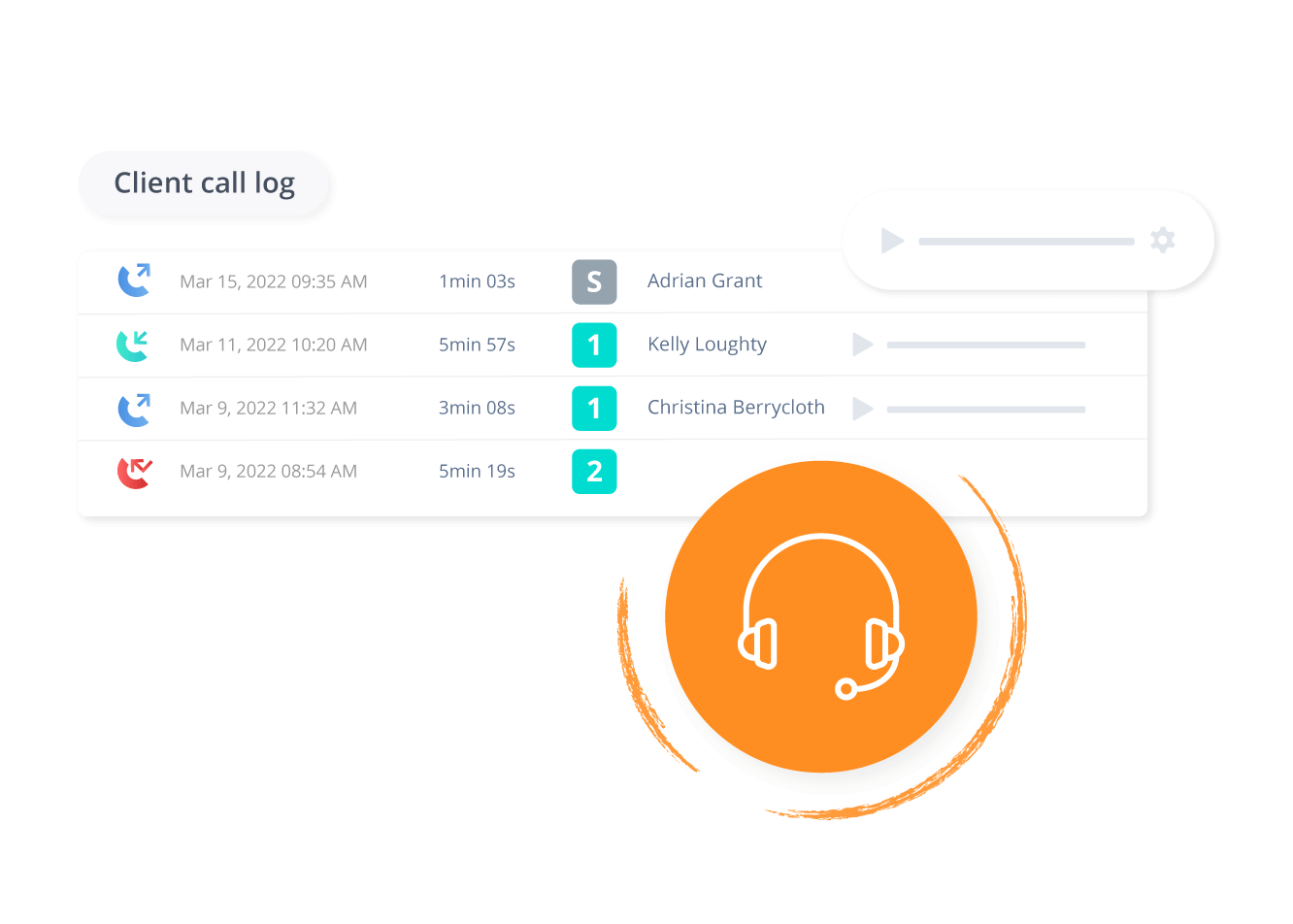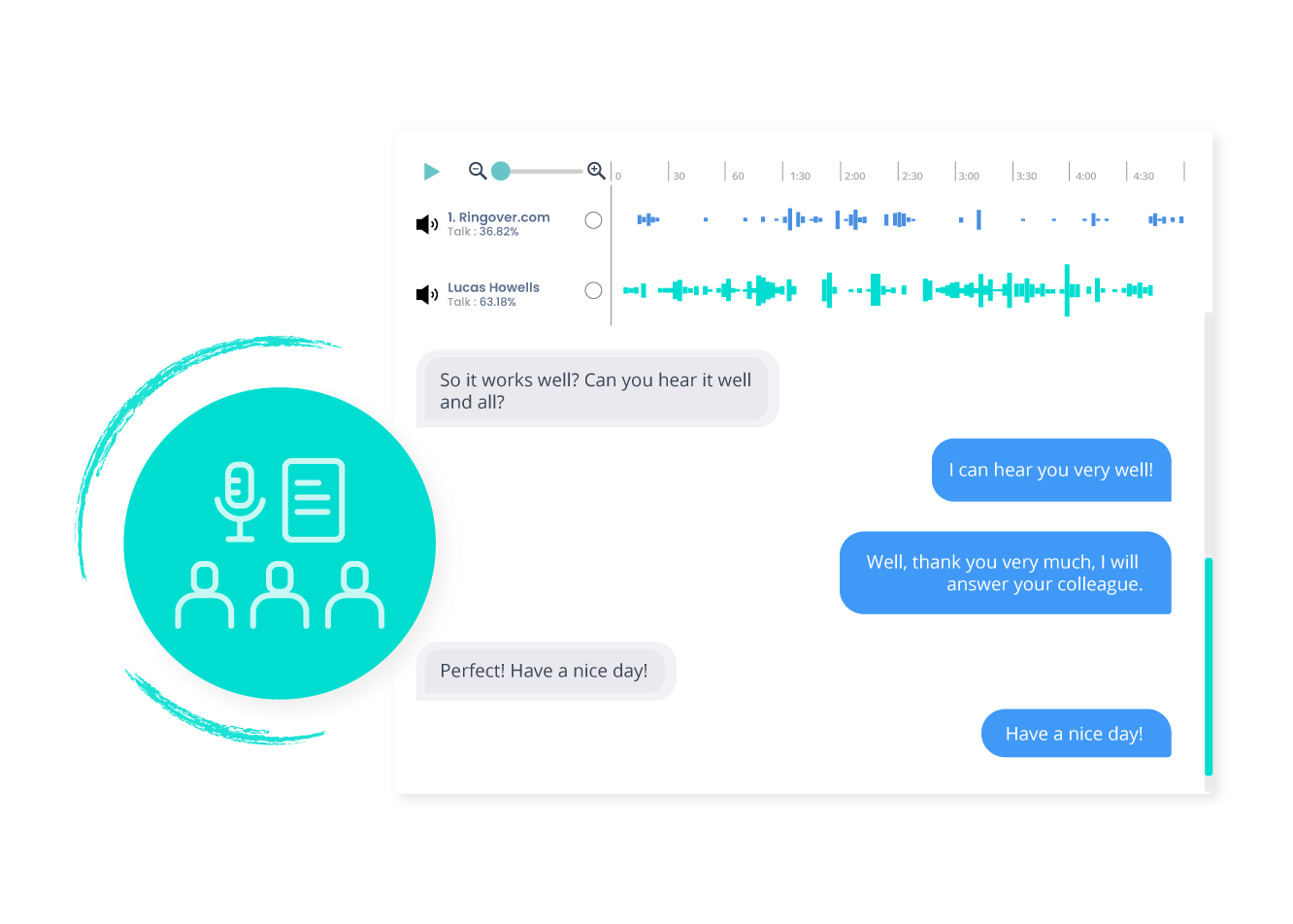 Who uses call monitoring?
Call center managers
Supervisors can monitor calls to ensure that call quality standards are being maintained and that agents are attending to customer queries in the right manner and as quickly as possible. Call center managers can take advantage of call whisper and barging to chime in on live calls, offering quick advice and turnaround solutions when agents find themselves in a jam.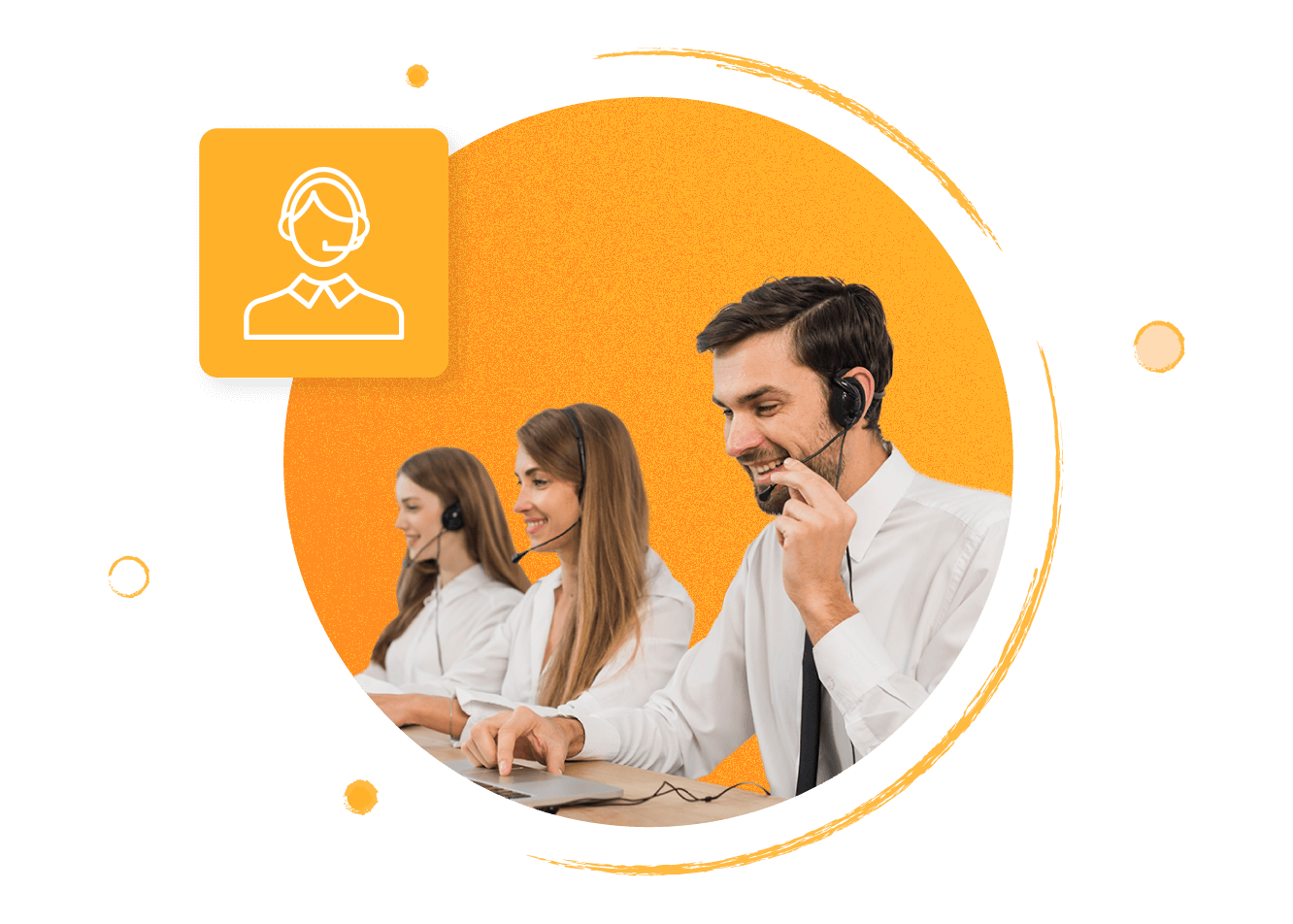 Marketing departments
Knowing how well leads are converted once they are passed over to sales agents is key, and monitoring calls allows you to do just that. Join active calls or relisten to call recordings to assess how sales reps present a particular product or service and hear how prospects respond. Use this data to tailor marketing campaigns and create great content customers love.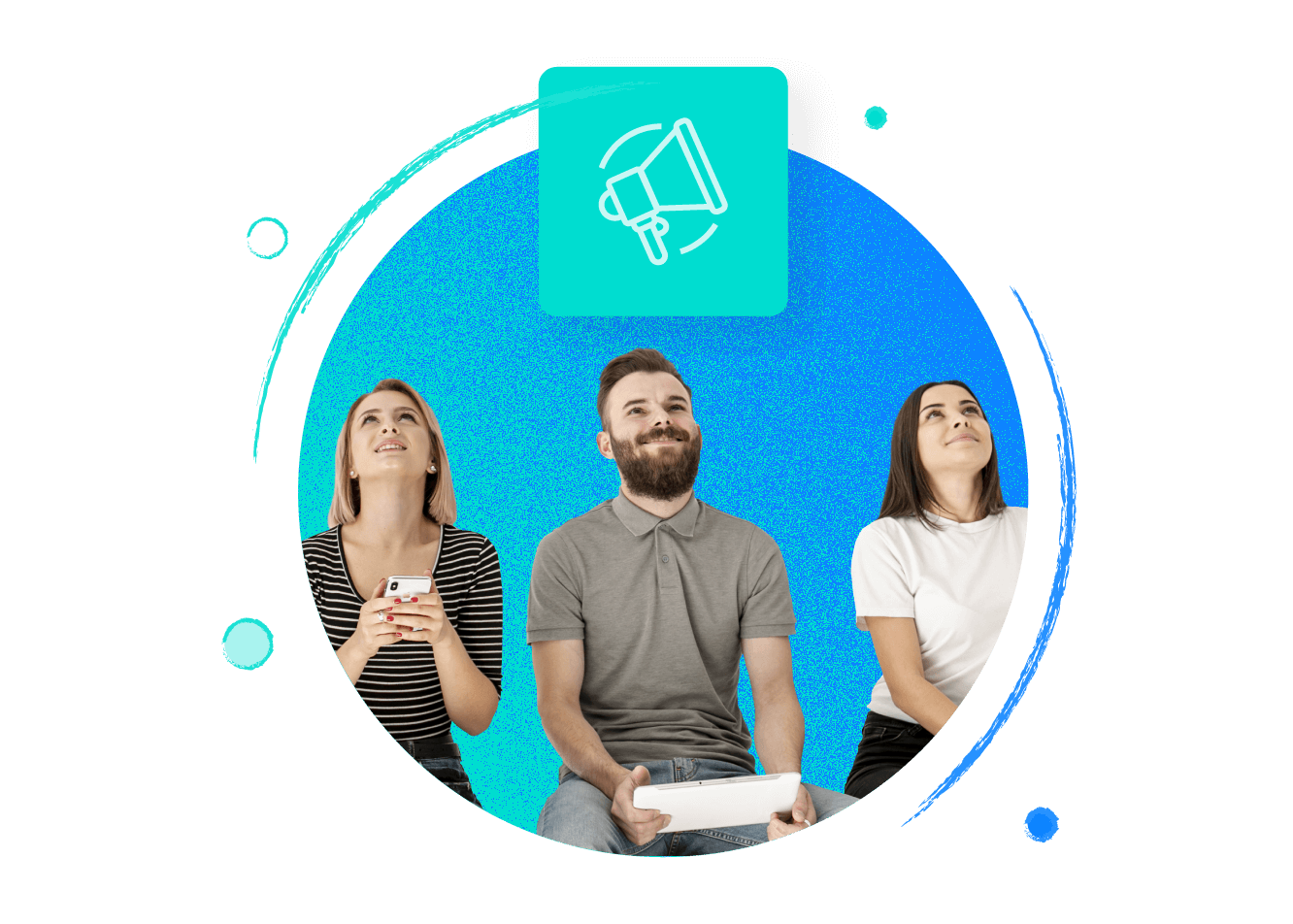 Sales and customer support
Properly train and coach new hires from day one using live and recorded calls from the best agents and reps. Revisit calls to find key details that may have been missed during the original call.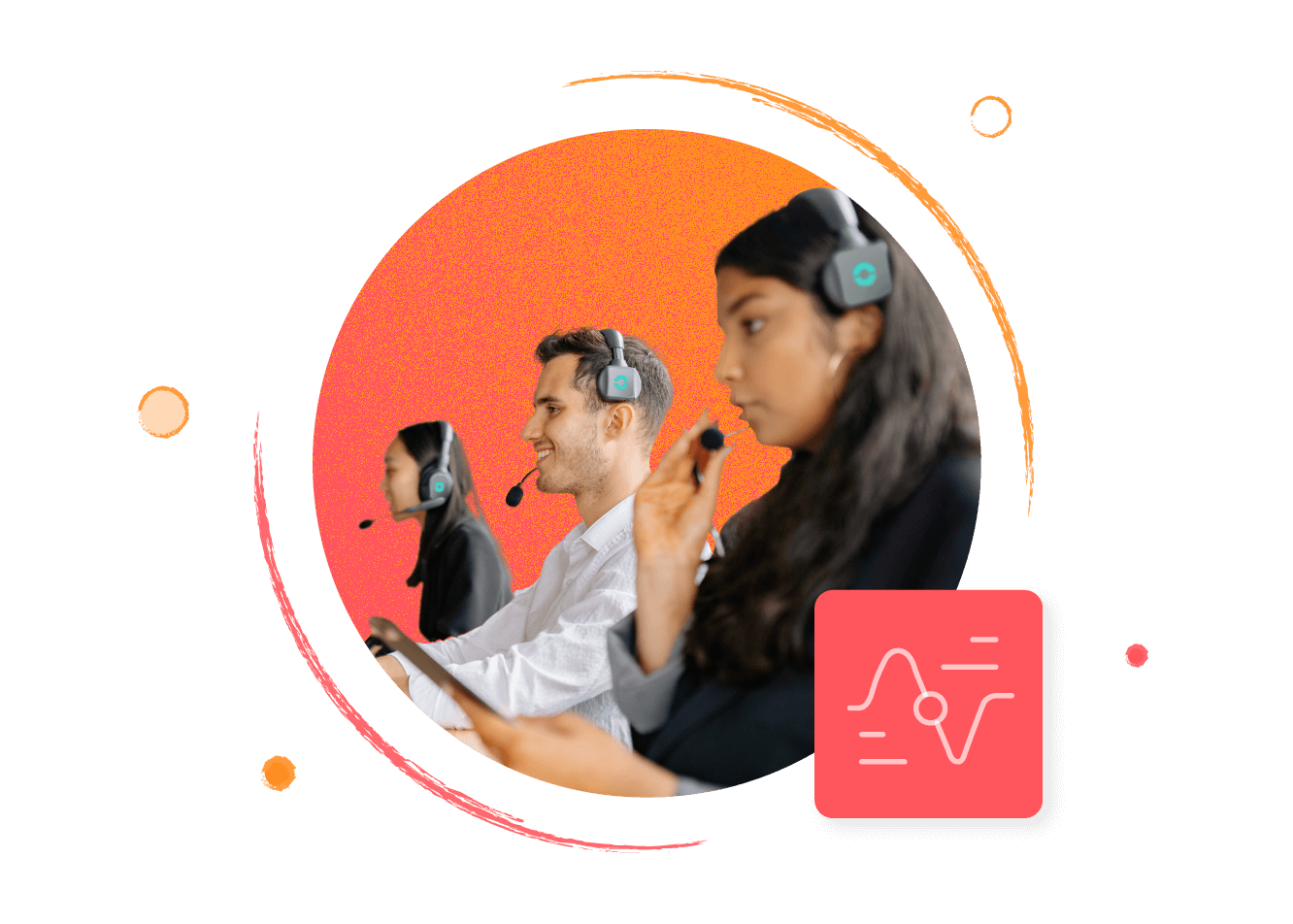 Discover the simplest call monitoring software
Easily access an active call from the dashboard in real time. Listen to the conversation discreetly without the customer or agent being interrupted or disturbed during the call. Monitor your team regularly from one call to the next.
2
Select the call you want to listen to
3
Listen to the call or join the conversation in just 1 click
Supporting features for call monitoring
Boost team productivity and enhance call analysis using advanced statistics.
Obtain statistics at the agent level to pinpoint specific areas for growth and improvement.
Ringoverview
Display a bespoke version of your call center statistics on dedicated screens at your office.
Our customers' feedback
Overall Rating
A telephone switchboard that meets our needs!
As a company, we needed a dedicated line for marketing and manufacturing a new product!
Ringover set us up with the ideal solution to meet this need!
Great support team, great app, great dashboard.
It was a real pleasure to set up this telephony.
I could manage the switchboard and voice messages.
The customer pathways was really easy to set up.
We've just set up Ringover within our call centers and we're delighted, the UX is intuitive and the customer services are top of the range, our account manager is always available. Thank you!
I discovered the Ringover solution by getting in touch with the company. Thanks to Ringover, I can work from home as if I was in the office, and can maintain internal communications without extra kit. Plus, the interface is extremely simple to use and also offers a huge range of features.
Call monitoring FAQs
Which type of business should use call monitoring?
Are all users able to use call monitoring?
Can multiple people listen in on a live call simultaneously?
How much does it cost to use call monitoring?
What is call monitoring in a call center?
What are the types of call monitoring?
What are the benefits of call monitoring?
How can I monitor a cell phone call?
Which type of business should use call monitoring?
Any company that has a team in charge of handling calls (customer service, sales, or technical support, for example) should use call monitoring software to allow their managers to monitor and improve their agents' call quality. There are no rules on team size when it comes to monitoring calls with Ringover. Even a team of two can do this easily and when they expand in size, they'll be well acquainted with using this feature.
Are all users able to use call monitoring?
Only administrators and users designated as supervisors may access features for listening to calls in real time.
Can multiple people listen in on a live call simultaneously?
Yes, supervisors and administrators can listen to an active call at the same time via their dashboards.
How much does it cost to use call monitoring?
The call monitoring software is included in all our Business offers.
What is call monitoring in a call center?
In call centers, call monitoring refers to the practice where managers and supervisors listen in on the calls between agents and customers in real time. The main objectives of monitoring calls are to:
Ensure that the agents maintain call quality standards
Evaluate the performance of agents
Improve the overall quality of customer support services
Train and coach new agents
Offer quick advice to agents during live calls
Call centers use monitoring tools and software to listen in and track agent calls. If you are using a cloud-based business phone system, you don't need to invest in such tools and software separately – call monitoring is a feature included in their business call plans.
Evaluate the performance of your sales/support teams and ensure customer satisfaction by using the call monitoring feature of a business phone system. It enables you to listen to ongoing conversations, join live calls as a third party, give your agents help and advice in real time, and use feedback gathered through call monitoring to tailor your agent coaching.
What are the types of call monitoring?
Call monitoring can be of four types - live call listening, call barging, call whisper, and call recording.
Live call listening, also called double-listening, is when supervisors listen to an ongoing call without the knowledge of the agent or customer. They listen to a live call, take notes, and provide feedback to agents later.
Call barging is when managers and supervisors join an ongoing call as a third party and take over the conversation. They usually do this to help a struggling agent, prevent further escalation, or respond to a higher-order query.
Call whisper is a type of call monitoring where supervisors talk directly to the agent during a live call without the customer knowing to offer quick advice or solutions.
Call recording is the most basic form of call monitoring in which supervisors listen to recorded calls and offer feedback to agents. It doesn't involve real-time monitoring of calls.
What are the benefits of call monitoring?
The call monitoring feature in a business phone system benefits companies, agents, and supervisors alike.
For companies:
Stick to call quality standards and company values at all times.
Cultivate a work culture based on constant learning and development.
Boost sales results by improving the quality of sales pitches.
Improve the efficiency of your sales and support teams.
Ensure high levels of customer satisfaction by offering consistently excellent service.
For managers and supervisors:
Evaluate the performance agents regularly and systematically.
Identify the areas where agents need improvement and design skill-building and training sessions accordingly.
Intervene and offer solutions in difficult situations or prevent escalations.
Enrich feedback data and use it for coaching existing and new agents.
Identify and rectify inefficient processes and compliance issues.
For agents:
Improve the quality of their performance.
Increase the rate of first-contact resolution.
Get timely help when required.
Improve productivity.
How can I monitor a cell phone call?
If you are a business owner who wants to monitor the business calls on company-owned cell phones, you could use a monitoring app or software. To do this, you need the permission of employees and should have clear monitoring policies in place. However, such apps don't come with enterprise-level features. Moreover, the legality of using such apps is a matter of debate.
The best way to overcome this problem is to switch to a cloud-based business phone system that offers call monitoring as a feature. Most of these VoIP phone system providers have a mobile app that your employees can use to make calls from their smartphones using a business number.
You can access and monitor all business calls your agents and employees make through the dashboard. You can listen to live calls without agents or customers knowing, record calls, and intervene during active calls if required.