Phone.com Alternatives 2023
What is Phone.com?
Phone.com is a cloud-based phone provider that is designed for entrepreneurs and growing businesses. This American based, privately owned company was founded in 2008 and offers their services in English across the United States. Phone.com is compatible with both Android and iPhone. Phone.com allows their customers to send texts, video calls, voice calls, conferencing, send fax, etc. Phone.com does not require any additional hardware. It simply uses your internet connection to place calls. Phone.com gives their customers a free software update and new features regularly. Whether it be local, toll-free, vanity or even your current number, Phone.com gives their customers the freedom to select the number that is best suited for their business.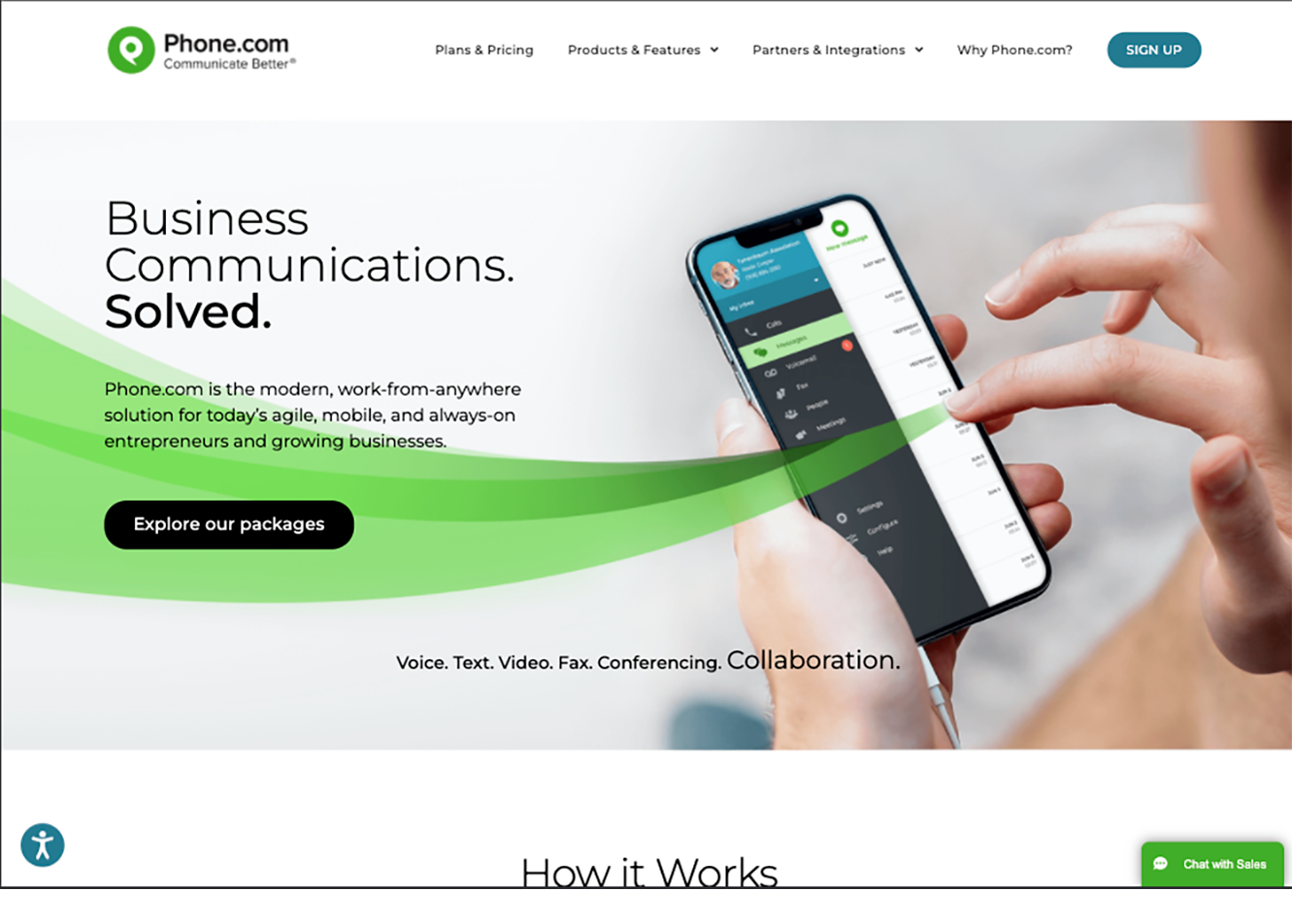 Source : Phone.com home on www.phone.com. on the 03/28/2022
Phone.com Pricing
Phone.com has a Basic, Plus and Pro plan priced at $12.99, $19.99 and $29.99 per user/ month. The Basic plan has 300 pooled calling minutes, 1 phone number per account and 50 standard voice features. If you need unlimited minutes, you can upgrade to the Plus plan. The Pro plan also offers unlimited calling minutes as well as features like CRM integration, live video streaming and video conferencing for up to 100 participants. Features like international calling, call recording, inbound faxes and a live receptionist are available at additional costs.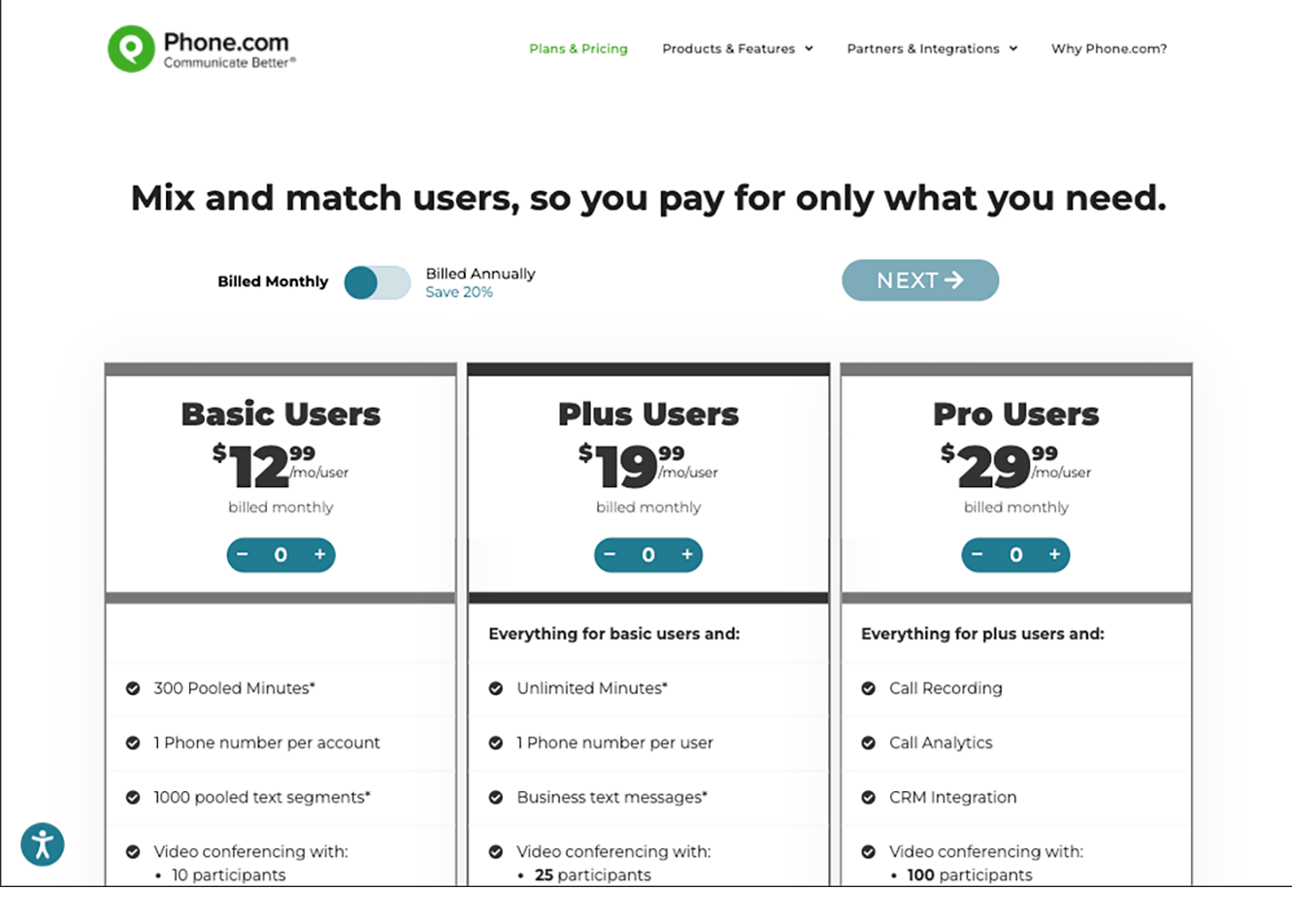 Source : Phone.com pricing on www.phone.com. on the 03/28/2022
Why move away from Phone.com?
You need a more complete solution
Phone.com offers 3 different packages. In order to choose which package is right for your company, you will first need to assess your needs. For basic features, you will need to sign up for the "Pro Users" plan. However, it lacks essential features that are important for managing calls like customer support, call supervision, or integrating with the most popular CRM's. This alone could sway you towards an alternative provider.
Pros
Phone.com offers a basic and simple plan.
Cons
Phone.com is not an efficient way to manage customer calls and lacks essential features.
You need more affordable pricing
To be able to efficiently manage your customer support calls, you will need to choose the "Pro Users" plan for $29.99 per month per user. At this price, most companies would prefer a more complete solution that includes call monitoring tools, advanced call statistics, or CRM integrations. Many alternatives exist on the market with these features at the same price.
Pros
Phone.com offers an affordable product.
Cons
You could get a more comprehensive solution for the same price from a different vendor.
You need something easy to use and set up
Business communication has a history of being complicated. It is important to choose a modern solution that is easy to start and simply to use. You should be able to set up a cloud phone system in 3 to 5 minutes and a more advanced contact center solution within 15 minutes. If this is not the case with Phone.com, it would be best to look for another provider so you don't waste time in complex implementation.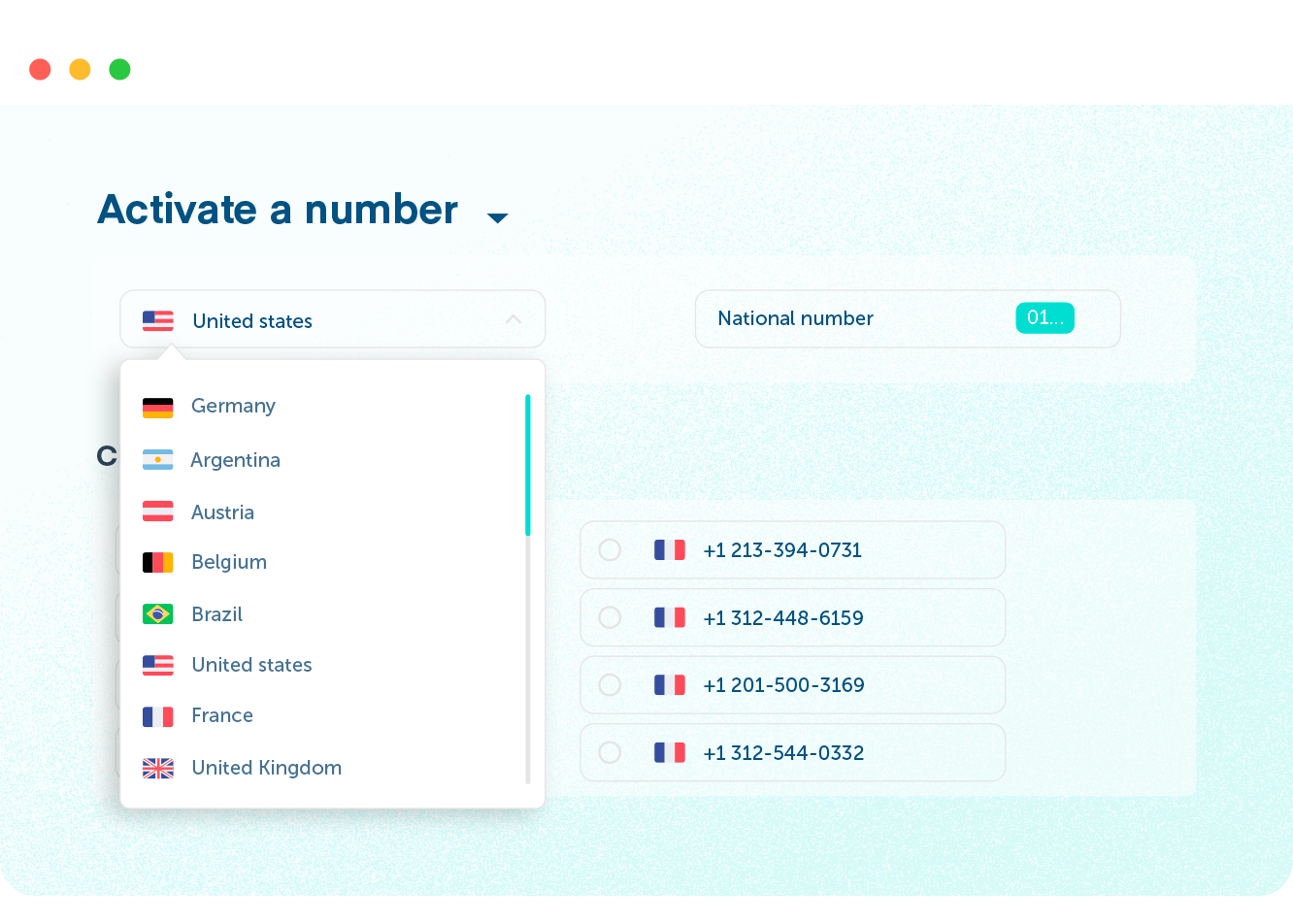 Top 5 Alternatives to Phone.com
Are you looking for a better option than Phone.com? Compare the other solutions on the market to select the best tool for your small or medium-sized business. Below, you will find a review of the competitors in terms of price, features, and ease of use:
Alternative #1: Ringover
With a complete range of features, from basic business phone line to advanced call center features, Ringover is rated as the best alternative to Phone.com Ringover is an easy-to-use solution designed for small and medium size businesses who are looking to make unlimited calling, simplify call management and improve the experience of their callers.
With 2 simple packages, you can get the best deal with the most features in one single solution, including unlimited international calling from local numbers, videoconferencing, and text messaging.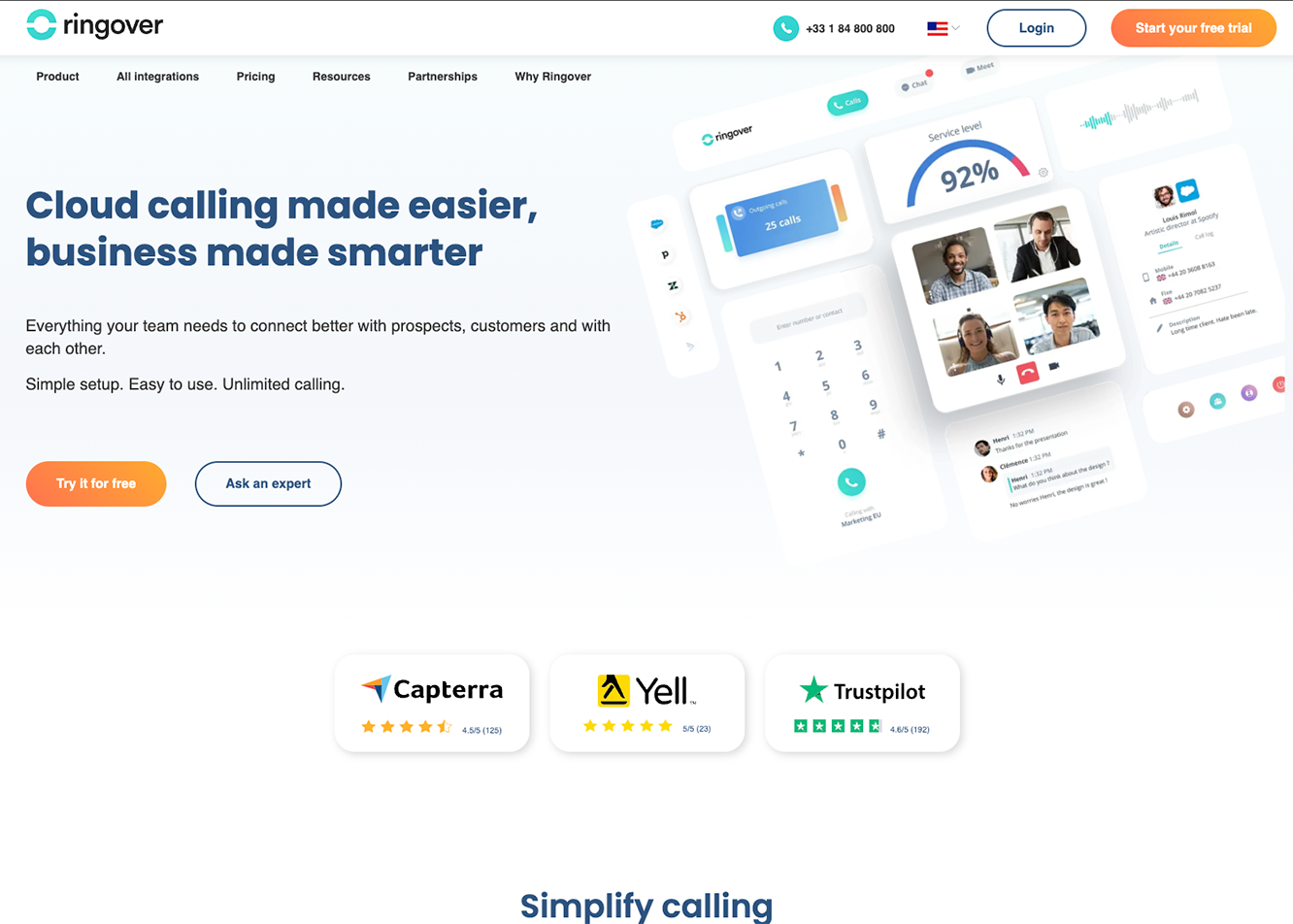 Top Advantages of Ringover
Get unlimited calling: Why pay more for calling? With Ringover, you get unlimited calls to and from 100 different destinations even in the smallest package.
Simplify virtual calling: Set up and start calling with Ringover within minutes from any smartphone or computer. Using it and integrating with your CRM is pure simplicity.
Centralize your communication: Access calling, videoconferencing, fax and messaging in a place specially designed for small businesses.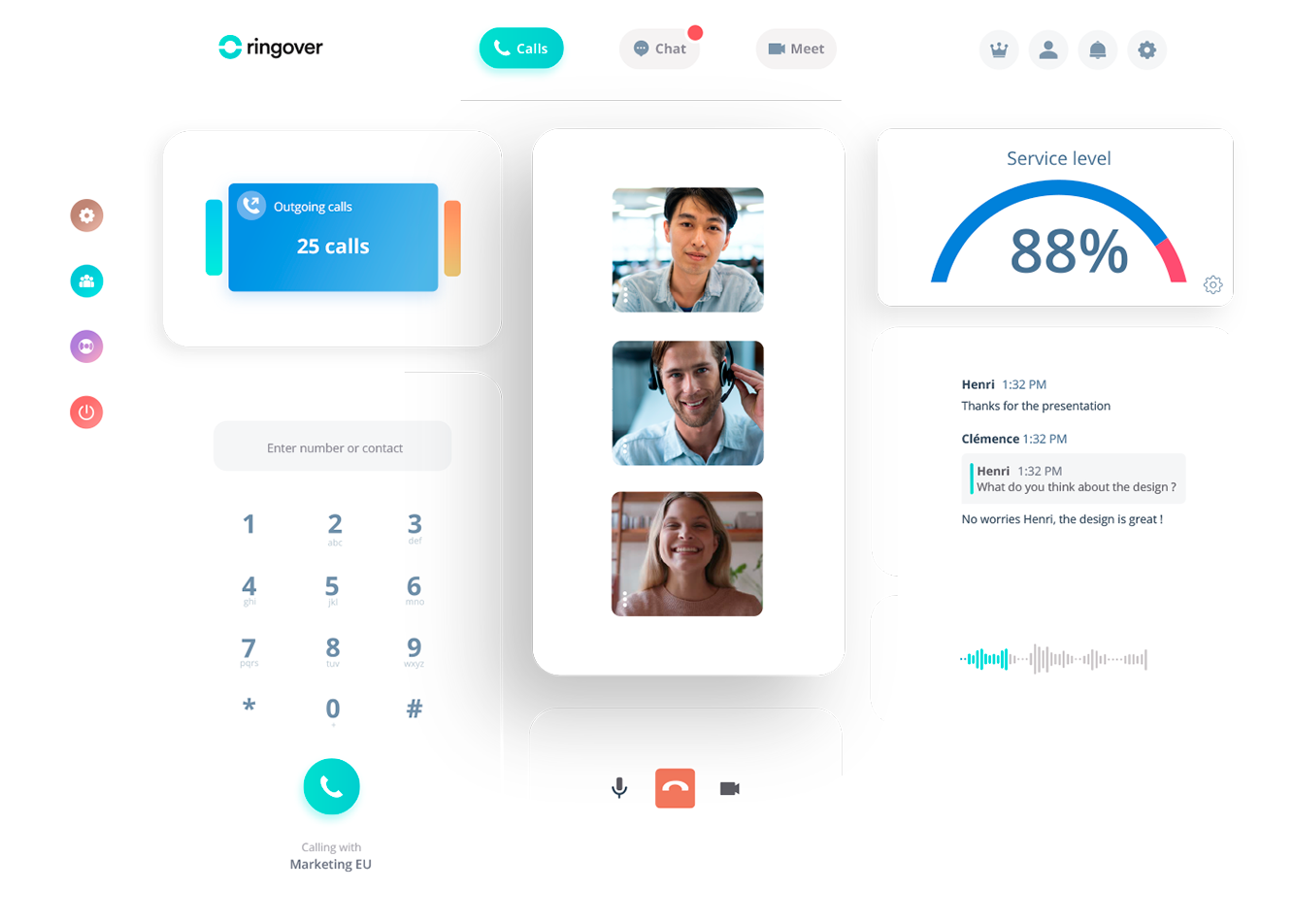 What makes Ringover better than Phone.com?
Alternative #2: Grasshopper
Grasshopper is a cloud-based service that offers one or more phone numbers along with several extensions to accommodate employees. It combines a business number with a virtual phone system that keeps these numbers private. Customized greetings can direct the caller to the right department or team member. They offer voice-mail-to-text transcription and live virtual receptionist services. Grasshopper offers three different packages ranging from $26 per month to $80 per month, each option is billed annually.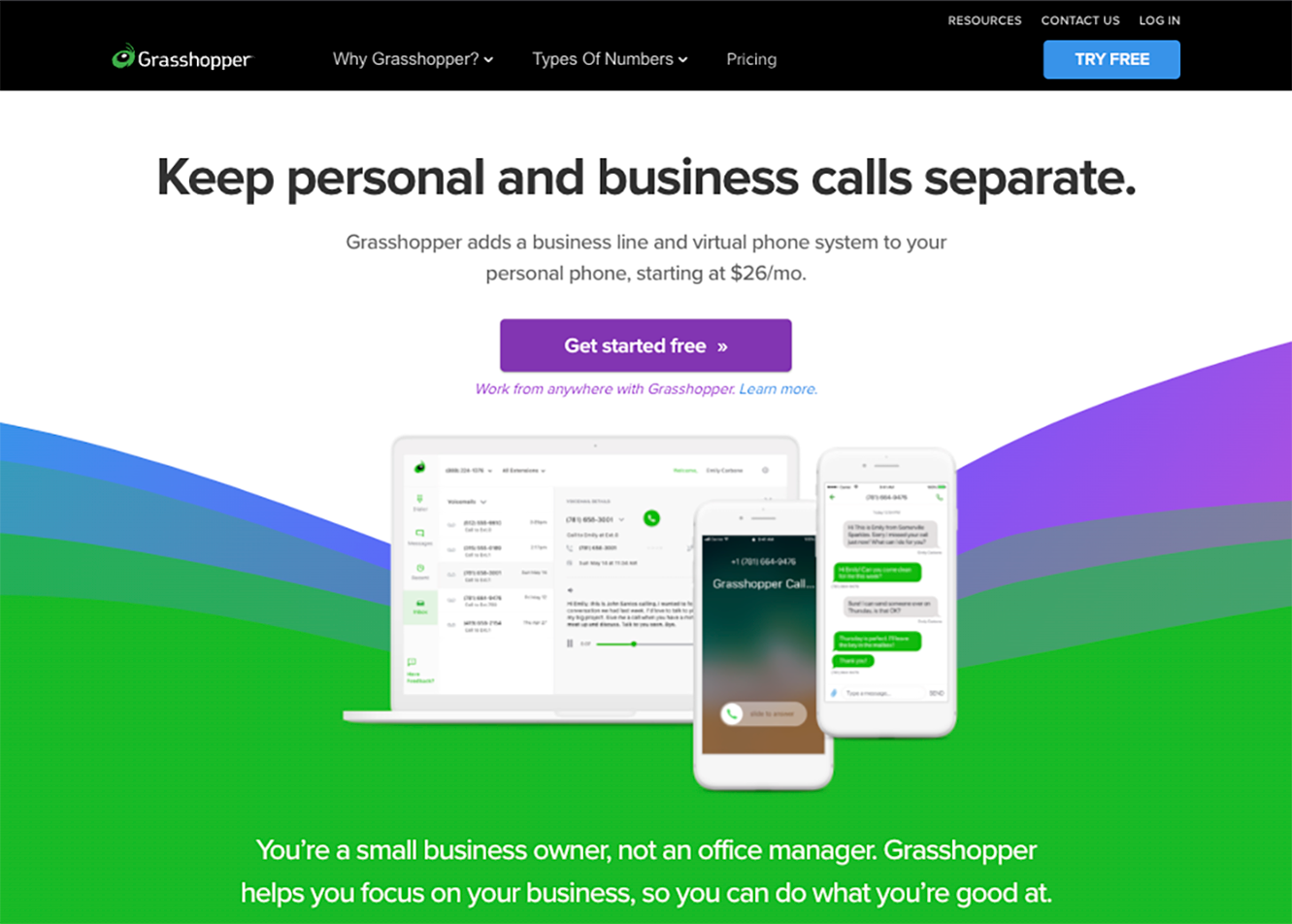 Source: Grasshopper home on www.Grasshopper.com on the 05/05/2021
Alternative #3: Google Voice
Google Voice call management software comes with a mobile application and a desktop/tablet interface enabling users to log calls, block callers, create logs, and perform regular telephone functions. Other features like voicemail, texting, and transcribed audio voicemails can be activated by the user. They offer three packages starting at $10 per user/per month for up to 10 users, $20 per user/per month for unlimited domestic locations, and $30 per user/per month for unlimited domestic and international calling.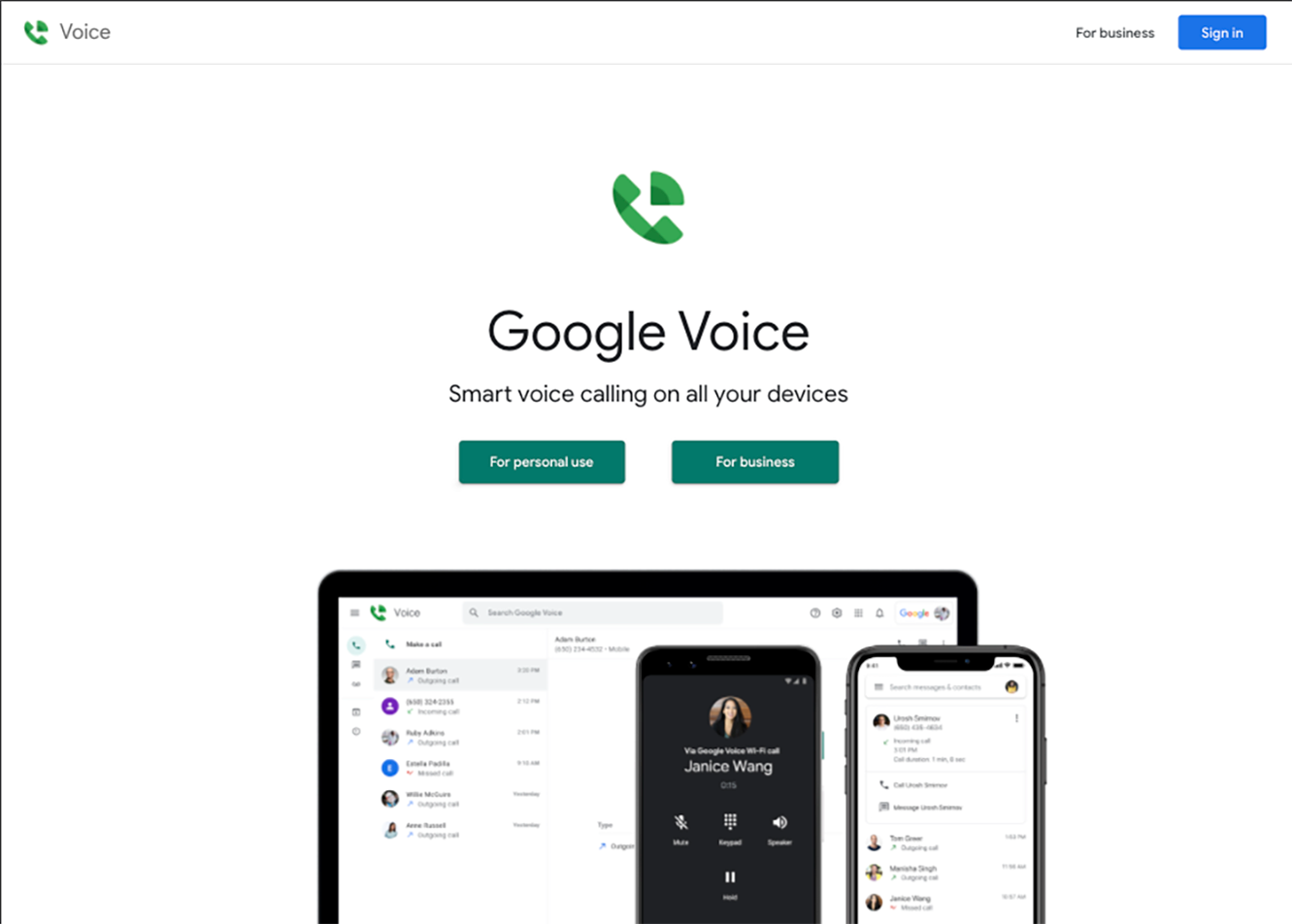 Source: Google Voice home on cloud.google.com on the 04/26/2021
Alternative #4: Skype
Skype is a telecommunications application that provides users the ability to video call, voice chat, and send text messages, photos and videos using computers or smartphones. While Skype-to-Skype calls are free, it charges an amount for making Skype-to-landline/mobile phone calls. Pricing starts at $3.59 to $9.59 per month, and then increases depending on the amount of destinations you want to make calls to and the amount of minutes you use.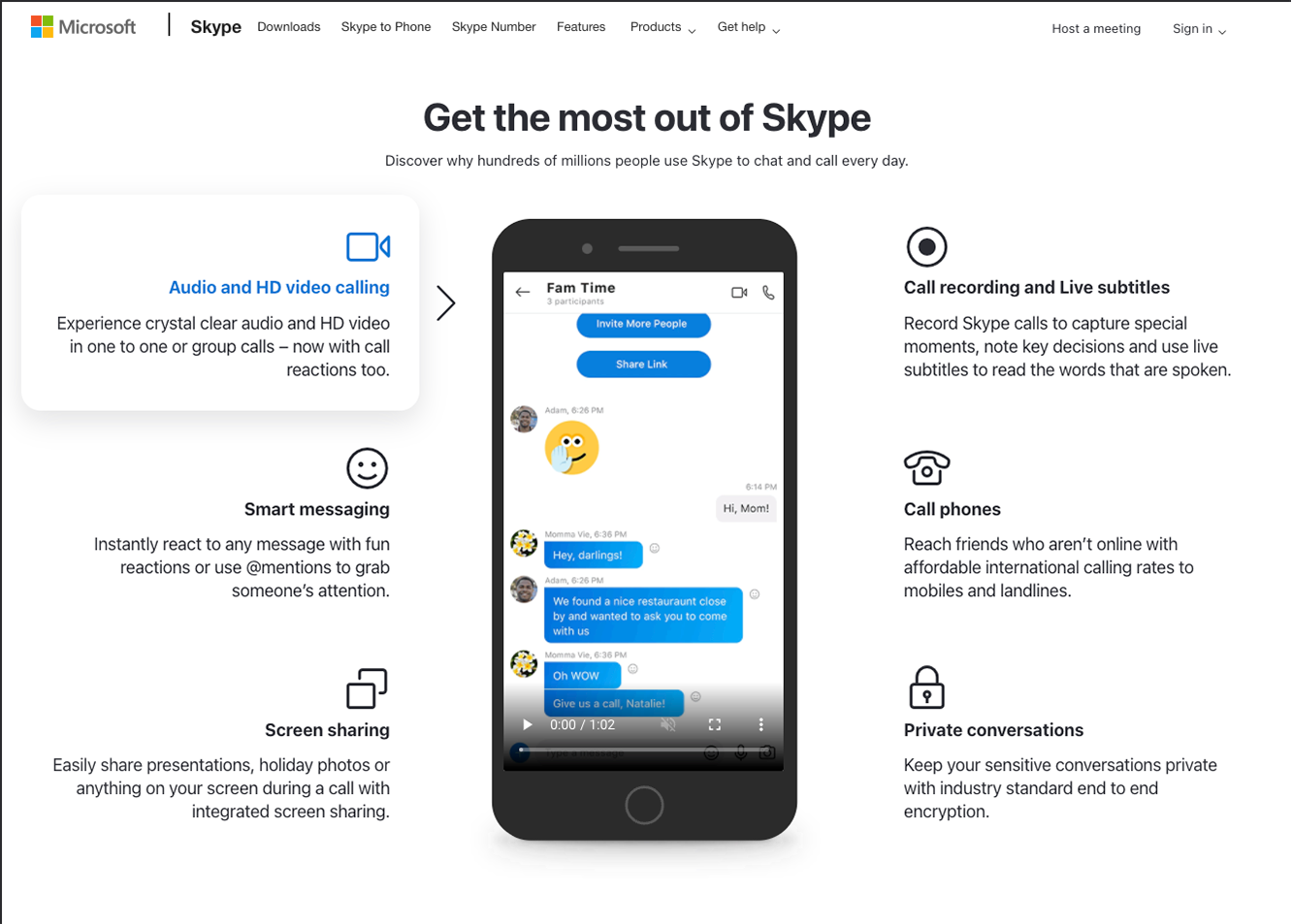 Source: Skype home on www.Skype.com on the 04/30/2021
Alternative #5: magicJack
magicJack uses VoIP technology to allow users to make local or long-distance calls to the US and Canada with an internet connection. They offer conference calls, call transfers, eFax, DND, etc. Users have the option of keeping their current number and getting it ported or acquiring a new number. magicJack costs $39 for one year, but only provides one phone number. You must purchase magicJack prepaid calling credits to make international calls, unless you are calling magicJack to magicJack, which are free minutes.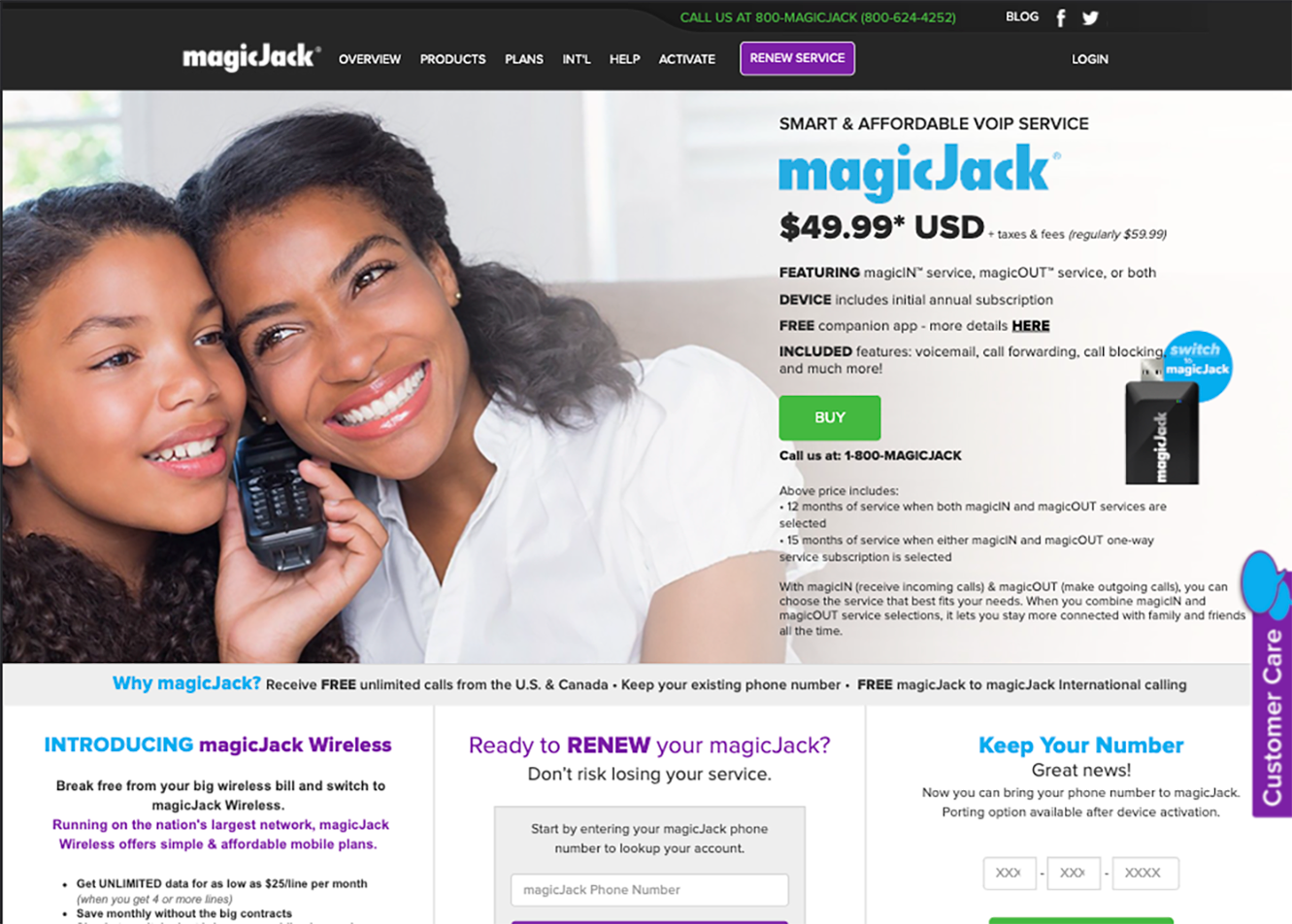 Source: magicJack home on www.magicJack.com on the 04/28/2021
Phone.com Alternatives FAQs
How much does Phone.com cost?
Who are the top Phone.com competitors?
What is the best alternative to Phone.com?
How much does Phone.com cost?
Phone.com offers 3 monthly plans: a Basic, Plus and Pro plan priced at $12.99, $19.99 and $29.99 per user. While the Basic plan has limited calling minutes, the other 2 plans have unlimited minutes for calls within the USA and Canada. There are certain premium features like international calling and a live receptionist that are available at an additional cost.
Who are the top Phone.com competitors?
Phone.com has many other U.S. based competitors that offer cloud communication solutions like business phone systems, call center solutions, video calling, etc. Phone.com is generally compared to Grasshopper, Skype or magicJack that provide similar features.

Top 5 Phone.com competitors:
1: Ringover
2: Grasshopper
3: Google Voice
4: Skype
5: magicJack
What is the best alternative to Phone.com?
It isn't easy to decide which Phone.com plan is best suited to your company. Even if you choose the Pro plan, there are certain features for which you will be charged additional fees. This can make your monthly bills an unwelcome surprise. Instead, you should check out the all-in-one solution offered by Ringover, Phone.com's top competitor. This solution is available at a fair price for businesses of all sizes.