Call on hold

Put an active call on hold

With a simple click, put a phone conversation on hold to consult your colleagues or look up information.
Put calls on hold with 1 click
During a call, all it takes is 1 click to mute your microphone and play a wave of music to keep your contact company. You can then speak freely with full confidentiality to whomever is in the room with you.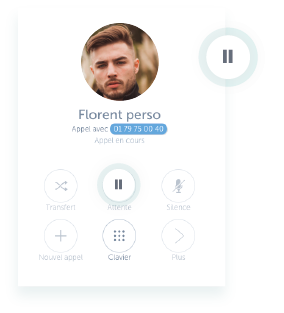 Avoid having to call back
With calls on hold, avoid having to call back your correspondent to provide information not readily available. Call on hold allows you the opportunity to consult your colleagues, notes or files.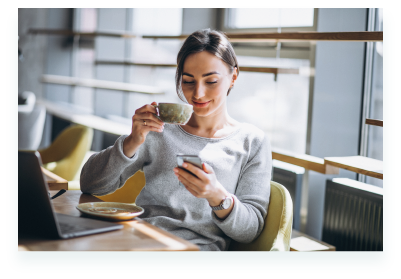 FAQs
What does call on hold mean?
How is a call put on hold?
How do you ask for a call to hold?
Why to update your caller on the progress of their request?
What does call on hold mean?
According to the Customer Service Observatory, the phone remains the most commonly used channel for contacting customer services. However, numerous studies have shown that most calls are systematically put on hold at some point during a conversation. In other words, being put on hold during a call is likely, if not inevitable. It is therefore essential to improve time spent on hold for your callers while allowing it to help your business.
How can you ensure more pleasant hold time for your callers? How do you make this a key element in improving your customer relations? What information should not be included in the pre-recorded announcements they will hear? What music on hold to choose?
You certainly understand by now that managing phone hold time will have a significant impact on maintaining good relationships with your customers and encouraging their loyalty.
How is a call put on hold?
According to an EBG study with CGI France and Pitney Bowes Software, having to repeat themselves multiple times is a nuisance for 52% of consumers. Take care to both inform your caller to whom you are going to transfer their call and let the transferee know who the caller is so that everyone is on the same page, and the exchange will be more productive.
It is important to prioritize customer follow-up as well as well as information provision to the various agents who will be in contact with your customers and prospects. This will help to personalize exchanges and improve customer satisfaction.
Today's cloud telecom software offers effective tools to better manage calls on hold. Ringover offers a wide array of complete functionalities, making it possible to transform the time callers spend holding into a valuable asset for communication and customer relations optimization.
How do you ask for a call to hold?
Imagine that you're on the phone with an advisor and suddenly hear music on hold without warning. This would clearly be a confusing - and likely even frustrating - situation to find yourself in.
It's important to ask your caller first if they agree with being placed on hold and explain the reason why this is necessary. However, keep in mind that on average, the maximum hold time acceptable to most callers is two minutes. Avoid making them wait too long and remember to inform them regularly about the progress of their situation.
Why to update your caller on the progress of their request?
As mentioned earlier, callers are not particularly patient when on the phone. One of the primary objectives is therefore to minimize the time your customers spend waiting on hold, but this is easier said than done. It is therefore a good idea to keep your caller regularly informed on the progress of their request.
Clients will be more willing to wait when they understand that their request is being handled or that progress is being made on their file. In other words, the all too common "Please hold the line" is no longer enough. Much better to say, "Is it alright if I put you on hold while I consult your file?" or "Could you please wait a few moments while ask technical support?" Your caller understanding the reason why you're putting them on hold will make them feel reassured.
Finally, don't forget to thank your caller for waiting as soon as you pick the call back up. Then you can suggest solutions or provide the answer they're looking for.