Internal Calls Simplified:
Call your colleagues easily
Take advantage of simple and more productive internal calls for your company. Speak to colleagues without needing to dial any extension numbers and stay reachable from anywhere thanks to a 100% cloud-based phone system.
Direct call a colleague from the smart dialer
No need to remember your colleague's extension number anymore. Simply insert their name to call directly from the smart dialer. The smart dialer will pull up the contact with the first letters entered.
Transfer a live call
No more memorizing long lists of extension numbers for your colleagues to whom you wish to transfer calls. Just type the first few letters of their first or last name to do a quick transfer.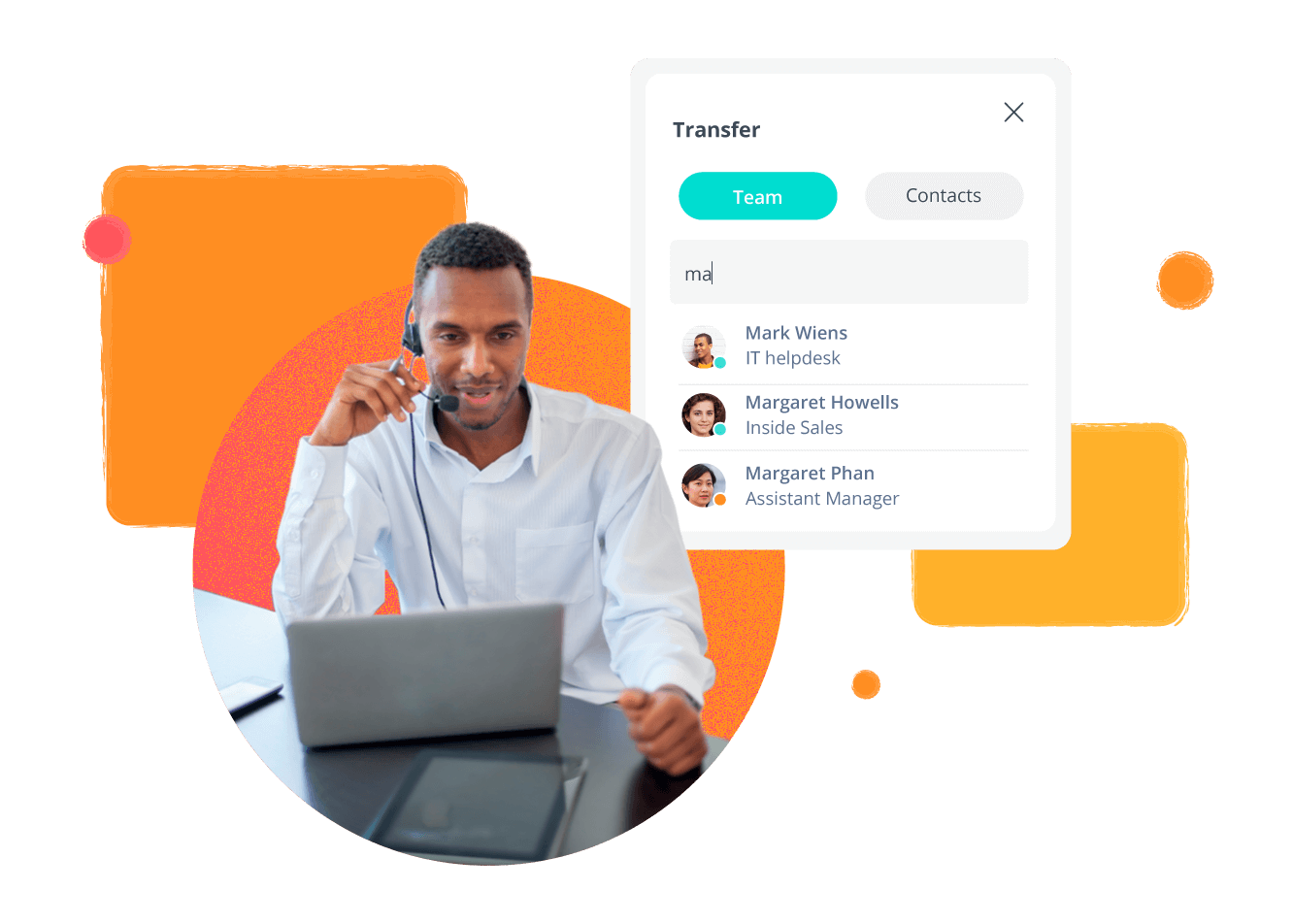 Make and receive all of your internal calls at the office or while on the go
Stay reachable to your colleagues from anywhere: at the office, on your desktop phone, during meetings or while traveling using the Ringover mobile app. All you need is an internet connection to access your company phone system.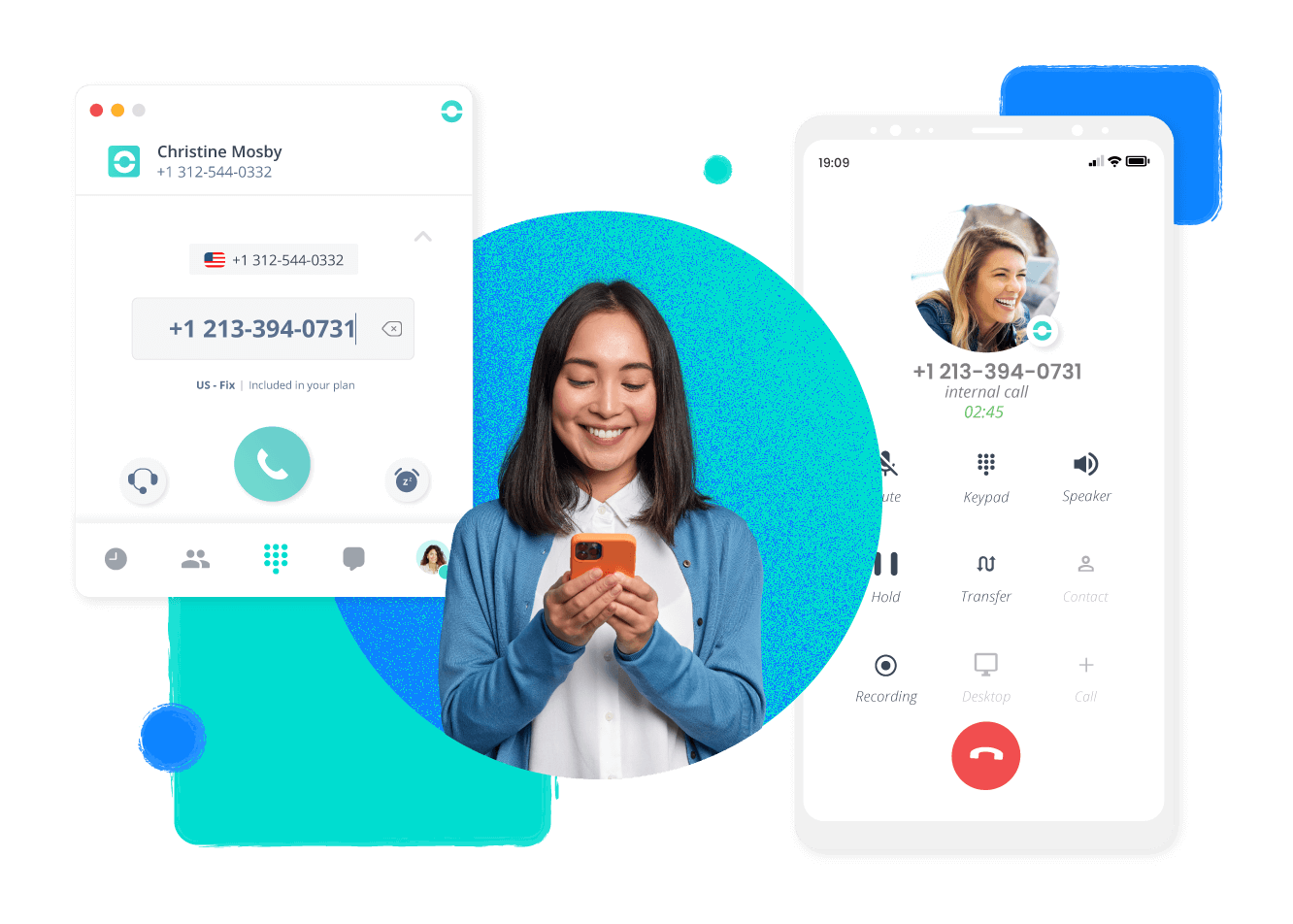 FAQs on Internal Calls
What is an internal call?
How can we make an internal call?
How do you answer an internal call?
What is external calling?
What are the types of calling?
What is internal and external call over VoIP?
What is an internal call?
There are two meanings of internal calls in a professional context.
One meaning has come to prominence due to the popularity of the enterprise resource planning (ERP) software SAP. Within SAP, an internal call refers to a code function using the SAP proprietary code, ABAP. In that context, an internal call is when the code calls in a procedure of the same program.
In a more general professional context, an internal call is when a call is made to a contact within the same company. In the past, internal calls would be made by typing in an extension. But when internal calls are made with a VoIP software, you can make those calls without needing to dial an extension. Plus, VoIP softwares like Ringover's have an intuitive interface that allows you to search for colleagues by name. That way, you don't have to worry about memorizing or looking up extensions.
How can we make an internal call?
How you make internal calls depends on your company's phone system. If your company has a traditional analog phone system, you'll need to use people or department's individual extensions to make internal phone calls. Normally, an extension is between three and five digits.
If you have a VoIP service, making an internal call is much easier than dialing an extension on an analog phone. With a VoIP service, you'll be able to access your contacts from one interface. They will be searchable by name, so you don't have to bother looking up or memorizing an extension.
How do you answer an internal call?
How you answer a phone call depends on whether your company uses traditional phones or VoIP software, which is often accessed through an Internet browser.
If you receive an internal phone call, you just need to pick up your receiver, or press the speakerphone button.
If you use a VoIP service like Ringover's, you'll just need to click the green phone icon to pick up an incoming internal call. The phone icon can be found underneath the keypad in the bottom left corner of the screen, and will shake when you have an incoming call. The ringtone you've chosen in your Ringover settings will also sound to signal an incoming call.
What is external calling?
External calling is a call made to or received from a contact outside of your organization.
For example, an external call could be a call made to or received from a local number, a long distance number, or even an international number.
If you use a VoIP business phone system like Ringover, an external call will be accompanied with helpful information. For example, if contact is saved within your contact list, you will see the contact's name when making or receiving a call. If you have integrated your VoIP system with a CRM, you will even see notes on prior interactions with the client and other information to give you important context.
What are the types of calling?
The types of calling when using a VoIP software consist of five categories.
Analog phone to analog phone

In order to use analog phones to make calls with VoIP software, both phones will need to use an analog telephone adapter. This adapter connects traditional analog phones to the Internet and thus to your VoIP software. The point of the adapter is to convert analog signals to digital signals, allowing you to use the VoIP software with an analog phone.

Phone to computer

In order to use a phone to call a computer, you need to use a phone specifically designed to function with VoIP software. This type of phone is called a VoIP phone or IP phone, and will either need to be able to connect to wifi or have an ethernet cable port.

Computer to computer

Calling computer to computer is one of the easiest ways to use VoIP software. The computer's hardware will allow you to have a strong connection to wifi. Plus, you have direct access to other software within your tech stack that supports your work.

Computer to telephone

Using your computer to call a telephone will be extremely similar to using a computer to call a computer. For example, the person you are calling will not be aware that you are calling from a computer. Another benefit of using computers to make calls is financial. Charges are generally very low to call using a computer. For example, Ringover offers unlimited calling to 110 destinations for as little as

$

21

per month.

Device to device

This last category of calling is only possible if your VoIP software offers a mobile app. If that is the case, you'll be able to make and receive calls regardless of your location. All you will need is a mobile device with an Internet connection.
When using a traditional telephone switch system, there are six categories.
Originating call

An originating call is the outgoing call placed by the person who dials a contact.

Terminating call

The terminating phone call is the call received by a person. They have not dialed a phone number.

Outgoing call

This is a call that goes out of the telephone switch office.

Incoming call

Incoming calls are ones that arrive to one telephone switch office from another.

Internal call

This is a call that stays within the telephone switch office.

Tandem call

Tandem calls refers to a connection between one switch and another. So for example, if you have one phone number set to forward to another phone number, that is a tandem phone call.
What is internal and external call over VoIP?
Technically speaking, an internal call over VoIP is the call directed to the SIP address of the contact you're calling. A SIP address is similar to an IP address for a computer: it's unique to each user on the phone network.
An external call over VoIP is directed through a VoIP service provider to the contact the caller wants to reach.