Smart ACD call center technology for businesses
Ringover's smart call management software automates and amplifies your call center's operations and reach so that your agents can focus on delivering high-quality results in record time.
Try it for free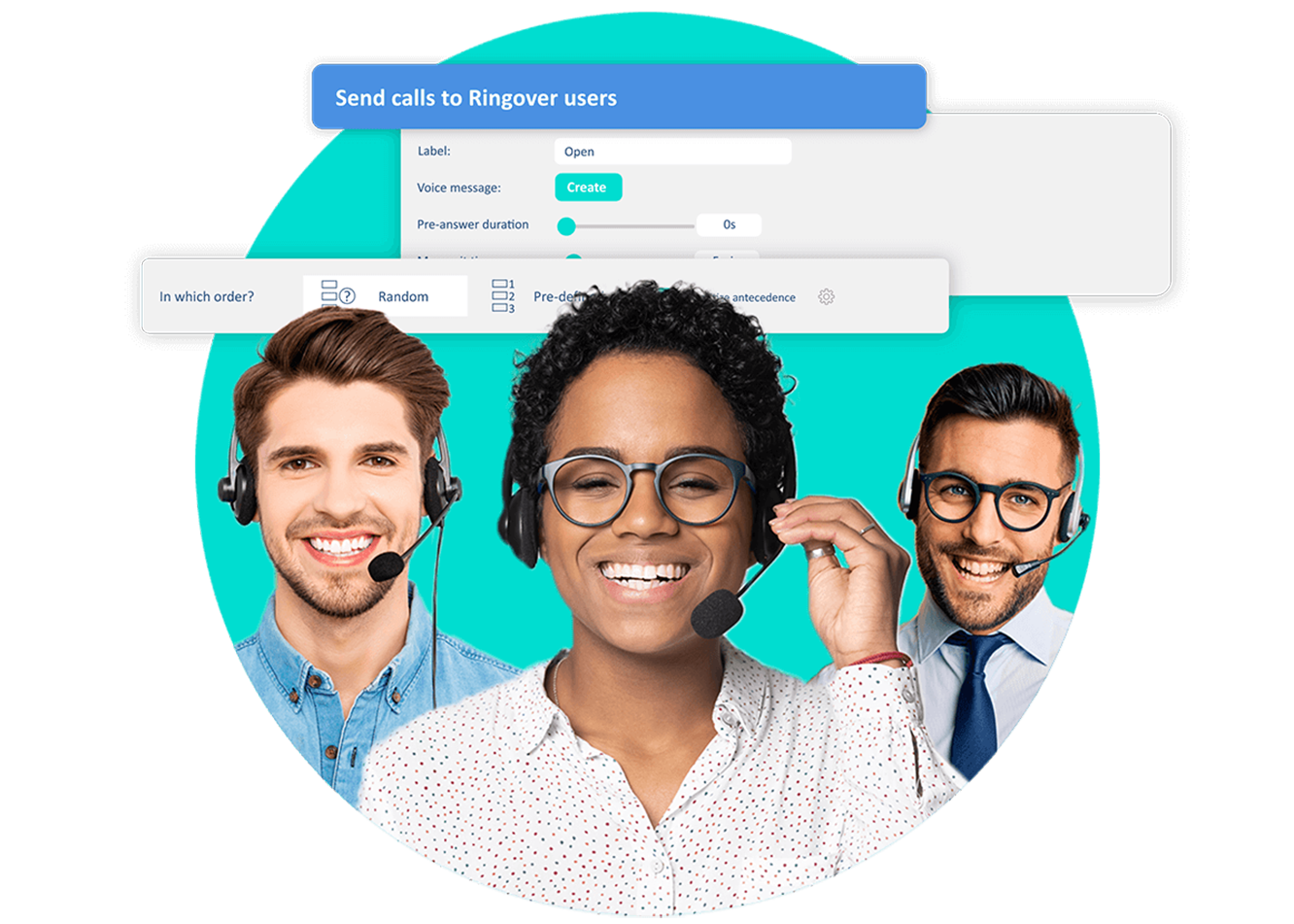 Make the Most of Every Interaction with Smart ACD Call Center Software
When you're operating a productive and profitable business, speed matters just as much as quality. Your customers want to solve their problems quickly and efficiently, but they also need to get connected to the experts on your team.
Ringover's smart call management software automates and amplifies your cloud contact center's operations and reach so that your agents can focus on what really matters: Delivering high-quality results in half the time.
Ringover's intelligent call management software is lightweight yet powerful enough to adapt to multiple needs within a ACD systems context, including:
Measuring and monitoring your center's call performance and activity
Routing calls from customers to specific agents or departments, based on pre-defined criteria
Identifying and rapidly responding to "VIP" customers, based on previous collected data
Integrations with a range of third-party CRM and helpdesk platforms
Easy, real-time reporting and on-call coaching with agents to boost managerial and sales practices
Ringover's Suite of Features Helps You Do More With Less
Automatic call distributor software from Ringover helps improve your center's customer reach and customer satisfaction by providing:
Call queuing — To ensure that customers connect with the right agent and resolve their issues
Smart call routing — For better queuing experience
Call monitoring — For ongoing performance improvement and on-call coaching
Integrations with CRMs and ticketing systems — That empower inbound call agents to personalize customer service
Automatic call backs — For more efficient customer experience
In addition to ACD-focused call distribution, Ringover's smart suite of features takes into consideration every aspect of call management. Add it to your pre-existing ACD operations or put it to work for other departments such as outbound sales calls or lead generation for small businesses.
An Exceptional ACD Call Center Deserves Exceptional Tools
You've already got the best agents in the biz. Ringover's all-in-one call management software empowers your best agents to take their skills to the next level with tools and features that respond to their pressing needs and performance growth.
With Ringover's ACD system on your business's side, your agents can use their communication skills to close the gap between customer expectations and your business resources.
With an effective call management software that handles ACD systems, your agents can:
Count on a knowledgeable "assistant" that provides insights and data about a customer
Respond to calls faster, with greater preparedness and awareness
Prioritize VIP customers while still moving through high-volume call traffic with ease
Reduce hold times whether it's 3:00 p.m. on a Wednesday or 3:00 a.m. on a Sunday
And so much more. See for yourself the range of features waiting to power-up your agents' natural talents and skills when you start your free Ringover trial today!
Ringover is Ready to Work Hard So You Can Work Smart
Imagine having a call center software up and running in mere minutes. Ringover's high-quality functionality is designed to go with you, adapt to a multitude of telephony needs. No matter where your agents are located, Ringover allows you to:
Set up your call center service operations and go live across time zones in sync with just a few clicks
Use the web calling platform to automate incoming and outgoing calls using powerful auto dialer and predictive dialer functionality
Distribute calls to the right agents, based on your customer's needs or integrated CRM data, setting call rules you can manage with ease
Boost team meetings, check-ins and facilitate collaboration between remote agents using handy features like notes, tags, assignments, and much more
Pull detailed and reader-friendly graphs that help managers identify areas of improvement
Harness on-call whisper coaching to take your agents from first-day onboarding to experts in half the time
Ringover puts the power of automated telephony systems in your hands.
Simplify Your Business Communications With Smart ACD Call Center Software
While your call management software should provide standard features like a smart auto dialer, your cloud contact center shouldn't be struggling with complexity.
With Ringover, you can get your agents working on leads and accepting incoming calls within the day. The powerful software automates the repetitive time-consuming tasks like searching for customer information, pulling up scripts, and dialing.
Leave the heavy lifting to Ringover and communicate simply, easily, and efficiently.
Data-Driven Communications Never Felt So Easy
When you're staring at numbers all day, the last thing you need is a complicated set of graphs, figures, and charts for performance measurement.
Ringover's real-time statistics and analysis feature gives your management team access to clear patterns and insights for opportunities to improve performance. Based on this, managers and team leads in a cloud contact center can devise effective strategies for call coaching and mentoring.
ACD Call center FAQ
What is an ACD Call Center System?
Simply put, an ACD system, known as an automatic call distributor, employs smart call routing technology to direct incoming customer calls to the right agents, based on your business's preferences, agent department, and customer needs. An ACD system is instrumental in automating these processes at a high level of operations, bringing efficiency to each call.
How Do ACD Systems Help a Cloud Contact Center?
A cloud contact center needs a smooth setup process, and a wide range of telecommunications features that will scale up with its operations.
These include features such as smart call routing (IVR) or call monitoring (dual listening or live conversation joining). The call management software also provides an an end-to-end solution that provides:
• Real-time performance monitoring
• Easy-to-read, detailed analytics
• Collaborative SMS functionality for a multi-channel support experience for customers
• Smart tagging to classify and share calls
These features contribute data and insight to your agents and managers, which helps them personalize customer interactions and respond faster to a customer's needs in an intelligent and informed way.
Should Your Business Use an ACD System?
An ACD system works best when your company's support or outbound sales agent team has grown in volume and traffic. There is no "right size" or point at which businesses should or shouldn't harness an ACD system.
However, if your customers are waiting too long, or if your managers are wondering why sales agents are not closing more leads, an ACD system will help your business solve both these -- and tackle other significant business needs.
Does ACD Software Integrate with CRMs?
Not all auto dialer or call management software solutions offer integrations with CRMs. However, those that do will allow you to sync and access data on other popular CRM platforms built for customer support and communication (such as Zendesk).