Understanding and filtering your tag statistics
By using tag statistics, you can boost performance analyses for your teams. 📈 Filter your tag statistics to analyse the performances of the tags you've created. This way, you can more efficiently supervise your teams' KPIs and created detailed reports.📝
Step 1: Understanding your tag statistics
Step 2: Filtering your tag statistics
Step 1: Understanding your tag statistics
Dashboard, and go to the "Tag Statistics" section in the "Statistics" menu.
You can then view all your tag statistics 📊:
Filter by tags
Filter by date
Filter by user
Filter by colour
Filter by name
By using the filters you want, over a defined period, you'll be able to display the tag colours, name and call total. Through the use of tags, you'll even be able to identify which tags are
most used
and decide which trends are
most relevant
for your to track.

E.g. A company is launching a new marketing campaign for its current customers regarding a new feature, the manager asks agents to tag a call each time the customer mentions the new feature. At the end of the week, the manager can see that 100 calls mentioned this feature.
Step 2: Filtering your tag statistics
You can filter your tags based on several types of information and over a defined period.
To do this, simply click «
Edit filters
», select whether you want to display the statistics for
all calls
,
your switchboards
or only your
direct lines
:

Then, define the
time frame
you want to display your data for: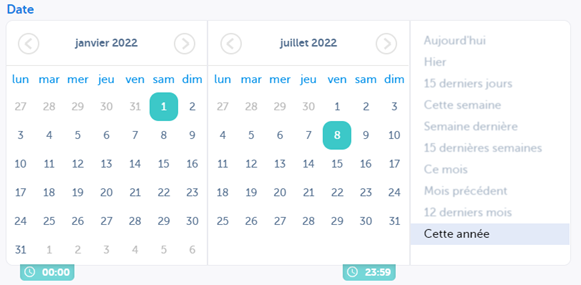 You can filter the call
criteria
that's useful for you:

Finally, you can sort by
tag
and/or by
colour
:

If you want, you can even «
customise
» your filters by defining one or more tags and then defining the time period you want to view data for:
By Call switchboard
By group for one or more teams
By user for one or more employee

The previous filters remain available, the date, "exclude or only display certain calls" and tags (colours and/or search name).
So, now you know how to analyse your tag statistics, so you can continually boost your teams' performances. 🎉
Was this article helpful?