[Dashboard] Personalising hold music and announcements/greetings for a user's account
Each Ringover user possesses at least one phone number associated with their account. As with IVRs, you have the possibility of
personalising hold music 🎵 or pre-answer announcements
for each account.
💻 Go to
https://dashboard.ringover.com/users
, then click on the user whose account you wish to modify ⚙️ and scroll down to the "Sounds" section: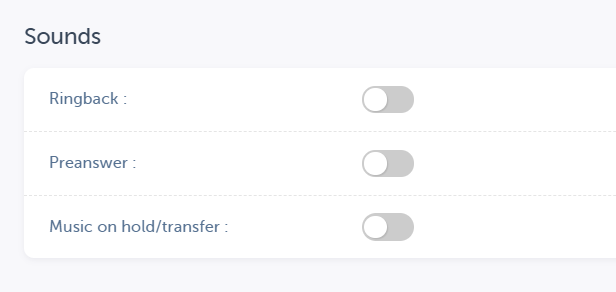 "Ringback" is music that can accompany your announcement or greeting 💬


"Preanswer" is played before the tone 📢


"Music on hold/transfer" is played when you transfer a call or place your caller on hold 🎵


Use Ringover's online studio 🎶 to record!
See our article 📰
6 Key Tips for Putting Your Calls on Hold
Was this article helpful?