Predictive Dialer Software: Takes Auto Dialing to the Next Level
Make the most of every agent-customer relationship and simplify business sales with Ringover's predictive dialer software.
Try it for free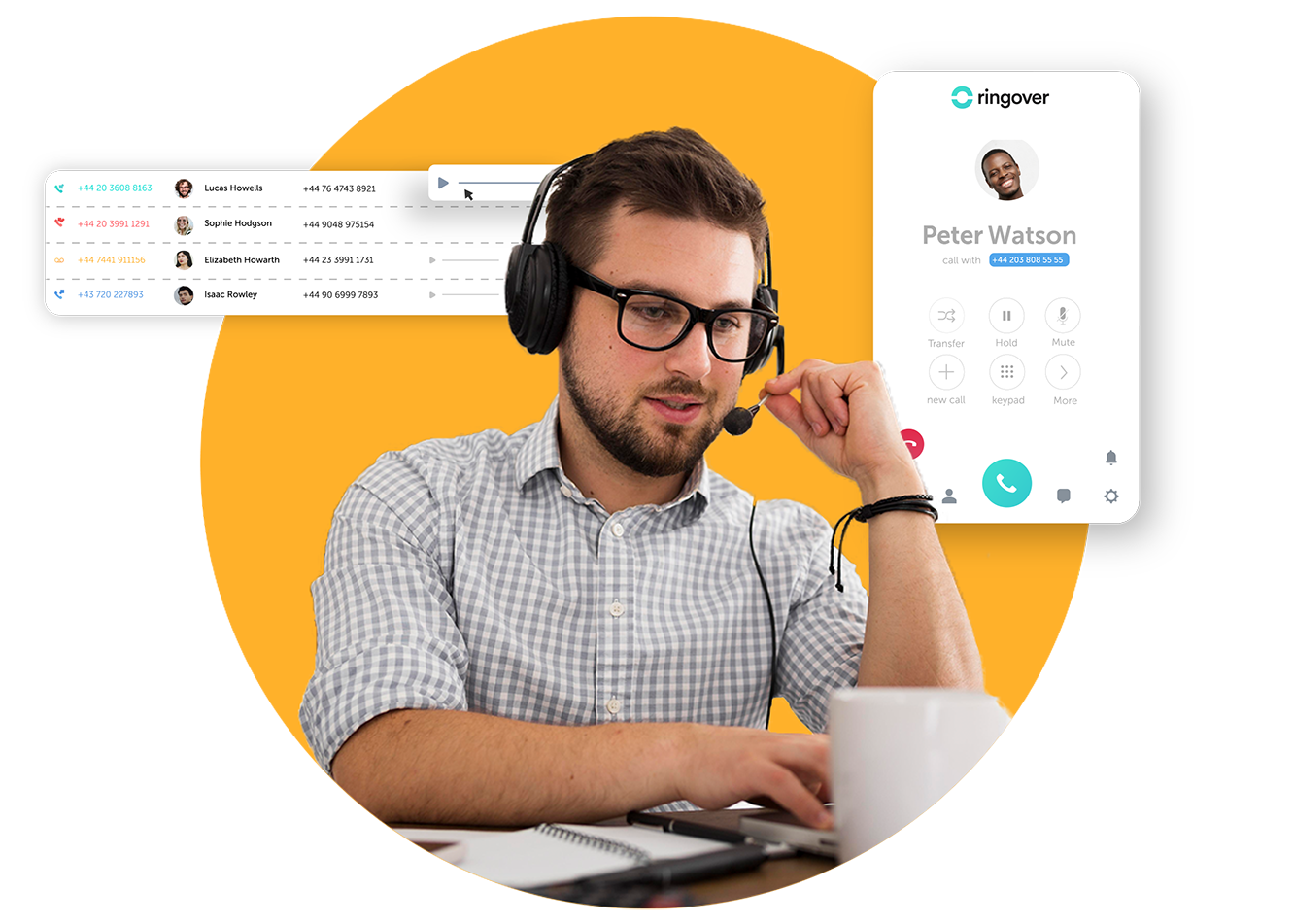 //= WEBCDN ?>//= $t['block']['h1img'] ?> //= WEBCDN ?>//= $t['block']['h1img'] ?> //= WEBCDN ?>//= $t['block']['h1img'] ?> //= WEBCDN ?>//= $t['block']['h1img'] ?> //= WEBCDN ?>//= $t['block']['h1img'] ?> //= WEBCDN ?>//= $t['block']['h1img'] ?> //= strip_tags($t['headofpage']['h1imgalt']) ?>
Simplify Sales With Predictive Dialer Software
If your agents are still manually dialing numbers from a list, you're wasting precious time, money, and effort.
These days, customer service call centers, debt collection teams, sales teams, market research firms, and telemarketing centers rely on the power of a predictive caller.
This unique telephony system harnesses the power of an auto dialer and combines it with data analytics to increase connection rates by 200% to 400%.
Ringover's call management software simplifies the sales process while powering up your agent's productivity by:
Predicting the number of free agents
Modeling the probability of reaching a real customer
Connecting the agent to a live caller
Analyzing and rebuilding the connection model based on these results, delivering even better potential customers to speak to
Ready to put predictive callers to work for your business? Start your free Ringover trial today!
Predictive Dialer Pricing
Increase Agent Efficiency and ROI With Multiple Dialing Modes
When you use predictive dialing, expect your customer service and customer satisfaction to increase tenfold. However, you'll also be increasing your agents' efficiency and ability to take their sales quotas to the next level.
Call center software can help a cloud contact center anticipate when agents will become available, speeding up and slowing down the dialing rate based on your agents' pace.
Here's how call management software could boost every area of your business communications:
Keeping agents at peak efficiency
Agents spend more time speaking every hour
Multiple dialing modes, such as an auto dialer, click-to-call, and direct calling, allow agents to launch high-performing call campaigns
Predictive Dialer Software Uses Data to Drive Sales Success
In today's data-driven age, we need numbers to help quantify and qualify our decision-making. What we don't need is the mess and confusion that comes with analytics reports.
That's why Ringover's analytics dashboards and reporting empower at-a-glance visibility for rapid and responsive managerial decision-making.
Ringover's suite of features allows agents to:
Make stronger connections by giving agents access to customer information and seamless syncing between Ringover's UI and CRM integrations
Smooth out the sales process through call monitoring, performance tracking, and coaching on calls
Reach customers faster without complicated technology
Give Your Agents the Information, Tools, and Guidance They Need
At Ringover, we know that a call center service software is only as good as the support and insight it actually provides to agents. That's why our features help agents in a cloud contact center go beyond mere customer satisfaction and make every conversation a personal and insightful experience.
With powerful, simple, and highly intuitive features like:
Outbound number selection
Double listening to keep an ear on agents' live conversations
Conversation joining
Power or auto dialer
Call recording
CRM integrations
…agents will be able to communicate with ease and speed — all while keeping customer service front and center.
Empower More Meaningful Conversations with Predictive Dialer Software
Ringover knows what it takes for agents to have meaningful conversations with prospects and customers.
You need dedicated and specific features that power-up every aspect of your communications — from your company's main phone line to your call center sales reps.
With Ringover as your partner, you'll be able to:
Activate numbers — International calls, toll-free numbers, mobile numbers, employee direct lines, and virtual numbers
Use multiple modes to make and receive calls -- Use a VoIP phone, our click-to-call Chrome extension, call from your smartphone, or right from your computer
Set up custom greetings — Establish professionalism using greetings in 16 different languages and music on hold within minutes of setup
Manage your incoming calls using call distribution and queuing logic that you control — Time-based routing, cascading calls at random, Round Robin, or present, smart routing, preferred agent routing, IVR, and so much more
Make Continual Improvements To Your Metrics
Ringover's predictive dialing system can help agents ensure they're constantly reaching and speaking to only live individuals, rather than wasting time listening to unanswered calls or busy signals.
Over time, this powerful call management software will learn and adapt contact lists to eliminate unsuccessful calls.
That means your agents are spending more time client-facing and solving problems, and less time trying to get connected. But once agents successfully meet customers on a call, managers can use Ringover to refine every aspect of the internal and client-facing process.
Ringover's simple and flexible software allows management to continually improve business outcomes by:
Boosting agent performance through real-time analytics, call recording, and call joining
Understand where issues are coming up, based on live reporting and dashboards that analyze agent performance
Improve quality of on-call experiences, by routinely reviewing automated call recordings
Predictive Dialer Software FAQ
What Does Predictive Dialer Software Do?
Predictive dialers are designed to increase the number of live conversations that agents can have when they're working. Whether it's specifically outbound sales with prospects or incoming calls that need to work faster and more efficiently, predictive dialers learn, over time, how to anticipate when agents are busy, when they're free, and which numbers in a contact list are likely to pick up and engage in communication.
How Can a Predictive Dialer Software Help Businesses?
Businesses that use a predictive dialing strategy can expect precious minutes shaved off their entire process. Keep in mind that, with predictive dialers, an agent can still maintain control of when they accept calls, how they qualify after-calls, and how quickly they proceed.
However, they don't have to waste time calling numbers that may or may not pick up. Predictive dialers eliminate the guesswork so agents can focus on what they do best -- actually communicating and converting prospects into sales or satisfied return customers.
What are the Advantages of Predictive Dialer Software?
Call center efficiency is one of the most important advantages that predictive dialers delivers to a business. However, the other aspect is agent performance. Imagine how much better an agent performs when they connect only with callers who are interested in their offers or are likely to speak to them.
For inbound calls, predictive dialing can help agents establish long-term relationships with customers because there's preferred call routing. These features keep agents and managers firmly in control of the details of the process, while offloading the tedious details to an AI system that handles and even eliminates the "old-school" tactics of connecting with their customers.
Can I Use Predictive Dialer Software With a CRM?
Depending on if the call management software you're using offers third-party integrations or not, you can definitely integrate predictive dialers with a CRM.