Business phone system
Top 5 Trends That Will Transform Your Business Phone System in 2020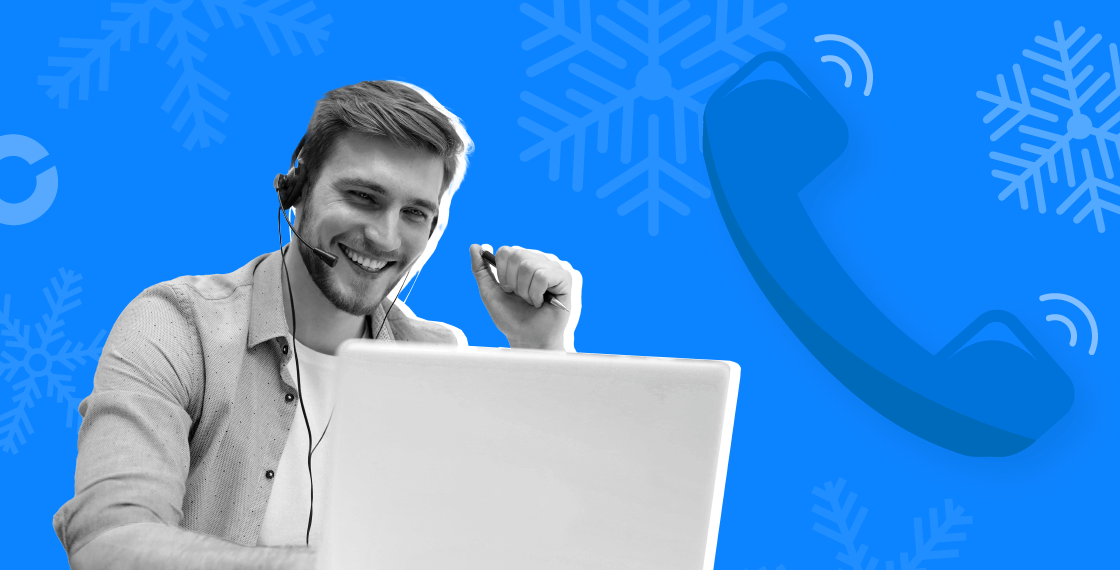 Summary
1. The Year of 5G
2. VoIP transformation with AI
The popularity of cloud technology has skyrocketed. Organisations can now migrate their entire communication infrastructure to the internet thereby changing how they interact - whether internally, with customers or with other businesses. This means that businesses would no longer need costly business phone hardware to stay connected to the rest of the world as is required when using WebRTC.This article highlights the top 5 tech advancements that are emerging in 2020 and beyond and how they would revolutionize the way companies view their business phone systems.
1. The Year of 5G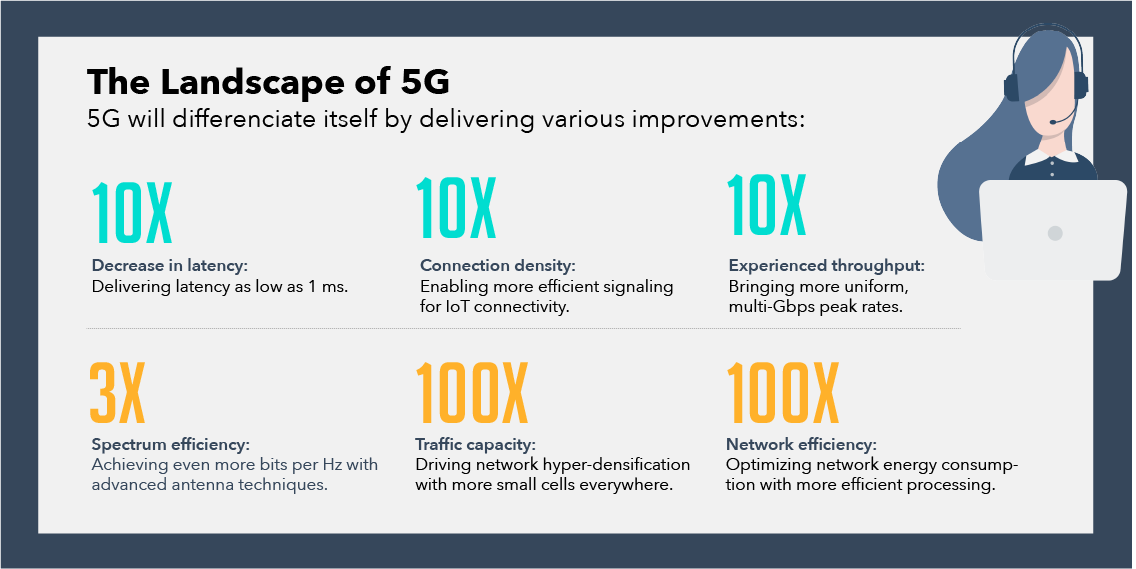 Boost in VoIP speed
As 5G network makes higher transfer speeds and lower network latency a reality, it will bring about significant improvements in communication. This is set to transform VoIP services like RingOver for the better. The faster speeds and much greater network efficiency will make communication a breeze, while the significantly lower latency will improve response time, enabling individuals and businesses to have instantaneous communication with co-workers or clients. In fact, 50% of the UK workforce will do telecommuting in 2020. Therefore, 5G would, more than ever, become a sought-after development in the tech space as VoIP users seek to satisfy their need for network speed while telecommuting. 5G is also rectifying a host of deficiencies such as dropped calls and poor sound that often stem from lagging network speeds.
Holistic benefits
Further to a network speed boost, companies can expect a reduction in operating costs, an increase in productivity and efficiency, as well as enhanced workplace safety. The capacity to collect, monitor and analyze data from social media, video surveillance, mobile and internet usage will also enable businesses to understand consumer behaviour better and improve customer service.
2. VoIP transformation with AI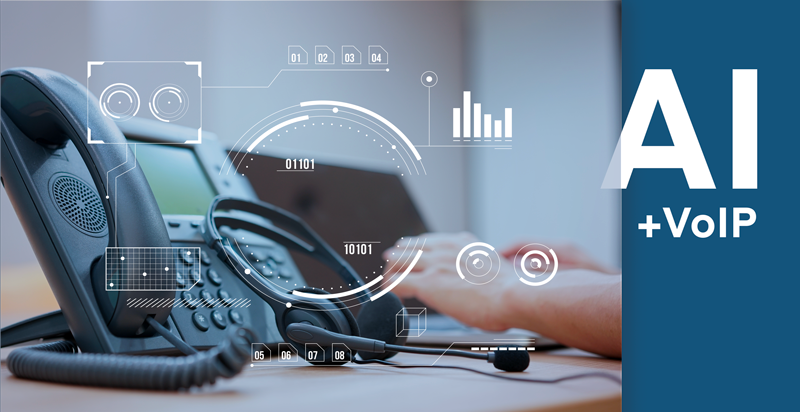 In the world of telecommunication, AI has the potential to impact almost every aspect of a telecom provider's business – and in the process, help traditional telecom players become true digital service providers.At RingOver we believe that embracing AI implementation should be seen as a journey:
Introducing AI to simplify the complexity of telecom operations by speeding up the processing of growing amounts of data.

The ultimate stage of the journey is to enhance human intelligence. AI is not, and should not, be about replacing humans instead it is about broadening the capabilities of customer care agents, field engineers, sales representatives, network operations engineers to make the most of their time and better serve customers in the digital era.

3. Cloud on the horizon

Today, businesses are more focussed on digital transformation and are actively seeking ways to

simplify and unify their workflow.

In light of this, the benefits of cloud solutions cannot be denied – whether they relate to voice, chat, accounting, admin, security, HR and the list goes on. Thanks to advancements in infrastructure and applications, information and data are now easily accessible from any geographic location and from any device. Rather than having to spend money to constantly update out-of-date equipment, a cloud-based solution can fit the bill – and in some cases, remove it too.

Affordable, scalable and flexible

Cloud phone systems have outdone traditional phone systems especially when it comes down to costs. They are

typically less expensive than traditional solutions

due to users not having to bear hefty upfront hardware costs and

paying little to zero maintenance fees overtime.

Traditional phone systems require businesses to install physical handsets in their work locations and manage the same directly from a specific physical access point. Cloud phone systems on the other hand

transfer the freedom of virtual-multi-point access to its users

allowing them to set up, configure and make changes remotely

without being tied to a single location.Read our eBook on why moving your phone system to the cloud is the better option.

4. Remote work is the key

Remote but not distant

We think a lot about work productivity at RingOver. Afterall, RingOver was built with the needs of non-traditional teams in mind. Taking into consideration all that is transpiring in our region, it's always an interesting exercise to reflect on how we can infuse flexible arrangements like remote work into our model to help maximize our employees' efficiency. As a European-based telecom business, the speculation over depleting skills and labour post Brexit is of great concern and ties into

why remote work could be the answer.

Post Brexit, the benefits of remote work and flexible schedules can be life-changing for so many employees, including disabled workers, parents and expecting parents , and nomad employees.

Work from anywhere, anytime

WFA (work from anywhere) would take prevalence just as much as "the cloud" has made its mark. Companies would need to ensure that their employees

have the freedom to control their work

and progression, wherever their work location of choice, to increase overall engagement, growth, and productivity.Now, If you're not in the office—for a meeting or because you

work remotely

—how will you pick up a call from a desk phone? Virtual phone systems replace all the cumbersome fixed hardware with a simple, single app. Instead of a dedicated server and miles of cable, they move your calls to the cloud enabling work to be done from anywhere and at any time.Business cloud phone platforms like RingOver are accessible from any device thus commuting with clients from one location to the next. Do you have a team that is on-the-go- and need a way to stay connected on the phone like they never left the office? RingOver's cloud phone solution gives you all the flexibility you need to maximize your business from any location.

5. Automation

"Automation is cost-cutting by tightening the corners and not cutting them." – Haresh Sippy

Real-time activity

The telecom world which is a constantly changing digital landscape, challenges the ability to match evolving customer demand with agent availability in real-time.Automation software can streamline incoming communication, and help your team avoid dealing with redundant tasks that eat up productive time. As customers become both more tech-savvy and more demanding, their foremost expectation in terms of service is instantaneity.RingOver's cloud phone system was well-thought out when it comes to the automation shift. Its system adapts to the user's needs and is packed with all of the elements of a traditional business phone

plus a wide range of automated features

that make work easier.

Some of its most popular features include:

Click-to-call enables users to dial any number from any web page in a simple click without the need to pick up their handset or switch software. This simple yet powerful feature makes a huge difference in the time taken to manually dial numbers every time an employee needs to make a call.

Auto-dialler:

a sales agent's secret weapon! Auto-diallers have changed the game of prospecting enabling users to power through long calling lists without having to do much once the call campaign has launched. All they need to do is queue up a list of phone numbers into the auto-dialler (see how to use

RingOver's auto dialler

); launch the calling session; stay ready to talk to prospects. The dialler would call every number one after the other and non-stop until the user decides it time to take a break.

Smart routing

has made it possible for business to automate the way their callers are greeted then ensuring their calls are sent to the right user or department in less than no time. IVR automations are also available in several languages ensuring that businesses are set to properly greet callers of any background. Help desk systems can be automated as well to provide scripted responses to help address frequently occurring customer scenarios. These small reductions in manual effort expended daily by your team can add up to hours, and even days, of time saved over the course of a year.

Is your business phone system equipped for the automation revolution?

There can never be one perfect product, service or solution for any business. Rather, a true perfect fit means constant adaptation. From 5G to automation, the combination of these broader trends will ensure significant benefits if you're taking the first steps in a long and necessary journey towards change.

Need help transitioning your business to match these trends?

Our telecom specialists are fully equipped to help you evaluate your company's current setup and provide guidance on how to align your business phone system with these emerging trends from today. Reach out to us at

sales@ringover.com

for a quick chat!